A senior employee at the Kenya Ports Authority (KPA) headquarters at the port of Mombasa has tested positive for the novel coronavirus's Covid-19.A report published by a local tabloid on Tuesday, March 31, indicated that the employee was taken to the Mombasa Hospital while 15 others who were in contact with the patient were put on forced quarantine.
Another employee at the authority with Covid-19-like symptoms was also taken to the Pandya Memorial Hospital in Mombasa.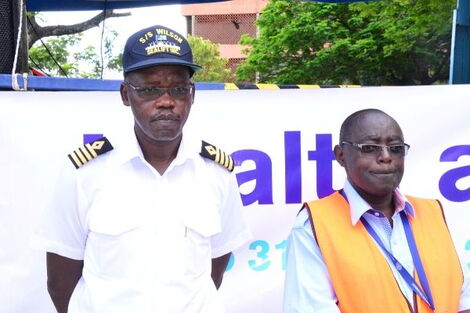 Yesterday, on Monday, March 30, panic gripped KPA after a cleaner who claimed to have been in contact with the first case was taken ill.
William Ruto, not the Deputy President but the KPA manager in charge of operations assured the employees that there was no need to ring the panic alarm.
According to Ruto, the confirmed COVID-19 positive case had left work on Friday, March 20, and had been in hospital since then. Further, he urged all employees at the facility to ensure that they followed safety guidelines including hand washing and social distancing.
The case was highlighted two days after the Diamond Trust Bank announced that one of its staff members at the Kilifi branch had tested positive for Covid-19.
The bank informed its stakeholders that the suspected Covid-19 case had forced other staff members to go into self-isolation for a period of 14 days. The bank had been closed down for a period of time and the disinfection of the premises was undertaken.
Corona In Kenya
Kenya's coronavirus cases have risen by 8, with the total now standing at 50 that have been confirmed, Health Cabinet Secretary Mutahi Kagwe said on Monday.
He noted that the virus is now being spread through community transmission. This, the CS says, means the disease is no longer being imported from outside but is here with us.
Of the confirmed cases, one was from a sample drawn from the Aga Khan Hospital, he said.
"There are other 14 cases who are in quarantine who are undergoing more tests. I will reveal the outcome tomorrow," he said.
CS Kagwe said mass testing had embarked on 2,050 people under mandatory quarantined, with 172 samples from this group tested in last 24 hours.
Mr Kagwe said that there were 20,000 testing kits in Kenya and that the country is still receiving more.
"We validate them to ascertain their efficacy," he said.
WORST CASE SCENARIO
Ministry of Health Director-General Dr Patrick Amoth said their preliminary modelling data showed that coronavirus cases by mid-April will hit 5,000, and rise to 10,000 by end of April in the absence of drastic intervention.
"However, in view of the recent directives on social distancing, travel restrictions and mandatory quarantine as well as other public health measures, there may be a delay in reaching the first 1,000 cases," he said at the Monday briefing.
Coronavirus Cases:
786,688 reported globally, view by country, with 37,832 and 165,890 recovered.
Comments
comments