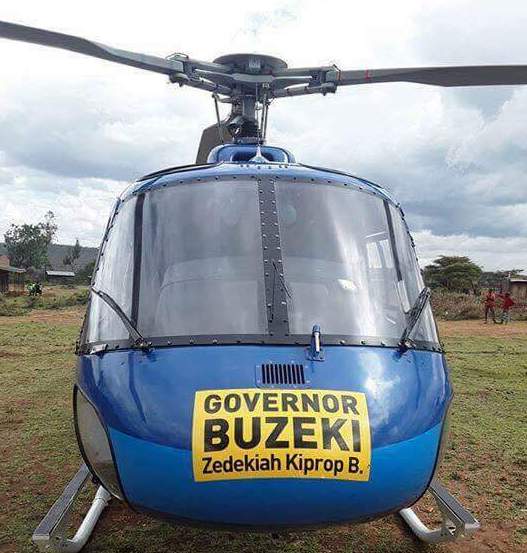 Things are not rosy at the highly hyped Kenyan 'billionaire' Zedekiah Bundotich Kiprop- he bought githeri media folks to brand him as a billionaire but from this exclusive details sent to KenyanBulletin.com Chief Editor, Buzeki has been running an extortion scheme for more than three years.
"Buzeki Enterprises Limited owned by one Bundotich Kiprop is a company that has continuously exploited its employees for 3 years and the trend is still ongoing. This all began when the over-ambitious businessman went into politics in 2016 with hopes of defeating Mandago to clinch the Uasin Gishu gubernatorial seat.
The company almost went into bankruptcy after being unable to meet its operational cost, pay debts from suppliers and service its loans. Kiprop quit from the board of directors as a tactic and took the title of founder and chairman leaving the Exec Director to his sister. He went ahead to hire an Indian friend from Dubai one Mr Narayana Narassapa (I doubt if he has a permit to work or any papers unless forged ones) The guy initially came as a business consultant only to be listed later as one of the company Director. He has kept on suppressing employees efforts to have their working conditions and welfare improved.
The Hr office is nothing but just a toothless department that lays off workers on redundancy claims. Whenever you challenge the administration or tend to inquire on the cause of 2 to 3 months salary delays you will only be met with threats and victimisation and of course be placed on the next redundancy list.
Workers are so demoralised and unhappy year in year out since 2016. Employees with families have suffered a lot even some have undergone breakups because they cant provide for their families, pay for rent and other basic needs while they always report to work and keep on working in the hope that things will improve. Late last year the company was bailed out by NIC bank that pumped in operations funds to keep the company afloat.
Since then things have seemed to improve as there's more than enough cargo and business is good as the company revenue has improved to normalcy yet the Directors have chosen to enslave employees and exploit them by repeatedly saying the company is still struggling. This is not the true picture because when 230 trucks are always on the road and not parked except for 2 or 3 days workshop maintenance then we all know that revenue is high.
The directors can't even provide PPE's for staff as lawfully required but instead has worsened the working conditions to extreme levels.
The founder and Chairman has always appeared on TV telling people he is a billionaire and he pays his employees well. This is a blatant lie, he exploits very good employees who have sacrificed and understood him when things got awry they stayed and persevered to make the company survive hard times. Taking employees kindness for weakness only to tell them that they can leave if they want after reviving the company only for exploitation to take root. It has become normal to pay employees in batches so as to divide the common unity of employees and avoid rampant go-slows.
At the moment only workshop staff and drivers have been paid February salary. The rest of the staff live, survive and are on the breaking point especially with a family to feed and bills to pay. This is very unfortunate and messy. For more than 3 years living at the mercy of a soulless oppressor who has no respect for human dignity."
Comments
comments