After going missing for two days, Gatundu South MP Moses Kuria has resurfaced on a Mothers Day.
The news has been confirmed by his tanga tanga Kapsaert counterpart Oscar Sudi.
Moses kuria is safe… We assure kenyans that ako safe and sound… Thank you all for the solidarity you offered moses kuria on the trend #FreeMosesKuria.. He tried all means to avoid arrests after visiting kariobangi pple who were homeless pic.twitter.com/Uv3CdpJR1y

— HON. OSCAR SUDI MP KAPSERET (@HonOscarKSudi) May 10, 2020
On Friday, Kuria's friend and former State House operative Dennis Itumbi posted that the MP disappeared shortly after visiting Kenyans who had been evicted from their houses in Kariobangi, Nairobi.
Uhuru's Member of Parliament cussed the State after an inhumane act that left more than 5,000 residents not only spending cold nights outside but also at a high risk of contracting the deadly Chinese Virus.
Kuria was in the company of Kiharu counterpart Ndindi Nyoro.
"This government must STOP this brutality against its people in Kariobangi. We can no longer continue like this as a country! The kind of arrogance being exhibited by this insensitive government is both diabolical and stupid!. We are African and Africa is our Business." Nyoro posted on twitter.
On the same Friday, Itumbi called on the police to come out clean on Kuria's whereabouts, asking them to confirm if the lawmaker had been arrested.
Kapsaret MP Oscar Sudi yesterday alleged that the National power outage was a States plan to make sure the public remins in the dark on Kuria's whereabouts.
"Kenya power made sure that there is no power countrywide so that watu wasiwatch news that moses kuria is missing.. All shall be well," Sudi shared on twitter.
Kuria is Back
"My great people of the Kenya land and Nation. I am safe and sound. I have not been abducted. And, again, I am safe. I am overwhelmed by the outpouring of your love, your concern and solidarity," wrote Kuria.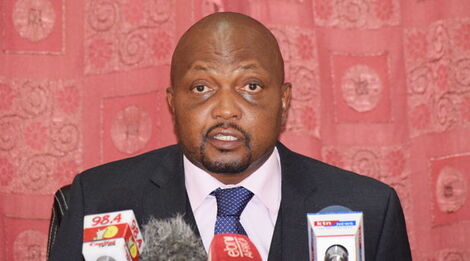 Kariobangi North MCA Maina Njoka was arrested on Wednesday, May 6, while distributing food to the vulnerable and elderly in the estate and was released on Thursday, May 7.
Moses Kuria noted that the arrest of the MCA was to discourage anyone from standing with the suffering people of Kariobangi Sewage and Korogocho Market.
The Gatundu South MP revealed that he followed the right procedures before moving to meet the residents of Kariobangi.
"As responsible leaders, we first presented to Kariobangi Police Station whereby we explained to the OCS and the Deputy OCS our mission and assured them that we have no ulterior motive other than to stand with our people.
"We then proceeded to Sewage Village and the adjacent Korogocho Market which had by then cut off by way of digging a deep trench around it to deny traders access thus putting the lives of tens of thousands who depend on food from the market at risk," narrated Kuria.
"As I left Homeland inn I was followed by 3 vehicles and had to use all sorts of deviations and tactics to dodge them. The objective was clearly to arrest me and hold me throughout the weekend or even worse to detain me in a quarantine facility.
"I was determined not to let this happen as I had done no wrong other than to stand with suffering people. More so, I would not do so without my personal doctor given what happened to Ken Matiba.
"The other objective was also to send a message to the so-called political class not to stand with the people at their hour of need. I have been used before as a guinea pig to send a message to the opposition, the political class.
"I was arrested and charged in 2014, 2015, 2016 and 2017 to facilitate arrests of opposition leaders. I had to battle those charges in court before I was acquitted of all of them But. But still, I am not a guinea pig. I am a human being.
"I am a husband, a father, a leader, a brother and a son to my dear mother who gets depressed when her son is arrested and charged only to send a message to others.
"I am very sure if the United Nations demand that a Kenyan be offered to test the Corona Virus vaccine, the Kenya government will offer Moses Kuria as the guinea pig to test the vaccine," posted Kuria.
The MP urged the people of Korogocho and Kariobangi village of his support and promised to visit them again alongside his colleagues and other well-wishers.
They have been calling on President Uhuru to come to their rescue.
Comments
comments