The threats came hours after a family in Ndera village, Rera sub-location recorded a statement at Akala police station over life threats from the former.
Kevin Ajinja had hosted Gem MP Elisha Odhiambo during the day at their home before the duo left.
Kevin says that he went back to work before receiving a call from his mother informing him that a group of youths had allegedly invaded their home one hour after midnight and threatened her.
"…I have reported the matter at the police because this is an issue that touches our lives and cannot be taken for granted" Kevin said.
After reporting the matter at the police, Jakoyo who seemed angered called Kevin.
" I received a call from former MP Jakoyo Midiwo telling me that we're going to fight with him. He threatened me and asked me to invite back Hon. Elisha." He said
In their phone conversation sourced by a local radio station, Jakoyo tells Kevin that he is still very young and do not expect him to drag his name in everything.
"… You're a child to me and I don't want you to drag my name in everything." Angered Jakoyo is heard saying.
The former MP who seemed unsettled warned Mr Kevin that he will find it rough calling on him to invite back Hon. Elisha.
"… I want you to call Elisha back and see if he will go back with his head!" He added.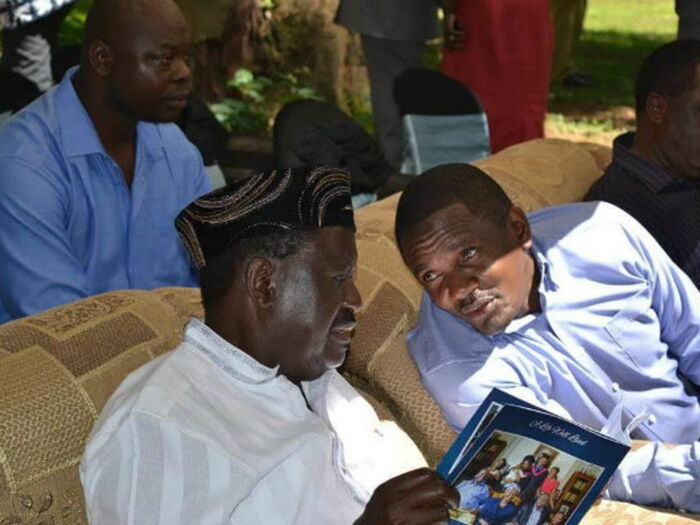 Jakoyo who was contacted by Mayienga FM admitted that he called Mr. Kevin to inquire about why he was dragging his name on an issue he knew nothing about.
"…It is true I called the boy and my concern was why they mention my name everywhere." He said.
Mr. Jakoyo went ahead and promised to slaughter Elisha should he find his ways to South Gem.
"…So if he comes, I swear I will cut him into pieces … and I'm not joking about it." Jokoyo insisted.
Elisha however said he has no personal issues with Jakoyo and that he had forgiven him.
"… I forgive him as a brother and as his leader." He said.
Jakoyo has been at loggerheads with his successor Elisha Odhiambo and the bitterness has since then been directed to some of his ardent supporters.
According to information from his close friends, Jakoyo is considering fighting for the position in 2022 after dropping his senate bid in what others believe is as a result of bankruptcy.
The former MP was first elected in 2002 on a NARC ticket before his re-election in 2007 and 2013 (both in ODM party ticket) respectively.
However, in the 2017 general election, he was dethroned by Elisha Odhiambo.
Midiwo is not new to such political heated exchanges,  last month, four police officers in Kisumu county were placed under investigation for allegedly assaulting former Gem MP Jakoyo Midiwo and his driver.
The officers are said to have assaulted Midiwo and his driver at his residence in Milimani Estate following a disagreement in which, according to sources, the former legislator turned it to a huge show of personal tantrums.
The officers whose names have not been disclosed later arrested the duo and locked them up at Kisumu Central Police Station without booking them at the Occurrence Book (OB).
County Police Commander Ranson Lolmodooni said the officers were not on official duties at the time of the incident.
Comments
comments