AU's Special envoy and former Prime Minister Raila Odinga's daughter, Rosemary Odinga, has given a strong indication about bouncing back into active politics after recovering from blindness.
Ms. Rosemary had declared her candidature for the Kibra parliamentary seat in 2016, ahead of the 2017 General Elections but dropped out of the race months later due to illness. She was to face the late Ken Okoth in her Fathers bedroom-Kibra constituency.
She had been diagnosed with a non-cancerous brain tumor that caused her partial blindness. She was later flown to South Africa for advanced treatment.
Yesterday while appearing to Mutahi Ngunyi's produced Punchline Show that Anne Kiguta hosts on UhuRuto owned- K24 Tv, Rosemary said only time will tell whether she will eventually see her political dream back on track.
"It's still too early to talk about running for office right now. Right now the country is going through a tough time with Covid-19. Now is not the time for people to think about what seats I want, who I want to remove or who I want to put in. I mean yes, there's still politics happening but this is not the time for that. We need to be more cognizant of the fact that people don't have jobs and people are struggling. I think it's too soon to talk about 2022 but let's wait and see. As long as I'm able to support my countrymen and women I'm happy, it doesn't have to be a political space but if it is so, so be it, let the people decide," she asserted when asked whether she had gained enough strength to return to the campaign trail.
Rosemary also cautioned leaders against defending Kirinyaga Governor Ann Waiguru against impeachment in the Senate simply because she is a woman.
"Let the procedure go forward and see whether the evidence brought forward against Waiguru is correct, and then make a decision," she noted.
There was a public uproar after Public Service and Gender CS Margaret Kobia condemned the impeachment of Kirinyaga Governor Anne Waiguru.
In a statement on Wednesday, Kobia demanded justice and due process to be followed in Waiguru's impeachment. The CS said Waiguru's impeachment during the Covid-19 global pandemic is a major injustice to women leadership.
This came at a time the Rosemary's father Raila Odinga was alleged to have met the embattled Governor Waiguru secretly at an exclusive club in Karen at night after which the former PM agreed to save her job in the Senate.
Waiguru's fate is now in the hands of the Senate which will make a decision on whether or not she is going home tomorrow.
She also addressed the emerging 'Hustler vs Dynasties' narrative used by Deputy President William Ruto and his allies to characterize her father and President Uhuru Kenyatta.
"It's unfortunate that such conversation has found its way into the conversation of our nation because really you should judge someone by their character and what they're going to do for you."
Rosemary asked Kenyans to focus on policies instead of such a narrative. She argued that voters were supposed to judge candidates on the basis of their platforms not their family history.
"It should be about their policies. It should be about what you are going to provide to your country, not this narrative of dynasties which is being peddled. We are a country which should focus on policies. Which are the policies we can use to uplift each other?" she posed.
Rosemary was called on the show to address the allegations by former State House operative Denis Itumbi that Uhuru Kenyatta had appointed her as the technical advisor of Gender CS Margaret Kobia.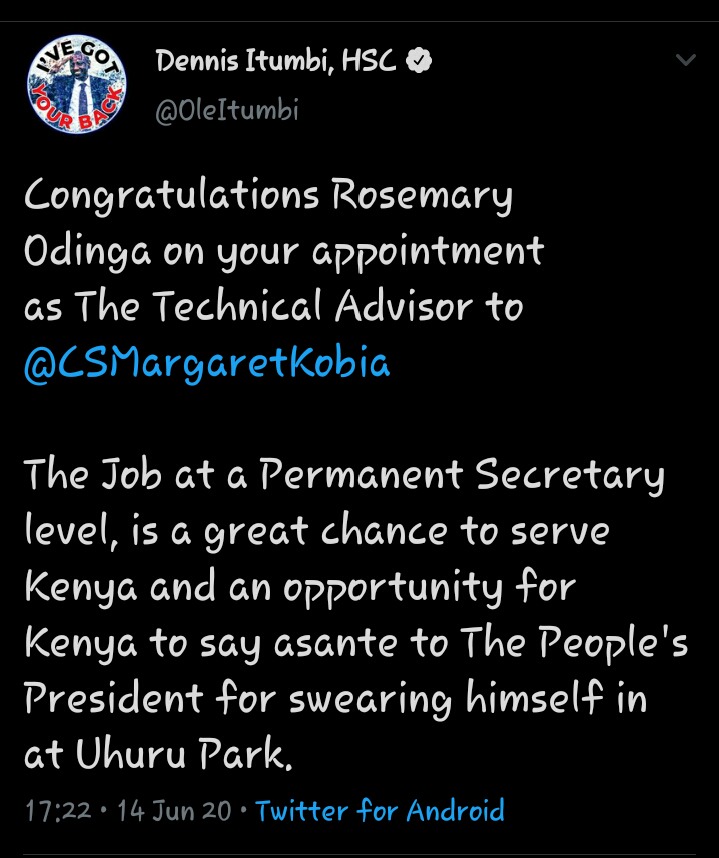 Comments
comments