Popular Kenyan Tiktok Star Azziad Nasenya is the talk of the town yet again, this time after her rate card leaked online.
To work with the internet-famous 19-year-old-actress and content creator, brands will allegedly have to part with a good chunk of money.
For instance, for a single tweet or an Instagram story from the influencer, brands will part with Sh50,000. This is the least amount she charges brands, charges go up to Sh500,000 a month.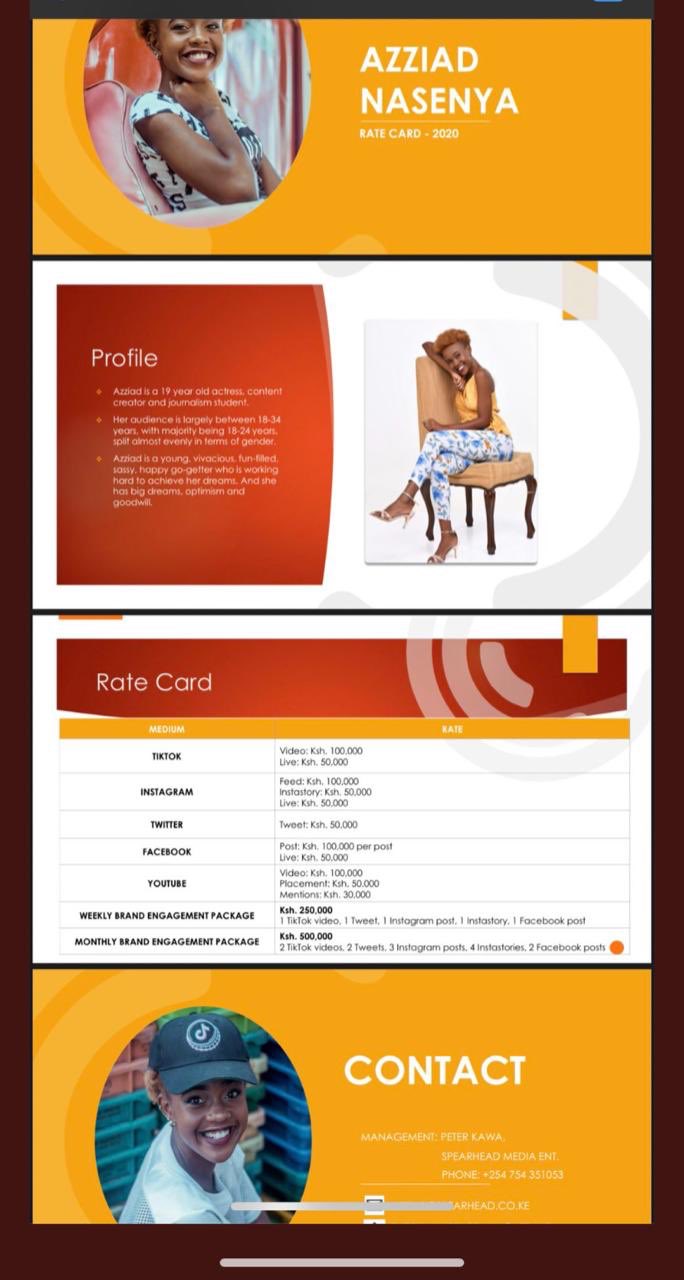 Netizens have reacted in shock after learning how much the celebrated content creator who rose to fame for her lip-syncing video to the "Utawezana" banger by Femi One and Mejja, which went viral with over 600,000 views makes.
With dozens saying the move is well deserved and will pave way for fellow content creators, others have dragged the 19-year-old terming her as ill-advised and over-ambitious.
Why are folks complaining about Azziad's rate card? When there's brands willing to pay or have paid 5 times that for campaigns?

In the long run this is really good for everyone…

In short "Cut your coat according to your cloth" …

— thetimwork (@thetimwork) July 22, 2020
I'm so proud of Azziad, that's the way to go. Google, Facebook and Twitter ads are very expensive that's why brands come looking for influencers since they can get cheap publicity.

— Kel (@KelMaundu) July 22, 2020
Agencies have normalized giving influencer gigs to their friends. We are in the era of online hawkers, which has led to influencer fatigue.

If Azziad is able to justify her rate card, let her earn her money. Remember you can always negotiate. Only a fool throws away money. https://t.co/yX7F5oBvj8

— Yuri (@ArcherMishale) July 22, 2020
Azziad is at most a micro influencer. Io rate card ni ya macro influencer. No sane brand would pay a single micro influencer that amount of money. She must be bluffing.

— Yes Bana (@Izooh_) July 22, 2020
Comments
comments