The Senate Majority Leader Samuel Poghisio has sued a West Pokot based comedian and activist Dennis Kapchok Ruto popularly known as Mulmulwas.
Computer Misuse and Cyber Crime Act has been abused thanks to the DCI, once again after Mulmulwas was nabbed from his home town Kapenguria and brought to Nairobi over claims of hate speech against the Jubilee West Pokot county senator.
His lawyer, Philip Magal, stated that he was unaware of his client's whereabouts stating that he had been taken to Nairobi for interrogation.
"He told me he was being driven to the capital, Nairobi. His phone was unreachable, thereafter," Magal stated.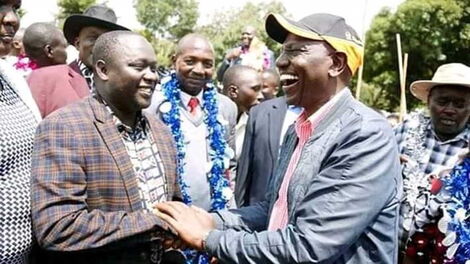 Police said they are investigating claims of cyber harassment under the Computer Misuse and Cyber Crime Act over a post he made on his social media against Senate Majority Leader Samuel Poghisio.
Poghisio who is also the local senator had apparently complained to police the post-Kapchok made was malicious and a form of harassment to him. This prompted the police to move to action and traced Kapchok to Kapenguria where he was arrested and brought to the city.
And as expected, the Comedian will be produced before the court where police will seek more time to hold him as they investigate the issue.
Pokot South MP David Pkosing, on his part, stated that he had not managed to know about the politician's whereabouts.
"We have gotten reports that he was taken by a car believed to belong to the police. Many people, who have been critical of government officials and persons in positions of power, have often been abducted and found dead a few days later. We hope Mulumulwas' case won't end in such a manner. Just last year, a resident of my constituency was kidnapped by people who claimed they were investigative officers, only for the victim to be found dead days later," the legislator stated.
Kapchok came into the limelight in 2019 after a comment by West Pokot Governor John Lonyangapuo where he described him as a "Kijana mfupi mnono ya round'  meaning a short person with a round figure.
Comments
comments