NYS might have changed its meaning to No Youths Showing up after its Nationwide recruitment was marked with the lowest turnout ever.
Today is the last DAY of our Nationwide recruitment exercise that begun on monday 2/11/2020. We encourage those planning to attend to come out in large numbers and try their LUCK! Wishing you all the BEST. pic.twitter.com/5SuV0jwfHv

— NYS Kenya (@NYS_Ke) November 6, 2020
According to NYS Director-General Ms Matilda Sakwa the recruitment for 2020 has been marked by low turnout due to COVID-19 as the projections were not met despite a countrywide exercise.
However, there has been a cold boycott from Kenyan youths after it emerged, after massive complaints from the youths already enrolled alleging that the NYS does not release their funds on time.
Since 2013, thousands of junior officers in the National Youth Service (NYS) and bands have accused their bosses of not paying their allowance's.
"I did not get even a cent for the four days I was in Nyeri during the 2015 Madaraka Day ceremony, but we fear that some seniors may be withholding our money," said an officer based at Gilgil Training College.
The NYS Director-General Ms Matilda Sakwa was speaking at the Machakos showground during a monitoring mission.
NYS officer interviewing a PWD with a hearing impairment during a recruitment exercise at Longisa Bomet County. She has since been enlisted in the Service, indeed disability is not inability. pic.twitter.com/sAYYOmhFM9

— NYS Director General (@DG_matilda) November 4, 2020
Candidates were required to present a Covid-19 free certificate at recruitment centres in this year's recruitment. The NYS Boss said that in order to ensure social distancing in both Naivasha and Gilgil training centres, the National service settled on recruiting 7,800 youth which is half of last year's tally.
People with disabilities who can run, walk and perform physical exercise have been targeted in this year's exercise in the 47 counties across all the 333 recruitment centers.
Noting that at least 150 youth from the county will secure positions in the advertised service positions, Machakos County Commissioner Fredrick Ndunga who was present during the recruitment exercise at Machakos appealed to always take advantage of opportunities presented by the government.
Successful candidates will be admitted to NYS Colleges at Gilgil and Naivasha for the NYS basic paramilitary training in the next two weeks on dates and times specified in their respective calling letters.
DG Sakwa assured that the process has been fair and chances given to those most deserving.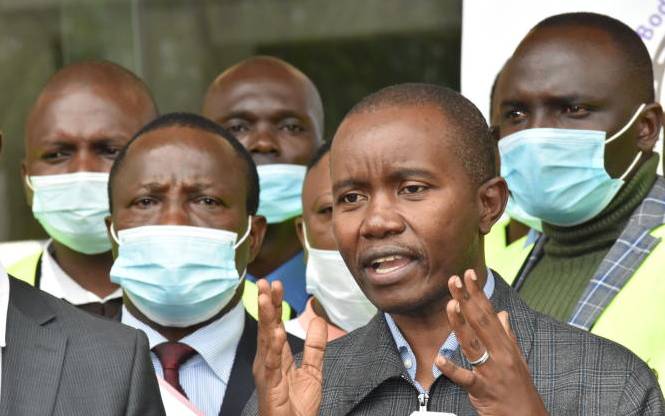 This is coming at a time that the National Youth Service (NYS) had been allowed to train Boda Boda riders across the country to boost road safety. The riders will pay Sh750 for the week-long course and thereafter, receive a certificate and licence.
The initiative is part of reforms by the government to streamline the Boda Boda sector. This comes after the launch of the Collective Investment Scheme by President Uhuru Kenyatta last week.
No rider will be allowed to use the road without a licence and will be registered with Boda Boda Information Management System (BIMS) as the government seeks to rein in rogue operators.
Kevin Mubadi, the Executive Chairman of the Boda Boda Safety Association of Kenya, said BIMS, an online boda bodas registration platform, will be reinforced by the licensing and will be a big boost to the industry.
He regretted that lack of licences meant that most riders cannot access insurance claims when involved in accidents.
Comments
comments