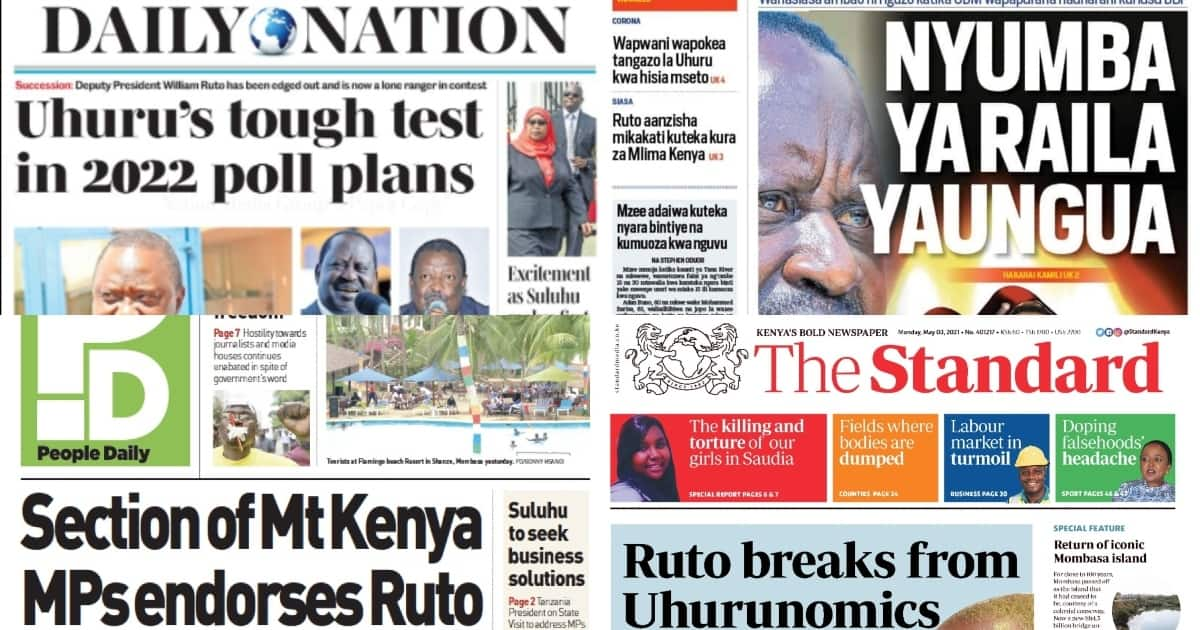 Magazeti ya Jumatatu, Mei 3, yameipa uzito siasa za 2022 ikiwemo ahadi ya wanasiasa wa Mlima Kenya kumuunga mkono Naibu Rais William Ruto ambaye pia ameahidi kumchagua mgombea mwenza kutoka eneo hilo kama shukrani.
Magazeti haya pia yameguzia mgawanyiko unaokumba chama cha ODM kuhusu mabadiliko kwenye BBI.
Habari Nyingine: Seneta James Orengo Ashtumiwa Kusaliti chama cha ODM kwa Kupinga BBI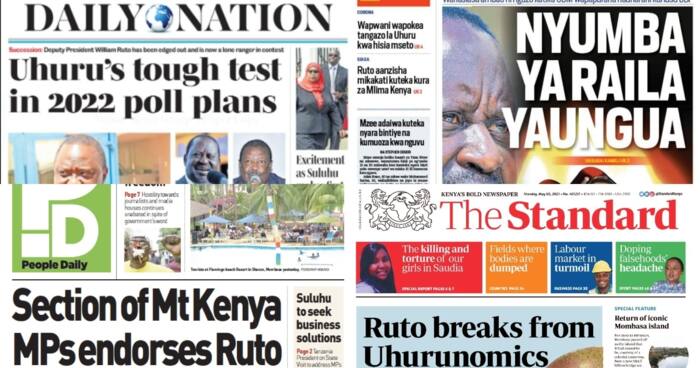 Habari Nyingine: Raphael Tuju Atembea Kilomita 50 kwa Mara ya Kwanza Tangu Kuhusika Kwenye Ajali
1. People Daily
Gazeti hili limeangazia ahadi ambayo Ruto amepewa na baadhi ya viongozi wa Mlima Kenya ambao walikutana Maasai Mara kujadili mpango wa kumrithi Uhuru.
Wabunge hao walimpendekeza Ruto, wakidai kwamba wataanza kumpigia kampeni eneo hilo.
Japo kuwa wameahidi kusimama na naibu rais, walitoa masharti yao ya kutaka awape viti fulani ikiwemo kumchagua mgombea mwenza kutoka eneo hilo miongoni mwa faida zingine.
Miongoni mwa wale wanapigiwa upatu kuwa mgombea mwenza wa Ruto ini ikiwemo waziri wa zamani wa Kilimo Mwangi Kiunjuri, Mbunge wa Mathira Rigathi Gachagua, na seneta wa Tharaka Nithi Kithure Kindiki.
2. The Standard
Gazeti hili limeangazia mbinu ambayo Ruto anapania kutumia endapo ataapishwa kama rais wa tano wa Kenya.
Ruto alisema atashughulikia sana uhaba wa kazi, umaskini na idadi ya watu mashinani.
Pia aliahidi kubuni mazingira ambayo yatazawadi bidii na ubunifu.
Ajenda yake kuu ni kuinua biashara ndogo na kuongeza mapato ya wakulima.
Haya yanajiri huku wakosoaji wa Ruto wakimsuta kwa kushindwa kutimiza hayo akiwa na bosi wake.
3. Taifa Leo
Gazeti hili limeripotia mpasuko katika Chama cha ODM kuhusu mswada wa BBI .
Chanzo cha mgogoro huo ni kubuniwa kwa maeneo bunge 70 kama ilivyopendekzwa na mswada huo huku kundi linaloongozwa na Seneta wa Siaya James Orengo likipinga.
Kundi lingine linaloongozwa na John Mbadi likisisitiza mabunge hayo ni muhimu na hivyo mswada huo unatakiwa kupitishwa bila kufanyiwa marekebisho yoyote.
Mvutano huo umepelekea kikosi cha Mbadi kuwakashifu wanaoongozwa na James Orengo na Mbunge wa Rarieda Otiende Amollo, kwa kuwa wasaliti na kupanga njama ya kumrithi Raila Odinga kama kiongozi wa siasa eneo la Nyanza.
4. The Star
Kwenye gazeti hili, kuna mzozo kati ya vyuo vikuu viwili tajika na Mamlaka ya Ukusanyaji Ushuru Kenya (KRA).
Akaunti ya Chuo Kikuu cha Nairobi (UoN) na Chuo Kikuu cha Kenyatta zinaripotiwa kufungwa na KRA.
Kulingana na KRA, vyuo hivyo havijakuwa vikilipa ushuru kwa miaka kadhaa na hivyo kufanya madeni yao kurundikana hadi kuwa mabilioni ya pesa.
Chansela wa UoN, Profesa Stephen Kiama na mwenzake wa KU Prof Paul Wainaina walikubali kuwa wana deni la KRA lakini walikanusha madai kuwa akaunti zao zimefungwa.
READ ENGLISH VERSION
Je, unayo taarifa ya kusisimua ambayo ungependa tuichapishe? Tafadhali, wasiliana nasi kupitia [email protected] au WhatsaApp: 0732482690.
Subscribe to watch new videos
Source: Tuko
Comments
comments