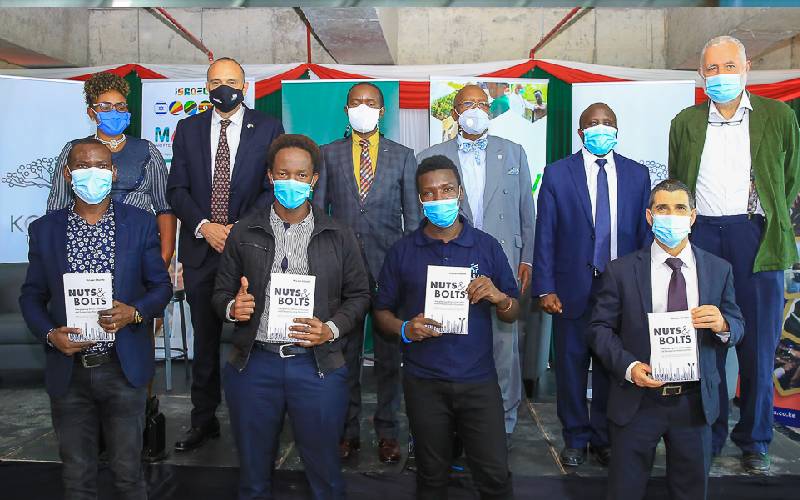 Four start-ups have secured an opportunity to pilot their innovations at the Konza Technopolis in a bid to provide solutions for the residents and investors setting up at the smart city.
The start-ups, which emerged winners at the just concluded Konza Innovation Challenge 2021 will be seeking to provide various smart solutions for about 30,000 residents expected in the city.
Personal Watchguard, Ekraal Hub and H-Pass businesses from Kenya are expected to pilot their innovations on intelligent asset management, smart parking management and access management respectively.
The fourth startup from Israel, Step-Hear – Assistive Accessibility Technology will be offering its services on traffic management.
 The Innovation Challenge was jointly hosted by the Konza Technopolis Development Authority (KoTDA) and Embassy of Israel in Kenya.
The challenge, which attracted 99 nominations from Kenya and four from Israel sought to provide an opportunity for innovators in Kenya and Israel to solve the immediate and long-term needs of Konza Technopolis.
 Cabinet Secretary for ICT Joe Mucheru lauded the efforts by the innovators saying piloting of the innovations at Konza Technopolis was a great milestone for the country as it will not only serve Konza but can be implemented in the rest of the country.
"This is exciting and historic moment in the sector as we are accelerating development by having homegrown solutions to deal with our challenges. As a government, we are glad that today's innovations will be piloted here at the Technopolis," Mucheru said.
Take a quick survey and help us improve our website!
While urging the innovators to keep leveraging on the tech space, Mucheru reiterated the government's commitment towards creating an enabling innovation environment for startups to grow and thrive.
 According to African Tech Start-ups Funding Report 2020, Kenyan tech start-ups raised a record amount of funding in 2020, securing a combined total of Sh19.1 billion.
Mucheru's sentiment were echoed by the Israel Ambassador to Kenya Oded Joseph who said stressed on strengthening collaboration efforts to advance innovation and development in the ICT space between the two countries.
"As a country, Israel is honored to be part of Kenya's innovation journey, and we are happy to compare notes and share ideas. We are happy to be part of the Konza Innovation Challenge," Oded said adding that Kenya has made considerable steps in establishing a more innovation-driven economy.
 "Kenya's start-up ecosystem is vibrant, and quite established in the continent. As the government of Israel, I would like to state that we are proud to be part of this journey and we pledge to continue working with you to build your ICT and Innovation ecosystem for posterity," he said.
Author Profile
I am a young Kenyan interested in new media and dissemination of news and information as it unfolds.