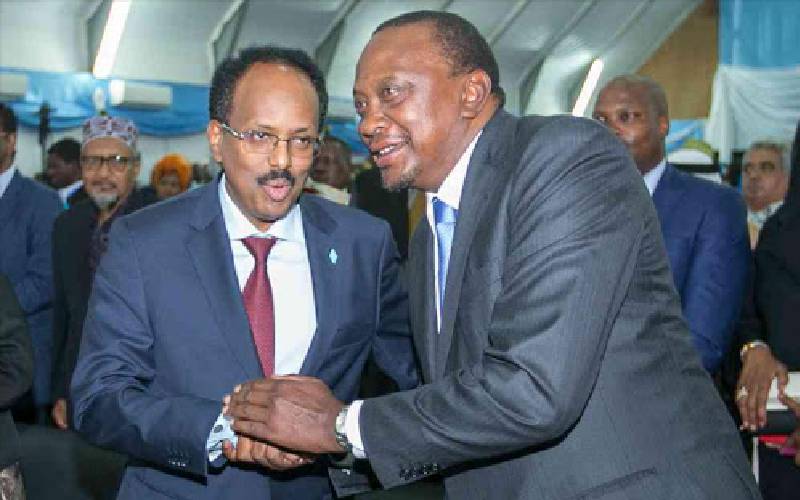 The diplomatic ties between Kenya and Somalia seem to be taking another frosty direction after Nairobi suspended all flights to and from Somalia.
This is barely a week after Mogadishu announced that it has restored its ties with the latter.
In a Notice to Airmen (Notam), Kenya Civil Aviation Authority said flights departing for or arriving from Somalia will not be allowed for three months.
Only humanitarian deliveries and medical evacuation flights will be allowed into the country, the aviation regulator said.
The authority did not elaborate on the reasons but suggested there had been a security directive from the government to restrict air traffic between the two countries.
The suspension comes also days after Somali authorities rejected to lift the ban on Kenyan miraa flights imposed last year due to Covid-19. 
The decision means that all chartered and scheduled flights to Somalia would not be allowed.
Take a quick survey and help us improve our website!
However, flights from Somalia, passing through the Kenyan airspace to another destination will be exempted. 
Kenya Civil Aviation Authority Director General Captain Gilbert Kibe said it was an order they are implementing and Kibe said he would not disclose details of who gave the orders and why.
This came even as Somalia's President Mohamed Farmaajo was overflying Kenya on his way to Uganda to attend the inauguration of President Yoweri Museveni.
President Uhuru Kenyatta is also expected to attend the inauguration.
Also exempted are military flights which are not within the jurisdiction of the KCAA.
The Standard has established that the move was in retaliation to Somalia's move to suspend several Kenyan airlines.
A senior officer at the Ministry of Foreign Affairs told the Standard that by Monday, Somalia had suspended several airlines who had requested to fly cargo following Mogadishu's statement that they had restored ties.
"Somalia has essentially grounded planes trading between us and them, just for seeking permission to fly there. The move indicated that there is really no goodwill to normalise relations," the official said.
Last week, Qatari special envoy Mutlaq bin Majed al-Qahtani helped broker resumption of relations after Mogadishu announced it was reopening its diplomatic channels it had shut down in December, protesting against Kenya's alleged interference in its internal affairs.
President Mohamed Farmaajo's spokesperson Abdirashid Hashi said the move was in the interest of the two countries and based on mutual benefit and respect.
"In the interest of good neighbourliness, Federal Government of Somalia resumes Diplomatic ties with Kenya based on mutual benefit and respect for sovereignty, territorial integrity, non-external interference, peaceful co-existence and equality," he said.
Hashi said President Farmaajo and his Kenyan counterpart Uhuru Kenyatta were grateful to the Emir of Qatar for his intervention which saw the two agree.
Nairobi in its response said the ministry of foreign affairs had taken note of a press release issued by Somalia authorities reestablishing their diplomatic relations with Kenya.
"In taking note of these developments, the Ministry of foreign affairs looks forward to further normalisation of relations by the Somali authorities including with regards to trade, communication, transportation, people to people relations and cultural exchanges," read a statement from the ministry.
In December last year, Sonamial announced it had ended its diplomatic ties with Kenya in dead of night citing interference and violation of her sovereignty and territorial integrity.
Somalia Minister of Information Osman Abukar Dubbe made the announcement just hours after President Uhuru held talks with break-away Somaliland President Muse Bihi at State House, Nairobi.
Mogadishu said it would withdraw all its diplomats from Kenya and had ordered Kenyan diplomats to leave the country within 7 days.
''Somalia wants all its diplomats to go back to Mogadishu and Kenyan diplomats have 7 days to leave the country,'' said Osman Dubbe.
But Kenya denied the claims by Mogadishu that it is meddling in Somalia's internal affairs.
Through the Ministry of Foreign Affairs, Kenya said claims by Somalia were unsubstantiated allegations.
Nairobi said it did not receive any Note Verbale or any other official communication from Mogadishu requesting Kenya's ambassador to leave for Nairobi for consultations.
The ministry said it could only take up the matter once it was officially notified.
"We are waiting… I think this a question you should be asking their end…. why they do public announcements without official communication. We have not received any formal communication," the ministry said.
Government spokesman Cyrus Oguna said Kenya would not follow the same route taken by Somalia.
Oguna said instead of Nairobi retaliating, it would set up a team to seek a diplomatic solution.
While maintaining that there is a commonality between the two countries and anything that can undermine the commonality must be addressed, Oguna said Kenya would instead let the IGAD and Comesa handle the matter.
"We are a higher nation, we cannot do the same thing Somalia has done. If we do so it will look like revenge," he said.
Kenya hosts more than 200,000 Somalis who fled the decades-old civil war that eventually gave birth to terrorism.
Author Profile
I am a young Kenyan interested in new media and dissemination of news and information as it unfolds.