[ad_1]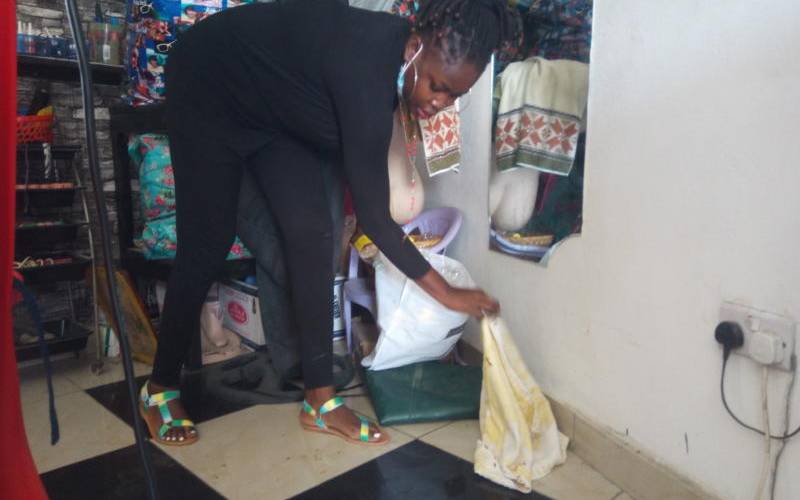 A gang slashed 10 people, sexually harassed women and robbed traders and locals of cash and other valuables during a raid in Mombasa's Bamburi on Monday evening.
In an attacked similar to the one carried out in August 2019, the gang of about 40 people that appeared from the Soweto converged at Bashir grounds before they spread out in groups of five.
Victims said the raiders were dressed in white robes. 
Nyali police boss Daniel Mumasaba said only two people were injured in the attack but the Standard interviewed 10 victims who said were slashed and robbed by the raiders.
"At about 1830 hours, it was reported by one Abdallah, who is the chairman of Kazandani boda boda operators, that a group of teenagers were spotted within Bashir armed with crude weapons," states a police report shared by Mombasa County Commissioner Gilbert Kitiyo.
Some of the women victims narrated how they were stopped in the middle of the road before the gang leader groped them.
Pascal Kahindi, 23,  who is a plumber, said he thought it was a joke when the gang of youth aged between 14 and 18 years approached him.
"I was seated outside my house when I suddenly saw people running and shouting 'Wakali Kwanza! I thought it was a joke," said Kahindi.
Take a quick survey and help us improve our website!
Kahindi was slashed on his right cheek by one attacker as others were frisking his pockets.
He said the attackers were armed with pipes, clubs, iron rods, machetes and hammers.
Leonard Kai, 27, who is a boda boda oeprator, said he was surrounded by about five attackers who ordered him to hand over all the money he had. Kai suffered fracture on his left leg after he was hit by a blunt object. 
"They were small boys. I did not expect them to harm me. I still have some pains on my leg," said Kai, who said that he was treated at a local clinic and discharged.
Another woman identified as Judy is still admitted at Premium Hospital after he was attacked inside a saloon where she was doing her hair.
Judy's brother, who identified himself as Owillo, said his sister suffered head injuries after he was slashed twice.
Marium Atieno said over 20 armed men forced their way into her saloon and stole Sh8,000 and three mobile phones from her clients.
Another victim, Sally Achieng, suffered injuries on her left eye and her left leg after the gang beat her up. 
"They hit me with a blunt object and left me unconscious," said Achieng who was assaulted and robbed Sh4,550.
Peter Kigano was slashed twice on his head outside his shop. He was treated at a local hospital.
"I have spent Sh6,000 for treatment but the medics there told me I have to go for a scan because I may be having some fractures in my skull,'' he said.
Lucy Nkirrote said the raiders took Sh10,000 and eight cellphones she was charging for her clients.
"I am thankful to God that they did not harm me but all the money I had was gone," she said.
Jane Kathure, who runs a shop, said 20 raiders forced their way into her shop and stole Sh52,000.
Nyali police boss said two suspects have been arrested and are helping with investigations.
[ad_2]

Source link
Comments
comments