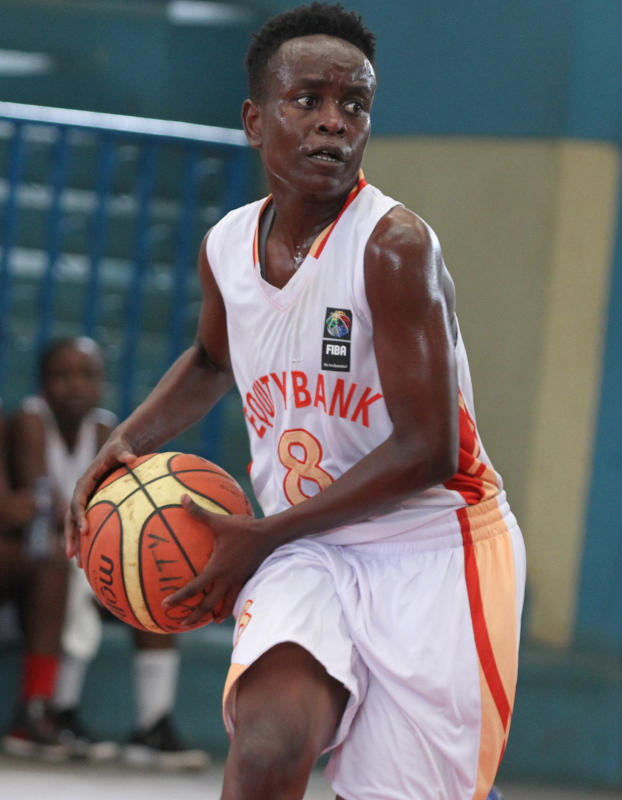 Equity Bank women basketball team's Hilda Ndegwa says being crowned the Most Valuable Player (MVP) in the recently held Golden Cup has motivated her to work extra hard, with a view earning a maiden national team call up.
The 27-year-old point guard was instrumental in Equity's success in the women's only invitational tournament held at the weekend at Nyayo National Stadium in Nairobi.
The tournament was organised by Sterling Sports Inc – an organisation, which seeks to provide leadership and strategic direction by promoting and developing youth through sports and arts. Storms, Sparks Zetech and Money Teams are the other teams, which progressed to the competition's home stretch.
On their way to the tough finals, where they overpowered Money Team 57-43, Equity who are the defending champions in the Kenya Women's Premier League beat Storms 72-42 in the semi-finals. For the Money Team, they beat Sparks Zetech 42-38 in the other semi-finals. Sparks Zetech beat Storms 73-46 in the third-place playoffs.
Equity received Sh 50,000 cash prize for their triumph in the tournament while Money Team and Zetech received Sh 30,000 and 20,000 respectively.
"As an upcoming player, it (being crowned the MVP in the Golden Cup) is something that I value so much. It is not easy to be the best, so this achievement means a lot to me," said Ndegwa.
"I am happy because it has come at a time when the league is just about to resume. While the league is different from a tournament, the award has motivated me to give myself among the best and win more because through that I know I stand a chance to get a call up in the national team."
It is the second time this year that Ndegwa has been an MVP, as she scooped the same award in the Tom Munyau Tournament held in the run up to the kick-off of this year's KBF in March.
Her basketball journey began at Bishop Gatimu Ngandu High School in Nyeri after which she joined Footprints in Nairobi. She later moved to Masaku Sparks and then Equity. The point guard has expressed joy in the resumption of the league saying:
"Playing basketball is what I like doing so you can imagine how tough it has been for me and other players without the games. It is a big joy to us that the games are finally resuming." 
Equity will take on Eagle Wings on Sunday from 10.30am.
Author Profile
I am a young Kenyan interested in new media and dissemination of news and information as it unfolds.