Retired Chief Justice David Maraga has publicly disagreed with President Uhuru Kenyatta's failure to appoint six judges, adding the move is likely to ruin their careers.
Maraga's sentiments come barely a week after the President gazetted the appointment of 34 out of the 41 judges who were nominated by the Judicial Service Commission (JSC) in 2018.
In an exclusive interview with KTN News on Wednesday afternoon, retired CJ Maraga termed the president's action as an act of 'lynching the judges in public'. He added that failing to appoint the judges will lead to the public losing confidence in their work.
"This is extremely bad because how do the judges continue to serve?" Maraga asked.
"In the eyes of the public they are the corrupt judges the president had talked about," he added.
Maraga insisted the president would have appointed the judges, sworn them in, then lodge a complaint to the JSC, a body tasked with investigating judicial officers.
"You cannot condemn somebody unheard, that is very wrong," he went on.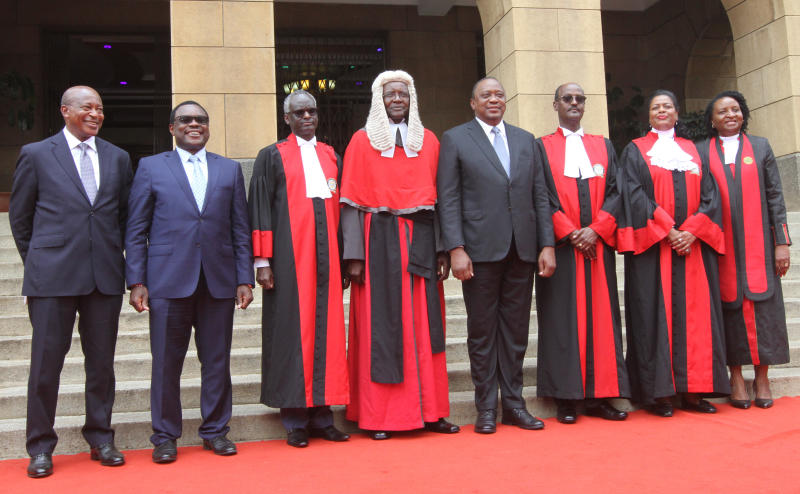 The 41 names of the candidates nominated by the Judicial Service Commission (JSC) were forwarded to the president for approval two years ago when Maraga was still in office. The president delayed appointments on grounds that some of the judges had questionable backgrounds.
"I was aware that the president said some judges' conduct was questionable, but the names have changed, others have been added and others removed. I will not name them," Maraga remarked.
According to Maraga, allegations made by the president on the judges' conduct were not bonafide.
"If it was a bonafide allegation then why to change the names?" he asked rhetorically.
When asked how he will remember President Uhuru, he said: "I will remember him as a president who had no regard for the law…"
President Uhuru presided over the swearing of the 34 judges on Friday, June 4, leaving out six after one of the nominees died before the appointment.
The six left out were High Court Justices Joel Ngugi, George Odunga, Aggrey Muchelule and Weldon Korir who were to join the Appellate court, Registrar of the High Court Judith Omange and Chief Magistrate Evans Makori, who had been nominated to the Environment and Lands Court.
What will it take to save Mumias?
Efforts to revive Mumias' operations and payback lenders were quashed leaving receiver with the option of leasing Mumias's assets for a given period.
Author Profile
I am a young Kenyan interested in new media and dissemination of news and information as it unfolds.