Wakazi wa eneo la Masinga, kaunti ya Machakos walijionea sinema ya bwerere baada ya mganga kuwasili kwa lofa ili kudai deni.
Kama njia ya kujilipa kwa huduma yake, mganga huyo aliondoka na ng'ombe wa jamaa.
Habari Nyingine: Chama Kinaisha! Gavana Ann Waiguru Aitisha Mageuzi Ndani ya Jubilee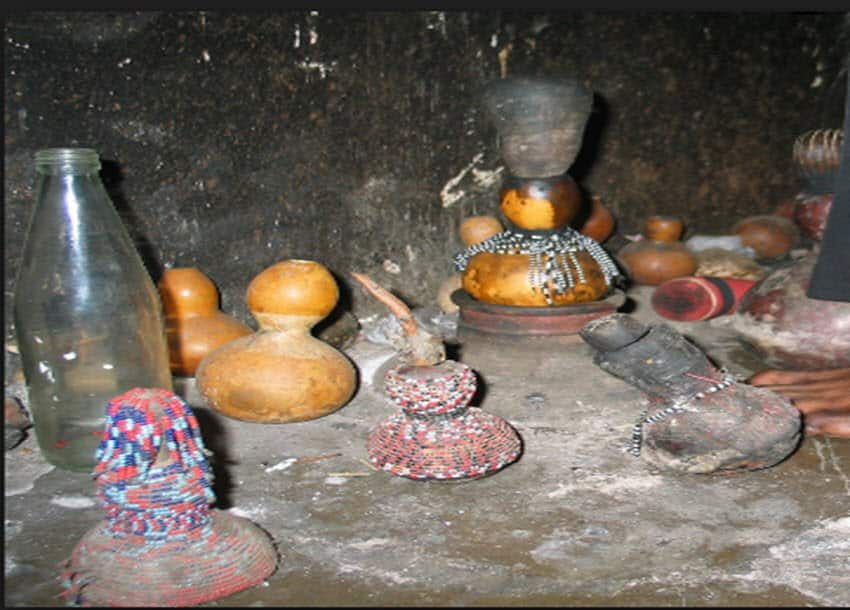 Kwa mujibu wa Taifa Leo mganga alikuwa amemhudumia jamaa aliyeahidi kulipa baadaye lakini lofa alianza kumzungusha mpiga ramli.
Inasemekana ilikuwa nadra sana kwa jamaa kupokea simu.
"Wakati mwingine akiipokea alikuwa akimpa mganga matumaini ya kulipa deni lakini hakuwa akitimiza," alieleza mdokezi.
Duru zinasema kuwa baada ya kusubiri kwa muda mrefu na kuona jamaa hakuwa tayari kumlipa, mpiga ramli aliamua kuelekea kwa boma lake.
Habari Nyingine: Mshukiwa wa Uhalifu Busia Aliyedhaniwa Kuuawa na Kuziwa Arejea Nyumbani
Barobaro alishtuka kuamka asubuhi na kumkuta mganga nje.
"Mzee nani alikuonyesna kwangu," jamaa alimfokea mganga.
Inasemekana mganga alisalia kimya huku akimkazia jamaa macho makali.
"Mzee hapa kwangu mtu haji bila kunifahamisha. Siko tayari kumpokea mgeni asiyealikwa," jamaa aliwaka.
"Mimi sipendi ujuaji. Nimeona wengi kama wewe tu kwa hivyo kaa ukijua hutaniweza. Deni langu ulipe sasa hivi," mganga alinguruma baada ya kusafisha koo.
Baada ya hapo, mpiga ramli alifululiza hadi zizini akawafungulia ng'ombe watatu huku jamaa akimfuata mbio akipiga keke.
Habari Nyingine: Wakili Ombeta Ajitolea Kumwakilisha Jamaa Aliyempiga Rais Macron Kofi
"Kelele zako ni za chura. Unipeleke utakako," mganga alifoka.
Majirani waliosikia mvutao huo walifika kwa haraka lakini walipobaini zogo lilikuwa baina ya jamaa na mganga maarufu wa eneo hilo waliamua kusimama kando.
"Nilipomhudumia hakunilipa. Nilichukua mbuzi wangu mmoja nikawachinjia mizimu ndiposa apone. Leo hii yuko sawa hataki kunilipia," mganga aliwaeleza majirani wa jamaa.
Kila mmoja aliyekuwepo eneo hilo alibaki kinywa wazi huku akitazama mganga akiondoka na ng'ombe wa jamaa.
"Akiendelea kuleta ujuaji nitawaachilia wazee wamtembelee. Yeye ni kitu kidogo sana," mganga aliapa huku akienda zake.
Je, unayo taarifa ya kusisimua ambayo ungependa tuichapishe? Tafadhali, wasiliana nasi kupitia [email protected] au WhatsaApp: 0732482690.
Subscribe to watch new videos
Source: Tuko News
Author Profile
I am a young Kenyan interested in new media and dissemination of news and information as it unfolds.