– Rais Uhuru Kenyatta alisimama mtaani Ngong kwa dakikia chache na kuwahutubia wakazi kuhusu uchomaji wa silaha harama
– Wakazi wa Ngong' waliimba nyimbo za sifa wakidai Uhuru anastahili kupewa miaka mitano tena madarakani
– Uhuru aliwahakikishia kwamba miradi yote ambayo alianzisha na inaendelea eneo hilo atahakikisha inakamilika na itawafaidi sana
Rais Uhuru Kenyatta aliwachangamsha wakazi wa mtaa wa Ngong' baada ya kusimama kwa dakika chache kabla ya kuwahutubia siku ya Jumatano, June 9.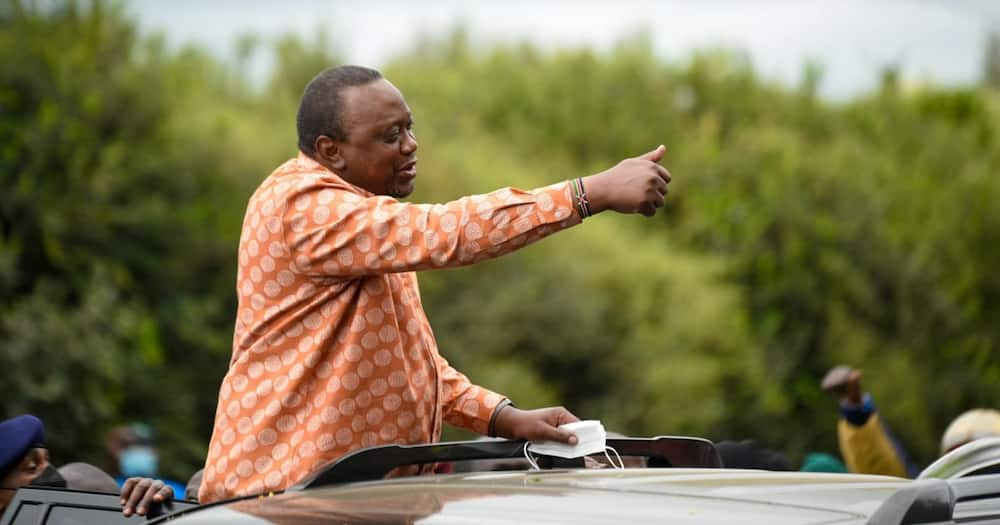 Uhuru alikuwa amezuru mtaa huo kushuhudia uchomaji wa silaha zaidi ya 5,000 haramu ambazo nyingi zilisalimishwa na raia kwa serikali.
Kwenye video ambayo imeenea mitandaoni, wakazi wanasikika wakimlimbikizia sifa Uhuru wakiimba, " Tano Tena,' Wimbo ambao ulivuma katika kampeni za uchaguzi mkuu wa mwaka wa 2017.
"Msikubali kupotoshwa na kurushwa upande mwingine na wengine," Uhuru aliambia umati.
Uhuru alisema lengo lake kuu ni kuona Wakenya wanafanya biashara yao bila kusumbuliwa wala kutatizika.
Rais pia aliwahakikishia wakazi kwamba mipango na miradi yote ya maendeleo ambayo ameanzisha atahakikisha amekamisha kabla ya muhula wake kuwa madarakani kuisha.
" Nitarudi hapa hivi karibuni na kufungua soko hili ambalo bado linajengwa, tayari nishaongea na gavana wenu Joseph Ole Lenku ahakikishe kwamba taka yote unazolewa," Uhuru alisema.
Source: Kenya Breaking News Today
Author Profile
I am a young Kenyan interested in new media and dissemination of news and information as it unfolds.