Hivi sasa wanafunzi wengi wapo katika kipindi muhimu sana hususan wale wanaomaliza masomo yao ya sekondari ya juu na ambao wanajiandaa kujiunga na taasisi za elimu ya juu au vyuo vikuu ili kuanza masomo yao katika kozi tofauti.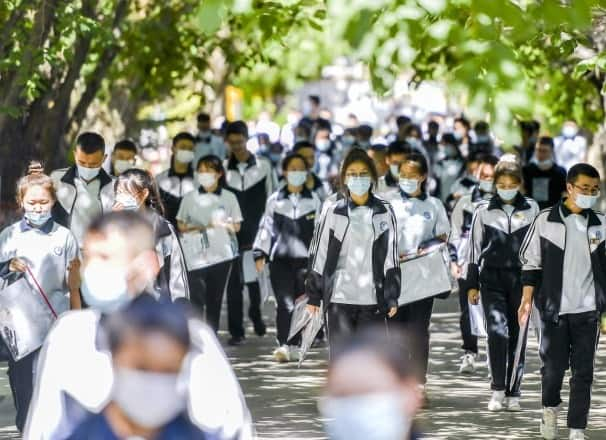 Kuna wale ambao wanafurahia kumaliza hatua moja na kukaribisha hatua mpya katika maisha yao lakini pia kuna wale wenye hofu kubwa wakijua kwamba watakabiliwa na mtihani utakaoamua maisha yao ya baadaye.
Habari Nyingine: Mke wa kwanza wa China ataka jamii ya kimataifa iimarishe juhudi za kukinga Ukimwi na Kifua Kikuu
Nchini China, mtihani wa taifa wa kuingia chuo kikuu, ambao ni maarufu zaidi kwa jina la gaokao, unafanyika kwa siku mbili yaani Juni 7 na Juni 8 mwaka huu.
Huu ni mtihani muhimu zaidi kwa wanafunzi wa China. Katika mwaka huu zaidi ya wanafunzi milioni 10.7 wamejiandikisha kushiriki kwenye mtihani, wakiwa wameongezeka elfu 70 ikilinganishwa na mwaka jana.
Ingawa wanafunzi wengi wamekuwa wakilalamika kutokana na ugumu wa mtihani huu, lakini kwa upande wa wanafunzi wasichana wamethibitisha kwamba hakuna kinachoshindikana chini ya mwanga wa jua.
Katika mwaka 2019, idadi ya jumla ya wanafunzi wa elimu ya juu ilikuwa 48,442,900, ambapo kati yao idadi ya wanafunzi wa kiume ilikuwa 23,512,800 na idadi ya wanafunzi wa kike ilikuwa 24,930,100.
Licha ya hayo cha kufurahisha na kuvutia zaidi ni kwamba wanawake wanaofanya mtihani huu wa gaokao ambao wamepata alama za juu zaidi walichukua asilimia 53.41 wakiwa ni zaidi ya nusu na wakuwapiku wenzao wa kikume.
Katika muongo mmoja uliopita wanawake wamekuwa wakifanya vizuri zaidi katika mtihani huu wa gaokao kuliko wanaume.
Hii inathibitisha kwamba suala la usawa wa kijinsia katika kushiriki mitihani linazingatiwa na sio kutokana na upendeleo bali ni kutokana na juhudi za mtoto mwenyewe wa kike. Kwa ujumla huu ni mtihani unaotenda haki zaidi katika kuchagua wenye vipaji na uwezo nchini China ambao unatambuliwa na kukubalika na jamii ya Wachina.
Hata hivyo kumekuwa kukijitokeza masuala ya kutokuwepo kwa usawa wa kijamii au kieneo, ambapo wanafunzi matajiri kutoka maeneo ya mjini wanalalamikiwa kuwa na uwezo mkubwa wa kujiunga na vyuo vikuu bora mathalan chuo kikuu cha Peking, kuliko wanafunzi wasio matajiri ambao wanaishi vijijini.
Kwa kuzingatia hili, na ili kutatua malalamiko haya serikali imefanya juhudi kubwa kuunda sera maalumu mfululizo kwa wanafunzi wa maeneo ambayo hajaendelea, na kuwapatia fursa nyingi zaidi za kujiunga na vyuo vikuu.
Moja wapo ikiwa ni kuongeza idadi ya wanafunzi wanaoandikishwa katika mikoa ya kati na magharibi ambayo kidogo iko nyuma kimaendeleo, pia kurahisisha mchakato wa kuandikisha wanafunzi masikini na kuanzisha sera za upendeleo ili wanafunzi wanaotoka familia masikini waweze kuingia vyuoni, sera hizi zinalenga kuhimiza usawa katika upatikanaji wa elimu kwa wote.
Watu wa China siku zote wanalinganisha mtihani huu wa gaokao na "kuvuka daraja jembamba", kwasababu kwa wanafunzi wengi, hasa wa vijijini, kuandikishwa kwenye chuo kikuu bora kutawaongezea nafasi ya kupata kazi nzuri na kuwa na maisha mazuri baadaye.
Licha ya shinikizo la mtihani wa gaokao, lakini wanafunzi pia wanapewa fursa ya kurejea tena na tena katika mwaka unaofuata endapo wamefanya na hawakufanikiwa. Kuna baadhi hadi wamekuwa na umri wa makamo lakini kwa vile wana azma ya kuingia chuo kikuu bado wameendelea kufanya mtihani huu.
Katika nchi za Afrika halikadhalika, mitihani kama hii huwa inafanyika kwa wanafunzi wanaomaliza masomo ya sekondari ya juu na kujiandaa kuingia vyuo vikuu.
Mathalan mwaka jana Baraza la Mitihani la Taifa (Necta) nchini Tanzania, lilitoa takwimu kwamba wanafunzi 82,440 sawa na asilimia 98.35 ya watahiniwa 84,212 waliofanya mtihani kidato cha sita Juni/Julai 2020 wamefaulu. Kati yao wasichana walikuwa 36,168 sawa na asilimia 42.30 na wavulana walikuwa 49,331 sawa na asilimia 57.70.
Ingawa wasichana wanaonekana kutoachana mbali sana na wenzao wavulana, lakini kwa upande wa waliofanya vibaya zaidi yaani waliopata daraja 0 ni wavulana ambao walikuwa 262 huku wasichana wakiwa 102 tu. Hii inadhihirisha pia mtoto wa kike sasa amekuwa na fursa kubwa katika elimu.
Nakumbuka nchini Kenya pia Waziri wa Elimu George Magoha naye alitangaza matokeo ya mtihani wa kuingia chuo kikuu baada ya watahiniwa 741, 161 kumaliza mitihani yao Aprili 21, 2021. Kati ya watahiniwa hao 366,834 walikuwa wasichana na wengine 380,327 wavulana.
Tunafahamu mitihani yote hii inatoa shinikizo kwa wanafunzi au hata wazazi, lakini maishani tunasema hakuna njia ya mkato, na ukitaka cha mvunguni sharti uiname. Hivyo mwanafunzi yeyote anatakiwa kuwa na moyo wa ushindani ili aweze kukwea ngazi ambayo wengi wanaitamani "ngazi ya kufikia mafanikio".
Je, unayo taarifa ya kusisimua ambayo ungependa tuichapishe? Tafadhali, wasiliana nasi kupitia [email protected] au WhatsaApp: 0732482690.
Source: Tuko
Author Profile
I am a young Kenyan interested in new media and dissemination of news and information as it unfolds.