– Gari hilo la polisi la Kituo cha Polisi cha Kaloleni lilikuwa linawasafirisha wafungwa katika Mahakama ya Kilifi
– Wafungwa wanne na afisa mmoja walinusurika na majeraha madogo
– Walikimbizwa katika Hospitali ya Rufaa ya Kilifi ambapo walitibiwa na kuruhusiwa kuondoka
Habari Nyingine: Kipusa Anayedai ni Mpenziwe Mukhisa Kituyi Amshtumu Kumpiga na Kumjeruhi
Wafungwa kumi na maafisa watatu wa polisi walijeruhiwa baada ya gari la polisi walimokuwa wakisafiria kuhusika kwenye ajali eneo la Ngamani, barabara kuu ya Kaloleni kuelekea Mavueni.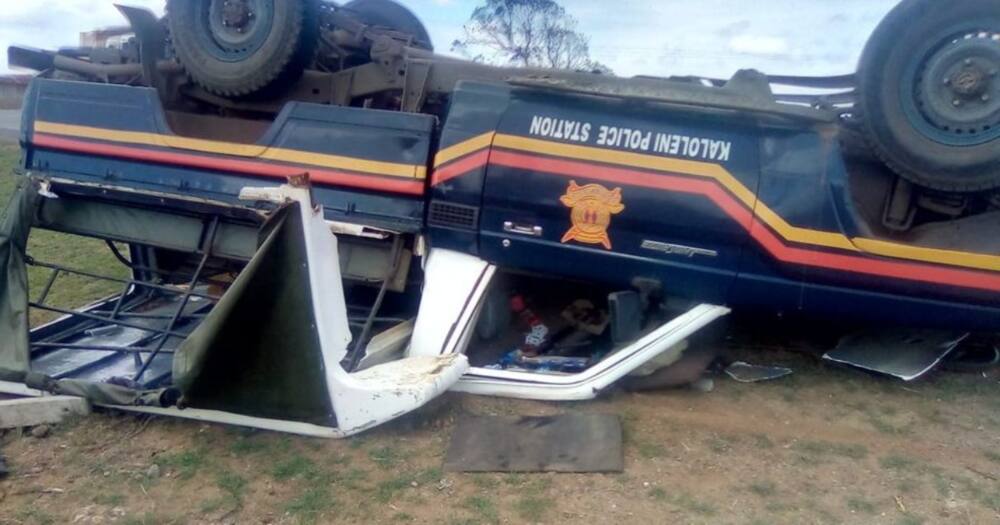 Katika kisa hicho cha Jumanne, Juni 8, gari hilo la polisi la Kituo cha Polisi cha Kaloleni lilikuwa linawasafirisha wafungwa katika Mahakama ya Kilifi.
Akithibitisha kisa hicho, Kamanda wa Polisi wa Kilifi Nelson Taliti alisema gari la polisi lilipoteza mwelekeo na kubingiria likiwabeba wafungwa 10 kutoka Kaloleni.
Habari Nyingine: Kenya Yatuma Msaada wa Chakula DRC Congo, India Kufuatia Mlipuko wa Volkano
Wafungwa wanne na afisa mmoja walinusurika na majeraha madogo na walikimbizwa katika Hospitali ya Rufaa ya Kilifi ambapo walitibiwa na kuruhusiwa kuondoka.
Katika taarifa tofauti, afisa wa polisi aliye katika Kituo cha Polisi cha Pangani kaunti ya Nairobi alifariki dunia katika ajali ya barabarani wakati akiwakimbiza wahalifu waliokuwa wamejihami na kumwacha mkewe mja mzito.
Afisa huyo wa miaka 29 kwa jina Bro Adow aliaga dunia Alhamisi, Juni 3 na kuzikwa siku iyo hiyo kwenye makaburi ya Waislamu wa Lang'ata kulingana na itikadi za dini hiyo.
Akizungumza na TUKO.co.ke rafikiye Vanpagal Mohamed Ahmed alimtaja marehemu kama afisa aliyefanya kazi kwa bidii na kwa kujitolea.
Mohammed alisema kwamba marehemu alikuwa akiendesha gari aina ya Toyota Probox akiwafuata wahalifu hao waliokuwa na silaha kwenye pikipiki kabla ya gari lao kupoteza mwelekeo na kugonga ukuta.
Kwingineko watu sita walijeruhiwa baada ya lori kugongana na gari la polisi wakati wa kafyu katika Barabara Kuu ya Thika.
Miongoni mwa waliojeruhiwa katika ajali hiyo ya Jumatatu, Aprili 19, ni maafisa wawili wa polisi Joseph Kiminda na Geoffrey Sigolia ambao walikimbizwa katika Hospitali ya Nairobi West kwa matibabu.
READ ENGLISH VERSION
Je, unayo taarifa ya kusisimua ambayo ungependa tuichapishe? Tafadhali, wasiliana nasi kupitia [email protected] au WhatsaApp: 0732482690.
Subscribe to watch new videos
Source: Tuko
Author Profile
I am a young Kenyan interested in new media and dissemination of news and information as it unfolds.