– Jumla ya sampuli zilizopimwa tangu mwezi Machi 2020 kisa cha kwanza kilipotua Kenya zimefika 1,852,612
– Idadi ya waliofariki dunia pia imeongezeka hadi 3,362 baada ya wagonjwa wengine 17 kuangamizwa kutokana na maradhi hayo hatari
– Haya yanajiri wakati serikali imetenga Ksh.14.3 bilioni katika bajeti ya mwaka we fedha wa 2021/2022 ili kufanikisha kutolewa kwa chanjo za COVID-19 kote nchini
Mnamo Alhamisi, Juni 10 Kenya ilirekodi visa 624 vipya vya Covid-19, na kufikisha idadi ya wagonjwa nchini kugonga 174,285, Waziri wa Afya Mutahi Kagwe alisema.
Katika taarifa yake, idadi hiyo mpya ilithibitishwa baada ya sampuli 6,728 kupimwa huku kiwango cha chanya kikifikia asilimia 9.3.
Habari Nyingine: China Yaendelea Kuhimiza Ushirikiano wa Kimataifa katika Mapambano Dhidi ya Ufisadi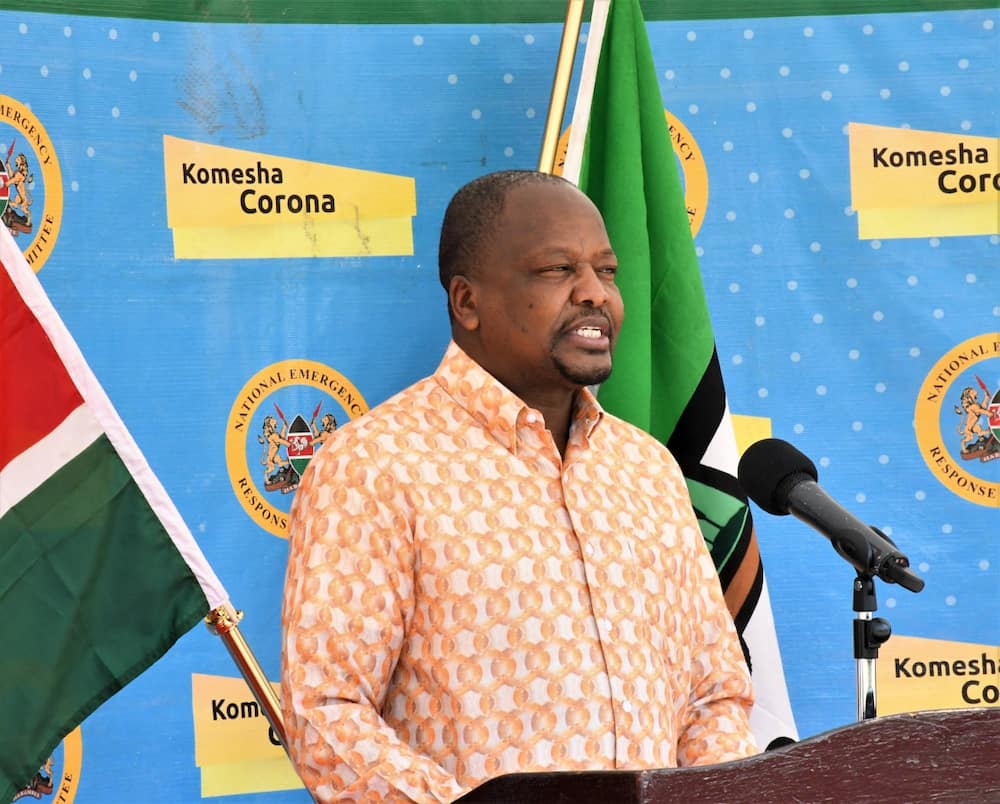 Katika visa vipya vilvyorekodiwaidadi ya watu 567 ni Wakenya wakati 57 ni raia wa kigeni. 405 ni wanaume na wanawake ni 219. Mgonjwa mwenye umri wa chini ni mtoto wa miezi miwili naye mkongwe ana miaka 94.
Jumla ya sampuli zilizopimwa tangu mwezi Machi 2020 kisa cha kwanza kilipotua Kenya zimefika 1,852,612.
Idadi ya waliofariki dunia pia imeongezeka hadi 3,362 baada ya wagonjwa wengine 17 kuangamizwa kutokana na maradhi hayo hatari.
Habari Nyingine: Serikali Yatenga KSh 2.5 Bilioni za Kuajiri Walimu katika Bajeti ya 2021/2022
Kagwe alisema kuwa kuna wagonjwa 991 waliolazwa katika hospitali mbali mbali kote nchini. Wagonjwa wengine 4,940 nao wako kwenye mpango wa huduma ya nyumbani.
Jumla ya wagonjwa wamelezwa 111 ICU.
Wakati uo huo, wagonjwa 313 wamepona kutokana na ugonjwa huo, kati yao 258 walitoka katika mpango wa huduma za nyumbani wakati 55 walikuwa wakihudumiwa katika hospitali mbali mbali.
Jumla ya walipoata nafuu Kenya ni 119,246.
Habari Nyingine: Mama Azua Kisanga Akiwakabili Walinzi wa Gavana Waiguru
Takwimu za sasa zinaonesha kuwa watu 1,059,117 hadi sasa wamepokea chanjo nchi nzima. Kati yao 76,807 wamepokea chanjo ya pili.
Haya yanajiri wakati serikali imetenga Ksh.14.3 bilioni katika bajeti ya mwaka we fedha wa 2021/2022 ili kufanikisha kutolewa kwa chanjo za COVID-19 kote nchini.
Akifunua bajeti ya 2021/2022 katika Bunge la Kitaifa mnamo Alhamisi, Juni 10 Waziri wa Fedha Ukur Yatani alisema kiasi hiki ni pamoja na Ksh.7.6 bilioni zilizotengwa katika bajeti ya sasa.
Habari Nyingine: Kieleweke Wafika Makao Makuu ya Jubilee, Wapanga Karata ya Kiambaa
Yattani alisema kwamba serikali ina nia ya kuunda kinga madhubuti kupitia chanjo ya kupambana na janga hilo ambalo hadi sasa limewaangamiza zaidi ya watu 3,000 nchini.
"Ili kuwezesha kutolewa zaidi kwa chanjo ili kuunda kinga madhuhuti tunapendekeza kutenga Ksh.14.3 bilioni katika bajeti ya 2021/2022. Hii ni pamoja na Ksh.7.6 bilioni zilizotengwa katika bajeti ya sasa," alisema Yatani.
Je, unayo taarifa ya kusisimua ambayo ungependa tuichapishe? Tafadhali, wasiliana nasi kupitia [email protected] au WhatsaApp: 0732482690.
Subscribe to watch new videos
Source: Tuko.co.ke
Author Profile
I am a young Kenyan interested in new media and dissemination of news and information as it unfolds.