– Familia ya Benjamin Ayimba iliwalipa maafisa kutoka kituo cha polisi cha Siaya kuwazuia mababy mama wake kuhudhuria mazishi
– Hata hivyo, maafisa hao walikuwa na utu na waliwaruhusu kuingia bomani mradi tu wasiketi katika hema la familia
– Baada ya mazishi iligharimu usaidizi wa mchezaji mwenzake wa raga Quiks Nyakwakwa ndiposa watoto hao wakakubaliwa kupiga picha kando ya kaburi la baba yao
Wiki mbili zilizopita, mababy mama wa nyota wa Raga Benjami Ayimba walilalamika vikali kufuatia kuwepo kwa mpango wa kufungiwa nje na wanao wakati wa mazishi yake.
Habri Nyingine: Kayole: Mkazamwana Amfurusha Hadi Ushago Ba'mkewe Mkorofi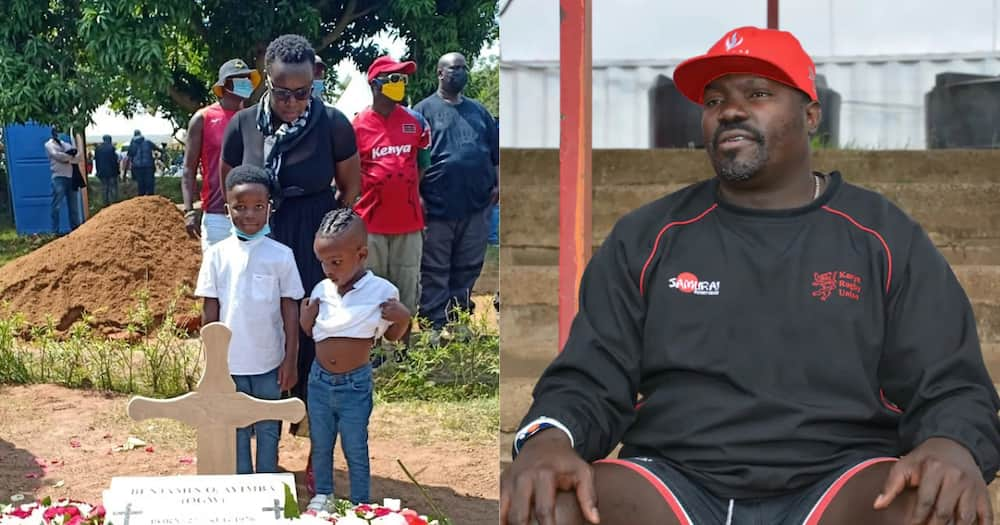 Licha ya familia yake kukabiliana nao kwa njia yoyote ile, mababy mama hao walihisi itakuwa busara kwao kuwapeleka wanao kutoa heshima zao za mwisho.
Hata hivyo, walipowasili hali haikuwa shwari kwao kwani walipatana na maafisa kutoka kituo cha polisi cha Siaya ambao kazi yao ilikuwa ni kuwauia wasiingie bomani mwa marehemu.
Baada ya majadiliano na polisi waliruhusiwa kuingia ila kwa masharti kwamba wasidhubutu kuketi katika hema la familia.
Habari Nyingine: UDA Yaendela Kuvuna Wafuasi Kutoka Vikapu Vya Jubilee na ODM
"Polisi walituona tukiwa tumeandamana na watoto na walikuwa na busara wakatukubalia kuingia," duru ziliarifu TUKO.co.ke.
Ombi la wanao kupiga picha kando ya kaburi la nyota huyo lilikataliwa.
"Ilibidi tuzungumze na mchezaji mwenzake wa Raga Quicks Nyakwakwa ambaye alipeleka hapo," mwengine alisema.
Mwigizaji Sandra Dacha ambaye alihudhuria mazishi hayo pia alisikitika jinsi watoto hao walivyopokolewa.
"Kosa lao ilikuwa ni kuja kumzika baba yao Benjamin Ayimba. Lakini yale ambayo wameonyesha leo! Sina haja na jinsi nilivyopokelewa hapa lakini watoto hawa hawakufaa kudharauliwa kiasi hicho," alisema.
Habari Nyingine: Jaji Mkuu Martha Koome Ashinikiza Kuteuliwa kwa Majaji 6 Waliotemwa na Uhuru
Akizungumza na Hillary Lisimba siku chache zilizopita, dadake Ayimba Irene alisisitiza kwamba familia yake haitaki kuzungumzia matukio yanayozunguka mazishi ya kakake.
"Vyombo vya habari vimeandika mambo chafu kumhusu lakini hamna tatizo kila mmoja atasema yake, sisi hatuna la kuongeza au kuondoa kwa yanayosemwa," alidokeza.
Je, unayo taarifa ya kusisimua ambayo ungependa tuichapishe? Tafadhali, wasiliana nasi kupitia [email protected] au WhatsaApp: 0732482690.
Subscribe to watch new videos
Source: Breaking News
Author Profile
I am a young Kenyan interested in new media and dissemination of news and information as it unfolds.