– Mwili wa Ng'ang'a Muthaka mwenye umri wa miaka 21 uligunduliwa na dadake aliyepata mlango wake ukiwa wazi saa kumi na moja asubuhi
– Familia yake ilisema ilisikia kishindo usiku wa manane nao wakadhani kwamba labda ilikuwa balbu mbovu iliyolipuka
– Kamanda wa polisi eneo la Githunguri George Kipkoros alisema kuwa makachero hawakubaini wakati huo yaliyojiri lakini uchunguzi umeanza
Maafisa wa upelelezi mtaani Githunguri, Kiambu, wanachunguza mauaji ya mwanafunzi wa chuo kikuu ambaye anadaiwa aliuawa kwa kupigwa risasi kwenye paji la uso.
Habari Nyingine: Coronavirus: Watu 403 Waambukizwa Virusi Katika Saa 24 Zilizopita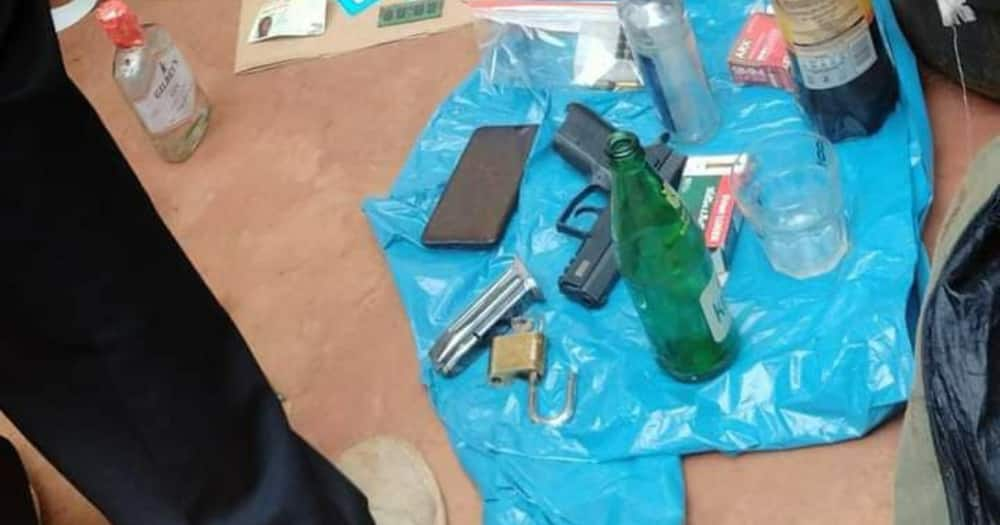 Mwili wa Ng'ang'a Muthaka mwenye umri wa miaka 21 uligunduliwa na dada yake baada ya aliyepata mlango wake ukiwa wazi saa kumi na moja asubuhi ya Jumamosi, Juni 12.
Karibu na mwili wa mwanafunzi huyo wa mwaka wa tatu Chuo Kikuu cha Meru kulikuwa na bastola na risasi saba zinazoaminika kutumiwa na wavamizi wasiojulikana.
Habari Nyingine: Polisi Wamuua Mshukiwa Mmoja wa Ujambazi, 14 Wengine Watoroka
Familia yake ilisema ilisikia kishindo usiku wa manane nao wakadhani kwamba labda ilikuwa balbu mbovu iliyolipuka.
Kamanda wa polisi eneo la Githunguri George Kipkoros alisema kuwa makachero hawakubaini wakati huo iwapo mwanafunzi huyo alijipiga risasi kimakosa akijifunza kutumia bastola hiyo.
"Tulipata chupa cha bia kwenye meza kumaanisha alikuwa akibugia pombe pekee yake au na marafiki zake. Kando yake kulikuwa na bastol ambayo tunashuku ilitumika kumuua au alijifyatulia risasi mwenyewe. Kwa sasa hatuwezi sema mengi lakini uchunguzi utafichua yaliyojiri," alidokeza.
Habari Nyingine: Toa Ushahidi Dhidi ya Majaji Sita, Raila Sasa Amwambia Rais Uhuru
Tukio hilo lilijiri wiki mbili tu baada ya mwanafunzi wa Chuo Kikuu cha Masinde Muliro, Makrine Wanina, kuuawa karibu na nyumba yake ya kukodisha.
Waliohusika katika mauaji yake wanasemekana walimfuata usiku wa Jumanne, Juni 1 kabla ya kumdhulumu kimapenzi na kisha kumuua.
Wanafunzi wenzake walizua zogo wakitaka wahusika watafutwe mara moja na kuchukuliwa hatua kali za kisheria.
"Utovu wa usalama umekuwa kidonda ndugu kwetu hapa.Tumelalamika lakini tunapuuzwa tu. Tumewapa polisi wiki mbili kuwasaka na kuwapata washukiwa waliomuua Wanina," mmoja wa wanafuunzi hao alisema.
Read ENGLISH VERSION
Je, unayo taarifa ya kusisimua ambayo ungependa tuichapishe? Tafadhali, wasiliana nasi kupitia [email protected] au WhatsaApp: 0732482690.
Subscribe to watch new videos
Source: Tuko
Author Profile
I am a young Kenyan interested in new media and dissemination of news and information as it unfolds.