– Wanamtandao wamezua maswali kuhusu hali ya Raila kiafya baada ya kuchanganyikiwa kati ya Kalembe na Kalonzo
– Walisema hiyo ilikuwa ishara ya hali mbaya kiafya na anafaa kuchukua mapumziko kisiasa
– Maswali yameibuka kuhusu nguvu za kushiriki siasa za Ikulu 2022
Maswali yameibuka kuhusu afya ya kinara wa ODM Raila Odinga baada ya kuonekana kuchanganyikiwa wakati wa mazishi ya Kalembe Ndile.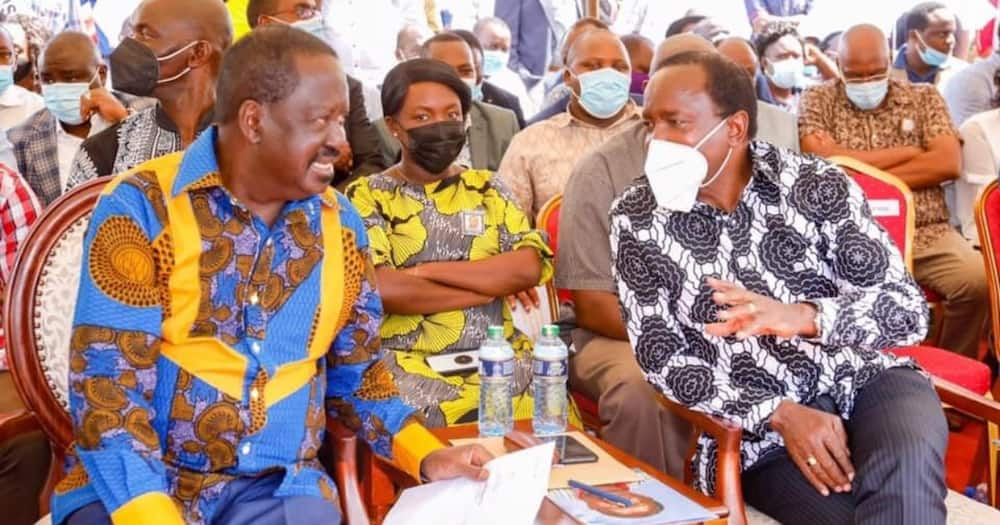 Wakati wa kutoa hotuba, Raila alionekana kuchanganyikiwa na kumuita Kalembe, Kalonzo mara kadhaa.
Alifanya kosa hilo safari mbili na kufanya waombolezaji kumrekebisha kuwa anamaanisha Kalembe na wala si Kalonzo.
"Kalonzo alikuwa ni mtu wa maendeleo . . . aah poleni Kalembe . . . nimekuja hapa na ujumbe wa rambirambi kutoka kwa Rais wa Uganda Yoweri Kaguta Museveni. Museveni alimjua Kalonzo vizuri sana nyumbani kwetu Bondo . . . pole Kalembe," Raila alisema huku waombolezaji wakibaki na maswali.
Habari Nyingine: Kakamega: Hospitali ya Matungu Yalalamikia Visa vya Wagonjwa Kuiba Neti za Kuzuia Moskwito
Video ya hotuba hiyo ilishika moto mara moja mitandaoni huku wanamtandao wakihoji kuhusu hali yake kiafya.
Daisy Mkenya alsiema ni wakati sasa Baba achukue mapumziko kwa kuwa hali yake kiafya si nzuri.
"Sasa ni wakati Raila Odinga ajiuzulu kisiasa. Kalembe si Kalonzo kweli," alisema Raila.
Habari Nyingine: Jamaa Ambaye Mwili Wake Umekuwa Kwenye Makafani kwa Miaka 4 Kupumzishwa Hatimaye
"Raila yuko sawa kweli?" Mundhir Abdirahman alisema kuhusu hali ya Baba.
Baadhi ya wanamtandao walisema Baba sasa ameanza kuingia kwenye barabara aliyopitia aliyekuwa rais Mwai Kibaki baada ya uzee kuingia.
Maswali pia yaliibuka kuhusu uwezo wake wa kushiriki siasa za 2022 ambazo zinatarajiwa kuwa kivumbi.
Raila alikuwa mmoja wa Wakenya ambao waliambukizwa virusi vya Covid-19 na maswali yaliibuka iwapo kwa kweli amepona.
"Alikuwa na Covid-19 na sayansi inasema kuna madhara ya baadaye. Si kawaida kuchanganyikiwa kuhusu mtu aliyeaga na aliyehai," alisema Kevin Anyango.
READ ENGLISH VERSION
Je, unayo taarifa ya kusisimua ambayo ungependa tuichapishe? Tafadhali, wasiliana nasi kupitia [email protected] au WhatsaApp: 0732482690.
Tazama habari kemkem za TUKO hapa
Subscribe to watch new videos
Source: Tuko.co.ke
Author Profile
I am a young Kenyan interested in new media and dissemination of news and information as it unfolds.