– Kulingana na uchunguzi wa polisi, mwili wa marehemu haukuwa na majeraha yoyote
– Mpenziwe kwa jina Munene alipatikana katika kichaka karibu na nyumba hiyo akiwa amepoteza fahamu
– Kamanda wa polisi Samuel Gitau alisema Munene alikuwa akitibiwa katika hospitali ya karibu na eneo hilo na kwamba atahojiwa akipata nafuu
Polisi wameanzisha uchunguzi kuhusu kisa ambapo mwanamke wa miaka 38 alipatikana ameaga dunia katika nyumba yake kijiji cha Kivaruka, kaunti ya Embu, katika hali ya kutatanisha.
Habari Nyingine: Muungane au DP Ruto Awachape Asubuhi na Mapema, Ngilu Awaambia Raila na Kalonzo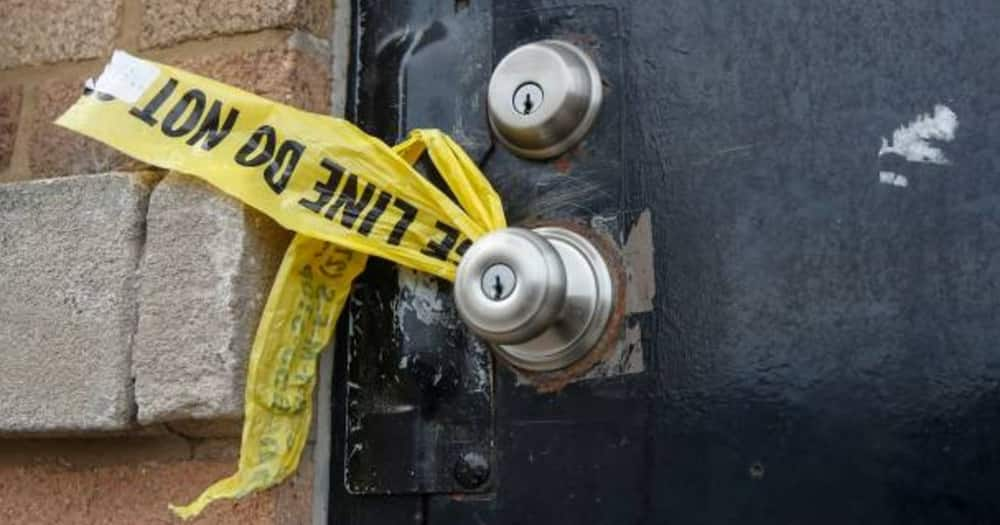 Kulingana na The Standard, mwili wa mwanamke huyo aliyetambuliwa kwa jina la Wawira Nyaga, muuguzi katika Kituo cha Afya cha Kithimu, uligunduliwa saa sita mchana, alipokosa kupokea simu za majirani.
Kulingana na uchunguzi wa awali, mwili wa marehemu haukuwa na majeraha yoyote lakini polisi walisema kwamba alikuwa amenyongwa.
Mpenziwe kwa jina Munene alipatikana katika kichaka karibu na nyumba hiyo akiwa amepoteza fahamu.
Habari Nyingine: Mshukiwa wa Mauaji Ahepa Baada ya Kuwatandika Polisi 3 na Kujinasua Kwenye Pingu
Kando ya mwili wa jamaa huyo mwenye umri wa miaka 23, kulikuwa na chupa za pombe na mkebe wa sharubati.
"Alikuwa ametapika na alikuwa akitokwa na povu mdomoni," Charles Murimi, mmoja wa mashuhuda alisema.
Marion Mukami, shahidi mwingine, alisema waliamua kuwasiliana na mpenzi wa Munene, Wawira, kwa simu baada ya kugundua kuwa anahitaji matibabu ya haraka.
"Tuligundua kuwa kuna tatizo baada ya simu yake kukosa kupokelewa. Mmoja wa majirani alikwenda nyumbani kwake na kugundua mlango wake ulikuwa umefungwa kwa ndani," alisema Mukami.
Habari Nyingine: Mvulana Kutoka Eldoret Aliyetoweka Machi Apatikana Akirandaranda Kisumu
Baada ya kuchungulia kupitia dirisha la Wawira, walimuona akiwa amelala kitandani.
"Majirani walijaribu kumuamsha lakini hawakufaulu na ikawalazimu kuvunja mlango. Baada ya kuingia ndani mmoja wetu ambaye anafahamu masuala ya utabibu alithibitisha kwamba Wawira alikuwa ameaga dunia tayari," aliongeza.
Duru za kuaminika zilisema kuwa mara ya mwisho wawili hao walionekana hadharani mnamo Jumatano, Juni 9 majira ya saa tisa jioni, walikuwa wametembelea baa iliyomilikiwa na nasi huyo.
Wawili hao wanasemekana walikuwa wamechumbiana kwa mwaka mmoja.
"Jamaa hakuwa na kazi na alimtegemea Wawira kwa kila kitu alichohitaji," jirani mmoja alisema.
Wawira alikuwa ameolewa hapo awali, ingawa alitengana na mumewe miaka michache iliyopita. Yeye na mumewe walijaliwa binti wa miaka 10.
Habari Nyingine: Jaji Mkuu Martha Koome Amshinikiza Uhuru Kuidhinisha Majaji 6 Aliowapembua
Akithibitisha tukio hilo, kamanda wa polisi wa eneo bunge la Embu Magharibi Samuel Gitau alisema kuwa Munene anapokea matibabu hospitalini na atahojiwa baada ya kupata nafuu.
"Kwa sasa yeye ni mshukiwa wa kwanza katika kifo chake Wawira," alisema.
Mwili wa Waira ulipelekwa katika makafani ya hospitali ya Embu Level 5 kusubiri upasuaji..
Read ENGLISH VERSION
Je, unayo taarifa ya kusisimua ambayo ungependa tuichapishe? Tafadhali, wasiliana nasi kupitia [email protected] au WhatsaApp: 0732482690.
Subscribe to watch new videos
Source: Tuko Breaking News
Author Profile
I am a young Kenyan interested in new media and dissemination of news and information as it unfolds.