– Vala Mwisho alitoweka nyumbani Machi 2021 na kuwasababishia wazazi wake mahangaiko ya kumtafuta
– Familia yake iliingia na hofu ikidhai kwmaba huenda aliuawa au alijiunga na kundi haramu la kigaidi
Wazazi wa Vala Mwisho waliokuwa na wasiwasi sasa wamepata afueni baada ya kuhangaika kwa miezi miwili wakimtafuta katika makafani mjini Eldoret na hata Nairobi.
Vala Mwisho aliondoka nyumbani kwao Jumatano alasiri mnamo Machi 2021, baada ya chakula cha mchana, hakurudi tena, akisababisha majonzi kwa wiki kwa familia yake.
Habari Nyingine: Polisi Walipwa Kuwafungia Nje ya Mazishi Baby Mama Wa Benjamin Ayimba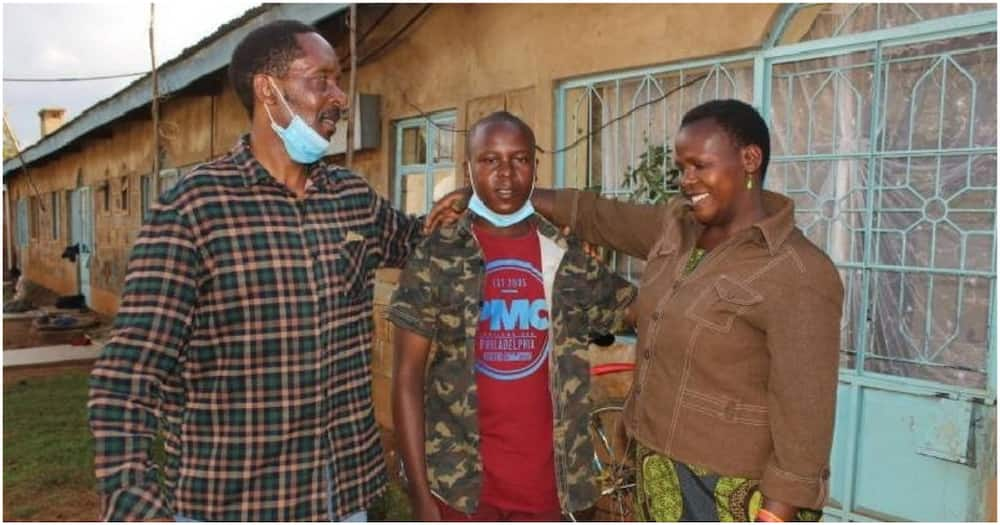 Familia yake ilidhani kuwa huenda mwanao amekumbana na mauti baada ya juhudi za kumtafuta kukosa kuzaa matunda: walidhani ameuawa au amejiunga na kundi la kigaidi.
Hata hivyo, kijana huyo, mwanafunzi wa Kidato cha Pili katika shule ya Uasin Gishu, alipatikana na babake, Paul Matheka, Jumanne, Juni 8, akiishi na mvulana mwingine mitaani jijini Kisumu.
"Imekuwa miezi miwili na nusu ya mahangaiko katika familia yangu. Tulikuwa tumepoteza tumaini la kumpata akiwa hai. Nilizinguka katika vyumba vyote yva kuhifadhia maiti nikimtafuta lakini sikumpata, "alisema Matheka.
Habari Nyingine: Kayole: Mkazamwana Amfurusha Hadi Ushago Ba'mkewe Mkorofi
Msamaria mwema aliwapigia simu familia hiyo akiwajulisha kwamba alikuwa amemwona mvulana aliyefanana na maelezo walikuwa wametoa kumhusu mwanao aliyetoweka.
Babake Mwsiho alisafiri hadi Kisumu ila alipofika hakujua aanzie wapi kwani msamaria aliyepiga simu hakueleza eneo haswa alikomwona mvulana huyo.
Akiwa katika hali ya mahangaiko, aliwaona kundi la wavulana wakurandaranda mtaani nje ya duka la jumla la Tumaini mjini Kisumu wakiombaomba kutoka kwa wateja.
Walimjia jinsi walivyokuwa wakiwaendea wateja wengine.
Habari Nyingine: Rais wa Ufaransa Macron Aahidi Kuendelea Kusalimia Watu Licha ya Kupigwa Kofi
Kulingana naye, wavulana hao walikuwa wamelewa kwa kiasi fulani na walipomkaribia mmoja wao ambaye alifanana na mwanawe alipomwona alianza kukimbia.
"Nilimfuata kwa haraka na cha kushangaza nilipomkaribia niligundua alikuwa mtoto wangu. Sikuamini macho yangu, alikuwa mchafu kupindukia na alikuwa amelewa. Sikudhani tungempata akiwa hai," alidokeza.
"Mwanangu amebadilika mno. Alikuwa akitumia dawa za kulevya lakini nilifaulu kumtambua kutokana na sauti yake. Nimefurahi kumpata akiwa hai," babake Mwisho alisimulia.
Je, unayo taarifa ya kusisimua ambayo ungependa tuichapishe? Tafadhali, wasiliana nasi kupitia [email protected] au WhatsaApp: 0732482690.
Subscribe to watch new videos
Source: Tuko.co.ke
Author Profile
I am a young Kenyan interested in new media and dissemination of news and information as it unfolds.