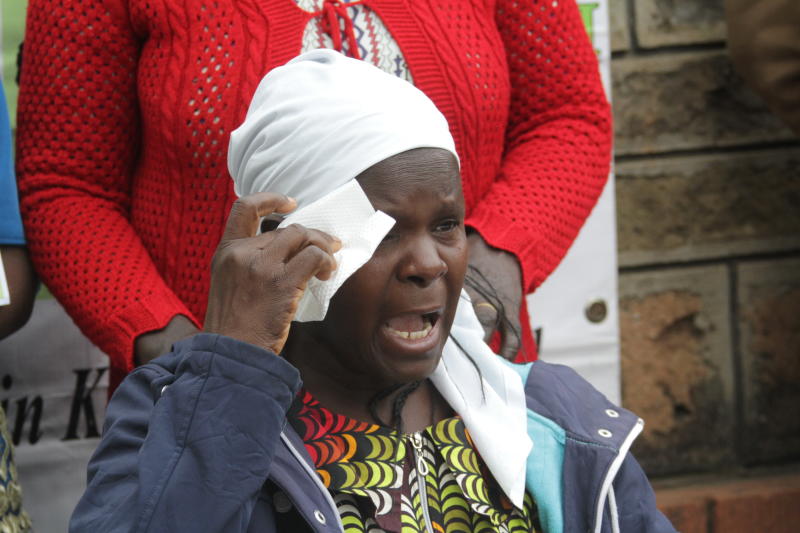 The news that Lucy Wambui was dead came through a Facebook post. The family was alerted a few days after last Christmas that a photo of Wambui was circulating on social media and that she had been found dead in her room in Baghdad, Iraq, where she had been employed as a domestic worker.
"It has been six months of writing to the Iraqi Embassy and travelling from Nyandarua to the city every week to see if we can get help. We have hit a dead end. We do not know what happened to Wambui and how she died," says Harun Ng'ang'a, Wambui's brother.
Nothing had prepared the family for the devastating news.
Wambui, a mother of four, had sent a photo of herself dancing during a birthday party that her employer had thrown for her. They were singing and cheering her on. Two days before her death, Wambui had called and said she would be coming home soon. She never did.
The family says they got a call that Wambui had been found dead in her bed, and they also learnt through the agent who had organised for her to go to Iraq that she had changed employers.
"It looks like she fell out with her first employer and was moved to another," says Ng'ang'a.
In life, they slave for a living. In death, their bones are prisoners in foreign lands and their families know nothing but pain and grief.
The tales of young women suffering, sick and stranded in the Gulf were this week replayed when several families gathered at the Haki Africa offices, seeking government intervention in helping them find details of their kin who were reported dead or lost in Middle East countries.
Ruth Atieno broke down when talking about her 25-year-old daughter Caroline Aluoch who is said to have committed suicide in Saudi Arabia. Aluoch was a Second Year student at Kisii University.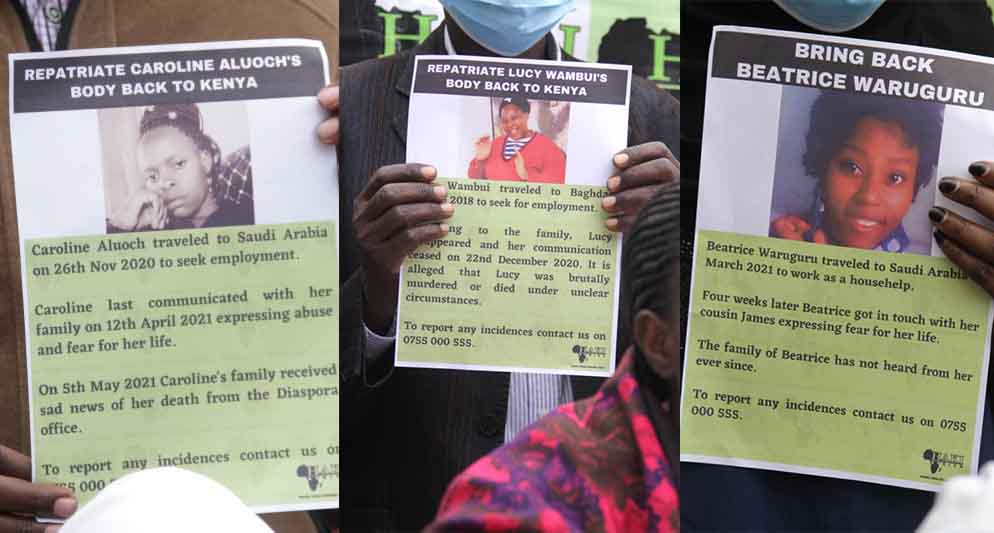 When her parents could not afford to pay her school fees, she decided to defer her studies and headed to Saudia Arabia as a house help. When she was leaving last November, she told her family that she would be back after one year to continue with her studies. It never happened. When she last called home in January, she sounded scared. She told them her employer was abusive and she wanted to return home.
When the family reached out to the agent who had sub-contracted her, they were reassured that things would stabilise soon.
"We could not find her on phone. We did not know where she was and whether she was safe," says Atieno.
Then the heartbreaking videos emerged. On WhatsApp, Aluoch sent photos of herself covered in bandages, sobbing and pleading for help. A few days later, the family says, they got a call from an embassy representative that Aluoch had committed suicide.
"She had complained that her employers were beating her because she had refused to sell food in the streets. Her contract was to work as a house girl," says Atieno.
Since then, they have been travelling from Homa Bay to Nairobi every week, trying to get government officials to help them bring the body back home.
Salima Macharia of Haki Africa, a non-governmental organisation that champions human rights, says the government has not come up with measures to control the many agents who recruit youth and place them with dubious employers.
"We have written many letters to the Foreign Affairs office and other agencies involved, but we have not got any response," she says.
Jane Kariuki, Foreign Affairs head of communications, says they have prepared an advisory to guide Kenyans who are seeking employment abroad.
"Many young Kenyan women and men have been lured by some unscrupulous recruitment agents who promise them lucrative jobs. Some of these Kenyans have died or have been left homeless after these ordeals," says a statement released by the ministry.
Kariuki said anyone seeking employment abroad should ensure that the agency recruiting them is registered with the National Employment Authority.
Author Profile
I am a young Kenyan interested in new media and dissemination of news and information as it unfolds.