– Tukio la wizi liliripotiwa saa nane usiku na mmoja wa wenyeji katika nyumba ya Dansol, eneo la Nyamasaria
– Mkazi huyo alisema washukiwa 15 wa uhalifu walivamia nyumba kadhaa na kupora bidhaa zao
– Hata hivyo wakiwa mbioni kuhepa walikutana na polisi ambao walifanikiwa kumuua mmoja wao na kuwapokonya baadhi ya mali iliyoibwa
Polisi kaunti ya Kisumu walimpiga risasi mshukiuwa mmoja wa uhalifu huku wengine 14 wakitoroka baada ya kuvamia nyumba kadhaa katika eneo la Dansol, Nyamasaria.
Tukio la wizi liliripotiwa saa nane usiku asubuhi Jumamosi kupitia OB NO. 4/12/6/2021 na mmoja wa wapangaji katika nyumba ya Dansol kilomita nne kaskazini mwa kituo hicho.
Habari Nyingine: Trans Nzoia: Polisi Akimbilia Usalama Wake Baada ya Wenyeji Kumvamia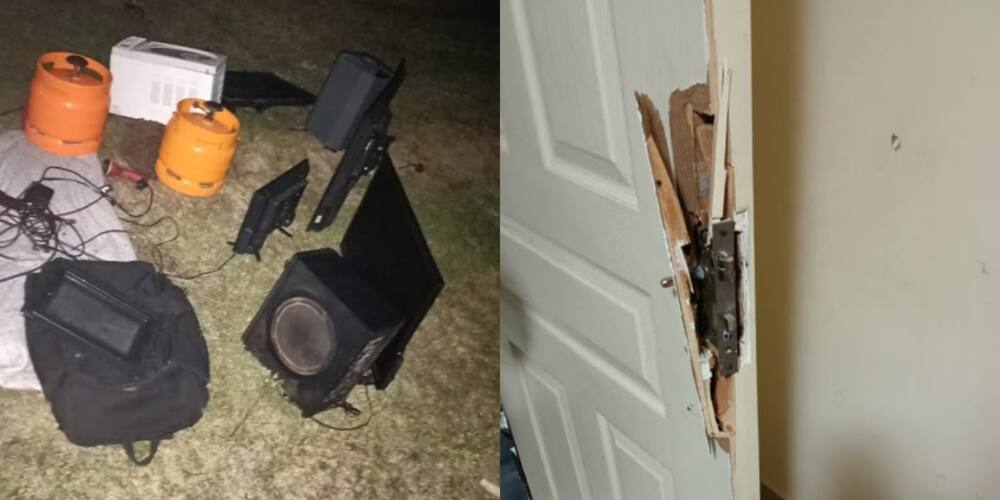 Kulingana na kamanda wa kaunti ya Kisumu Samuel Anampiu, mpangaji mmoja ambaye anaishi katika eneo la Dansol alisema watu 15 walivamia nyumba zao wakawapiga na kupora mali yao.
Anampiu alisema majambazi hao walivunja nyumba zingine nne eneo moja na baadaye wakaingia eneo la Manyatta kupitia daraja la Ouko.
"Kwa bahati nzuri polisi wetu kutoka Kassagam na Nyamasaria waliwakabili kwenye daraja ambapo walijaribu kuwashambulia maafisa hao na silaha hatari walizokuwa nazo," alisema.
Habari Nyingine: Nchi 10 Barani Afrika Zinazotikisa kwa Uwezo Mkubwa wa kijeshi Kufikia 2021
Alisema maafisa hao walikabiliana vilivyo na kufytaua risasi, mmoja wao alifariki dunia huku wenzake wakilazimika kukimbilia usalama wao.
Kamanda huyo alidokeza kwamba maafisa hao walifanikiwa kupata televisheni mbili, redio mbili, mikrowevu moja, mitungi miwili ya gesi na kipakatalishi miongoni mwa bidhaa zingine.
"Pia kando na mwili wa mtuhumiwa, maafisa wa polisi walipata chuma moja inayoshukiwa kutumika kwa kuvunja mlango na kisu cha jikoni", alisema.
Habari Nyingine: Mimi Ndio Magufuli wa Kenya, Raila Odinga Asema Kuhusu Safari ya Ikulu
Kamanda huyo aliongeza kuwa bidhaa zilizopatikana zilirejeshwa kwa wamiliki wake halali baada ya kuvitambua.
Mwili wa mshukiwa huyo ulipelekwa katika makafani ya hospotali ya mafunzo na rufaa ya Jaramogi Oginga Odinga.
Je, unayo taarifa ya kusisimua ambayo ungependa tuichapishe? Tafadhali, wasiliana nasi kupitia [email protected] au WhatsaApp: 0732482690.
Subscribe to watch new videos
Source: Tuko Newspaper
Author Profile
I am a young Kenyan interested in new media and dissemination of news and information as it unfolds.