– Wanamtandao wamebaki kinywa wazi baada ya familia moja kumruhusu mwanao wa miaka minane kuwa dereva wa gari lao la kifahari
– Inaarifiwa Rayan Ayub mwenye miaka minane huingia barabara kuu na gari hilo aina ya Prado TX na kuwaacha madereva wa probox kwa mshangao
– Umri unaoruhusiwa kwa Mkenya kuwa na kibali cha kuingia barabarani ni miaka kumi na minane
Mvulana wa miaka minane amewaacha wanamtandao kinywa wazi baada ya kuonekana akiendesha gari la kifahari kwenye barabara moja eneo la Mt Kenya.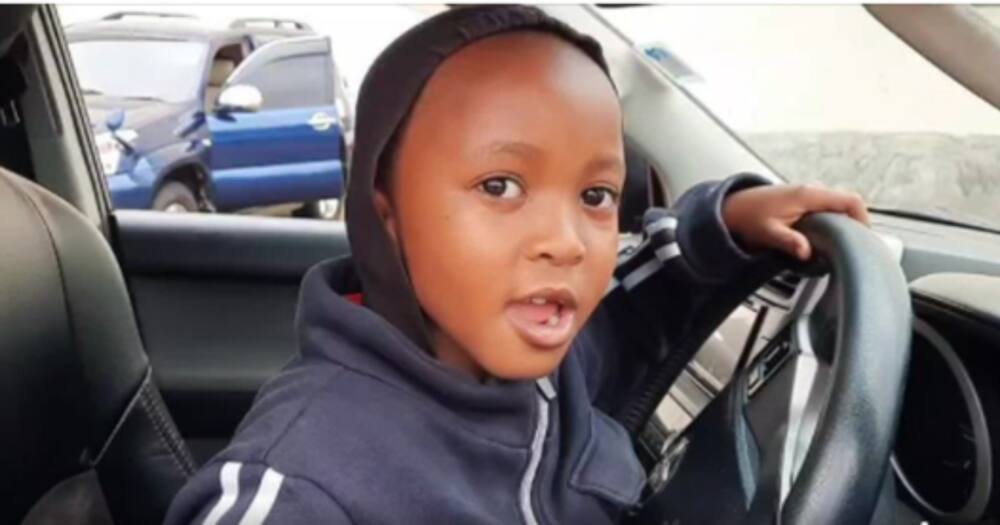 Kulingana na video ambayo imepakiwa kwenye mtandao na Raphael Njoroge, mvulana huyo ameruhusiwa kuwa akiendesha gari lao bila wazazi kuingiwa na wasiwasi wowote.
Njoroge alisema alikutana na Muigai katika eneo bunge la Kandara kaunti ya Murang'a na akakosa kuamini macho yake.
Mvulana huyo hupatiwa gari hilo la kifahari aiana ya Prado TX kujivinjari barabarani ambapo huwaacha madereva wa Probox na Vitz kwa mshangao.
Habari Nyingine: Magazeti Jumatatu, Juni 14: Ruto Awatumia Mawaziri Kumfichulia Siri za Uhuru
"Kutana na dereva mchanga duniani . . . sikuamini macho yangu nilipomuona mvulana huyu katiak eneo la Delview Kandara. Inaarifiwa Muigai Ayub huenda gari hili na kujifikisha shuleni," Njoroge aliandika alipopakia video hiyo.
Kwenye video hiyo, Muigai anaonekana akiwa kwenye usukani bila wasiwasi na kuingia barabarani kwa mbwembwe.
Ni wazi kuwa hawezi kufunga mshipi wa usalama kwani utamfanya kuwa na kibarua kigumu miguu yake kuguza breki au kutia gari moto.
Habari Nyingine: Nyumba ya Gavana Waiguru Kupigwa Mnada kwa Kushindwa Kulipa Deni
Ni hali ambayo imempa Njoroge wazo la kufanya makala kumhusu kijana huyo wa Sonko
"Nitafanya makala kumhusu akiendesha gari hilo kwenye barabara kuu," alisema Njoroge.
Kutokana na sauti kwenye video hiyo, ni wazi wote waliokuwa wakimtazama mtoto huyo walibaki kwa mshangao.
Tazama video hiyo:
Je, unayo taarifa ya kusisimua ambayo ungependa tuichapishe? Tafadhali, wasiliana nasi kupitia [email protected] au WhatsaApp: 0732482690.
Tazama habari kemkem za TUKO hapa:
Subscribe to watch new videos
Source: Tuko Breaking News
Author Profile
I am a young Kenyan interested in new media and dissemination of news and information as it unfolds.