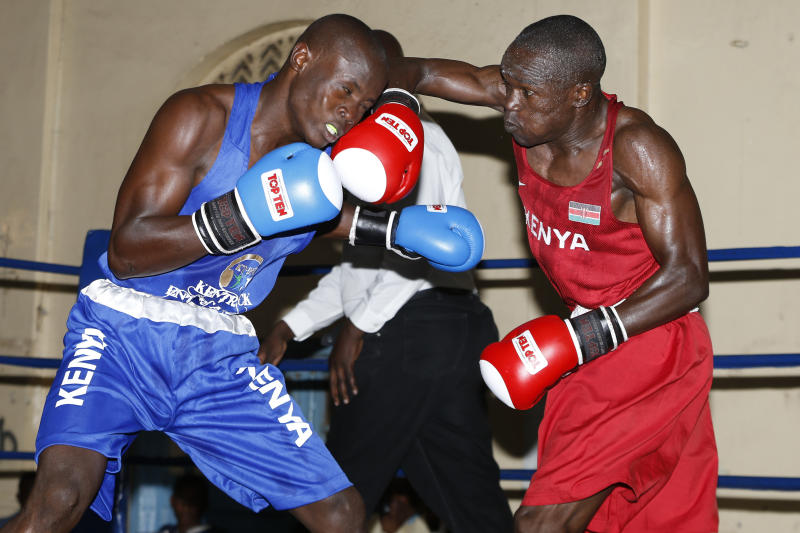 Consistency in winning local and international championships makes 2015 Africa Boxing Championships lightweight gold medalist Nick Okoth a prospective medal prospect at 2020 Tokyo Olympics, 1988 Olympian Patrick 'Mont' Waweru has said.
Waweru said the consistency in the National Boxing League and in different international championships across the globe is a key factor that makes Okoth reliable in 'The Hit Squad' that leaves for Japan on July 5.
"He does not win matches by fluke and the Tokyo Olympics will not be an exception," he said.
Okoth has won different medals in All African Games, Africa Boxing Championships, Commonwealth Games, Africa and World Military Games besides a host of Invitational championships and will hope he will win a medal at the Olympics.
"He is a boxer who hardly loses in the first or second round of any international championships. Therefore, such players easily get to the medal bracket," Waweru, a lightweight gold medalist in the 1987 All Africa Games told Standard Sports.
Waweru, however said Africa Zone Three Boxing Championships super heavyweight gold medalist Elly Ajowi needs to improve the power of his punch ahead of the Olympics.
"Ajowi needs to be hard hitter for his opponents to fear him. At his level, the coaches need to work on his finishing so that he does not fluke with his punches," said Waweru who at one time coached national league champions Kenya Police.
He stated that he (Ajowi) can easily excel in the light heavyweight (81kg) as opposed to heavyweight (91kg or super heavyweight (over 91kg).
"He's a talented boxer and whom I know very well having recruited and coached him in the Kenya Police team some years back," he said.
"However, the weight category he features in makes it hard for him to make a consistent winning streak."
Author Profile
I am a young Kenyan interested in new media and dissemination of news and information as it unfolds.