Detectives are investigating the circumstances under which a police officer burst into a hospital and shot dead his lover before turning the gun to himself.
Kenyans have been enthralled in recent times by tales of violent killings in romantic relationships. The most commonly cited reasons behind the spate of murders and suicides include allegations of cheating, couples falling into economic hardships and flawed personalities.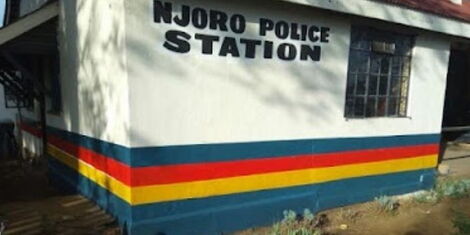 In the shocking incident that occurred in the wee hours of the morning, police constable Benard Sivo stormed
Njoro
Sub-County hospital and opened fire on his girlfriend Mary Nyambura, who had just been rushed in with a fractured leg.
Earlier, the two are believed to have been involved in an argument that turned ugly after Sivo who was based at Njoro Police Station fractured Nyambura's right leg. Nyambura then sought treatment at the hospital and told doctors, that her boyfriend had assaulted her.
As the doctors were attending to her, an enraged Sivo stormed the hospital armed with an AK 47 assault rifle and opened fire killing Nyambura on the spot. The officer who appeared to have gone berserk went back to the police station barely a kilometre away and
started shooting in the air frenziedly, before he turned the gun on himself. He died of a single gunshot wound to his head. Both scenes were documented by crime scene detectives.
As this disturbing trend of violence unfolds across the country, questions arise as to how people who were once madly in love ended up hating their partners to the extent of killing them. The violence exposed in the stories is frightening in its intensity.
There are many other disturbing cases of lovers ending up dead in circumstances police attribute to domestic quarrels.
Early this August, Kiambu-based businessman Jonathan Mukundi Gachunga and his wife Philomena Njeri were found dead in their living room. Police suspect the businessman shot his wife then turned the gun on himself.
Last April, a GSU police officer and his traffic police wife were also found dead in their living room in Nairobi. Following investigations, Inspector-General of Police Hillary Mutyambai said the GSU officer, Hudson Wakise, shot and killed his wife, Pauline Wakasa, before shooting himself.
In January, a man was arrested for the gruesome death of a woman in Nairobi's Mwiki area. The woman was killed in her house, the body tied onto her bed and set alight. Neighbours discovered the woman's body as they tried putting out what they thought was an accidental fire.
In May, former high school principal Jane Muthoni was convicted for the 2016 killing of her husband, Solomon Mbuthi. The court heard that Muthoni hired assassins because she suspected him of having an extra-marital affair.
The National Crime Research Centre, a public body formed to research the causes of crime in Kenya and its prevention, reports that crime is a consequence of multiple factors. It cites personal choices, unemployment, poverty, drugs and stress.
Author Profile