Yester-evening two Kenyans survived a plane crash by whisker after a plane they were flying in crashed near Oldonyowas, Chyulu Hills in Makueni County.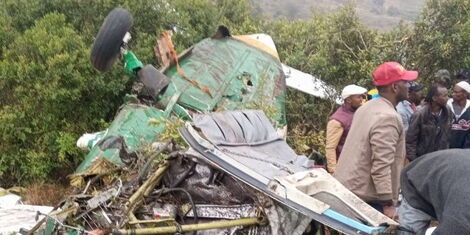 A report released by the Kenya Civil Aviation Authority confirms that a Cessna C337 aircraft registration number 5Y-VPB crashed near Oldonyowas. Two people who were on board escaped with injuries, and were airlifted to a hospital in Nairobi for further treatment.
The aircraft had two persons on board and had departed from Orly airstrip in Kajiado County at 12.15 pm headed for Diani, Kwale County,
KCAA
director-general Capt. Gilbert Kibe said.
The agency further announced that it has launched investigations to establish the root cause of the crash. The probe will be led by the Air Accident Investigation Department of the Transport ministry.
"Investigations have commenced through the various agencies led by the Air Accident Investigation Department (AAID) of the Ministry of Transport, Infrastructure, Housing, Urban Development, and Public Works," KCAA noted.
In June, two people perished in an aircraft crash that happened in Mwalashi, Vuria Hill.
The aircraft was believed to belong to C172 Caravan Reg No. 5Y CFE and operated by Flying Training Centre (FTC) and had two passengers on board. The light wing aircraft was headed to Mombasa from Wilson Airport when it crashed.
The aftermath of a plane crash near Lang'ata in Nairobi on July 12, 2017.
Two staff badges belonging to Dr Athman Lugogo of the Makueni County Referral Hospital and Esther Kamande of the Kenya Airports Authority were at the scene in Taita Taveta county.
Makueni Health executive Dr Andrew Mulwa at the time described Dr Lugogo as an extremely dependable and committed professional.