There is a Mercedes Benz that is currently burning at Roasters along Thika Super Highway.
By the time of publishing this article, the cause of the fire was yet to be established neither is the owner of the Mercedes Benz known, just yet.
The video was first shared by an account that says is a Cyprian Nyakundi Fanpage,
Mercedes burning at Roasters. Cause unknown. pic.twitter.com/YExqILWaDp

— Cyprian, Is Nyakundi (@CisNyakundi) September 20, 2021
In July this year, another Mercedes Benz bursted into flames Along Mbagathi way,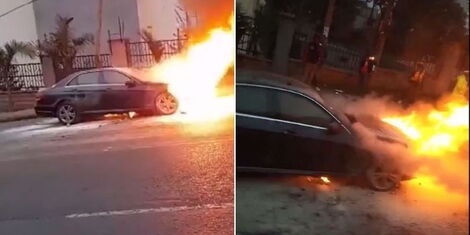 A video shared on Thursday, July 8, showed the car burning from its bonnet area and slowly spreading to the rest of car. The incident occurred outside the Association of Evangelical in Africa (AEA) Plaza near Department of Defence headquarters (DoD).
It is not clear what cause the dark blue expensive ride to burst into flames in the incident that took place at around 6:30 p.m.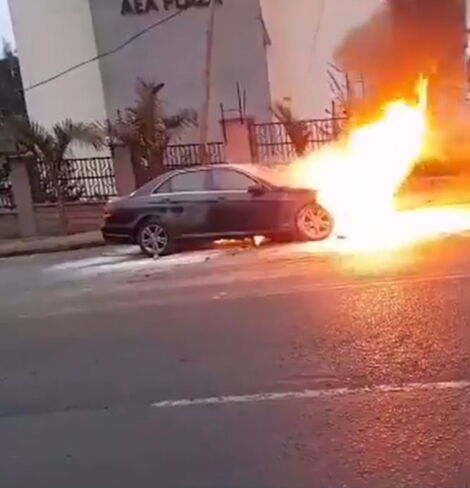 It is not clear what caused the fire in this particular incident but there are various factors that may lead to car fire.
According to Statista, there were around 181,500 highway vehicle fires reported worldwide in 2018.
Some car fires are caused by collisions while some are more often caused by problems with a vehicle's electrical wiring, fuel system or even cigarettes left in the car, leaving the engine to catch fire.
Warning signs, according to State Farm, an Insurance and Banking Company, that may lead to car fires include fuses that blow repeatedly, spilled oil under the hood left over from an oil change and oil or other fluid leaks under the vehicle.
Others include cracked or loose wiring, or wiring with exposed metal, very loud sounds from the exhaust system, rapid changes in fuel level, oil levels, or engine temperature, a missing cap from the oil filler, and broken or loose hoses.
Comments
comments