Kenya's government has vowed a crackdown on Saudi Arabian immigrants who are unlawfully in the nation.
This follows worries about an inflow of large numbers of immigrants. Many of them were believed to be Asian and had been observed in Nairobi's residential districts.
According to data provided by the government, more than 20,000 Pakistanis have entered the nation since June. Approximately 8,000 of them have subsequently departed.
Karanja Kibicho, the interior ministry's chief secretary, claimed the immigrants were on their way to Saudi Arabia for work.
Saudi Arabia has put several Asian countries on its red list, which is designed to prevent the spread of coronavirus. Mr Kibicho said Kenya was however alarmed by the threat of the further spread of Covid-19 and would restrict the number of immigrants transiting through the country.
Kenya launched a crackdown on illegal immigration from Pakistan on Wednesday, as well as a halt on free transit agreements with the Asian country, in an effort to curb the spread of Covid-19.
The Interior Ministry stated that this was in response to an increase in the number of Pakistanis traveling through the nation on their route to Saudi Arabia. Since last week, the parties have started coming in significant numbers, taking advantage of easier circumstances for travelers from Kenya to the Middle East under Covid-19 restrictions.
Dr. Karanja Kibicho, Principal Secretary for the Interior and Citizen Services, stated that officials have seen a probable misuse of current free passage agreements between Kenya and Pakistan.
"The Kenyan Government is alarmed by the threat of the spread of the Covid-19 pandemic posed by the influx of foreign travel … The government has ordered an immediate crackdown on foreigners who are in the country illegally. The government will restrict the number of foreigners transiting through the country to levels that do not pose a risk to Kenya's national interests," he said in a statement.
The Department of Immigration and the National Police Service will now check the papers of all those who have arrived in the country in the recent past. Those without transit visas will be deported.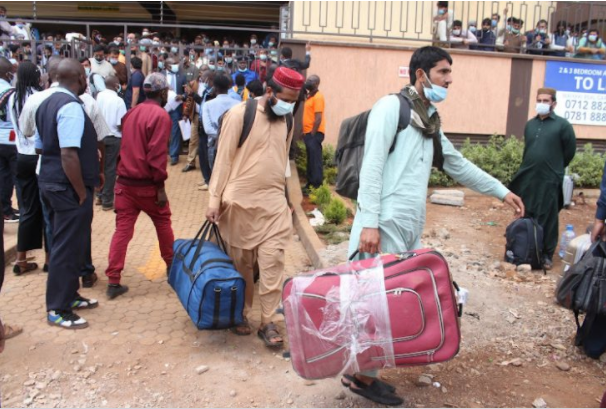 The foreigners are living in rented apartments in Nairobi and neighbouring Machakos county. Resident associations have been questioning their adherence to Covid-19 protocols like mask-wearing.
A Pakistani hotelier, identified as Pranay Patel, has revealed that his countrymen currently in Nairobi, have legal documentation and are on transit to Saudi Arabia.