An anti-corruption court ruled on Tuesday that Kapseret MP Oscar Sudi didn't actually take the 2006 KCSE examinations, as previously claimed.
Nabiki ene Kashu, the Kenya National Examinations Council's main examinations secretary, informed magistrate Felix Kombo that Sudi did not register for or take the 2006 KCSE examination at Highway Secondary School in Nairobi.
She was giving testimony in a case where Sudi was accused of faking a diploma degree in business management and passing it off as a real document issued by the Kenya Institute of Management.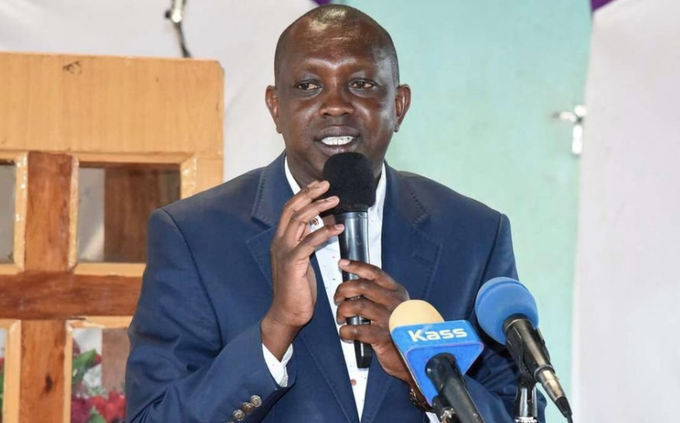 He is also accused of forging his KCSE certificate purporting it to be a genuine document issued by the Kenya National Examination council.
Kashu, the eighth prosecution witness, said they received a letter from the Ethics and Anti-Corruption Commission on September 17, 2015. The commission was requesting confirmation of candidacy on academic results of Sudi for the year 2006.
"In the letter, we were asked to authenticate whether such a candidate sat his KCSE in the year 2006 at Highway Secondary School in Nairobi in November and awarded certificate serial number 3381074 under index 401006/081." 
Kashu stated that following further investigation, they discovered that the 401006 code did not belong to Highway Secondary School, but rather to Parklands Secondary School. Highway Knec data reflect the code 401005.
"We also established that a candidate by the name Sudi did not appear in the 2006 Knec database for either Parklands Secondary School or Highway Secondary School," the witness said.
The court heard there was no school called Highway High School during the 2006 KCSE examination as indicated in Sudi's certificate.
When the EACC asked for a copy of the certificate for the 2006 KCSE test results, they discovered that Sudi did not register for or sit for the 2006 examinations at Highway High School under index 401006/081.
Highway Secondary School's code was 401005, not 401006, as represented in the alleged copy of the certificate given to Knec for authentication code.
Kashu said index 401006/081 belonged to Obaje Bob Onyango, who was registered and sat the 2006 KCSE examinations at Parklands Secondary School.
"There is no possibility of two schools sharing a code number during a given examination. Similarly, there is no possibility of two candidates sharing an index number. The purported copy of certificates presented to Knec for authentication purposes is obtained from a forged document," the witness said.  
Kashu has been employed at Knec for the past 19 years. Her responsibilities include confirming exam results, replacing certificates, and calculating international qualifications.
Reactions from Kenyans on Twitter as Sudi bites the dust in court
Jalango's best friend Oscar Sudi didn't finish high school. No wonder he has never contributed to or participated in House debates. I've always insisted he's a chokoraa because anyone who gets along with an intellectual dwarf like Jalang'o must be mentally challenged too. pic.twitter.com/DSH9LPweyd

— Cyprian, Is Nyakundi (@CisNyakundi) October 27, 2021
Apparently The Form 4 Certificate, serial number 3381074, for Oscar Sudi, Kapseret MP (Index number 401006/081) belongs to Obaje Bob Onyango who sat KCSE exam in 2006 at Parklands Secondary School. CONMEN na Matapeli elected to parliament. We are who we elect to represent us. pic.twitter.com/CXCWrSL9Wh

— Lord Abraham Mutai (@ItsMutai) October 27, 2021
Everytime Oscar Sudi opens his mouth, Ruto loses 100 votes. Look at how he is intimidating government officials. pic.twitter.com/DeoZ0CgV7P

— Duncan Makori (@EngnrDan) October 23, 2021
David Ndii now says Nairobi will look like Amsterdam under Ruto's government😂😂😂😂 Siasa has a way of making even the highly educated reason exactly like Oscar Sudi and Millicent Omanga.

— YANO (@_Yanoh) October 23, 2021
My brother Oscar Sudi deserves these kind of revelations. He has been abusing the president for no good reason. The KCSE certificate must be produced or he goes back to Matatu business.

— Abuga Makori EGH, MBE (@abuga_makori) October 27, 2021
Kenya's examination council says Oscar Sudi has never stepped anywhere near a high school and he is walking around with someone else's form four certificate. pic.twitter.com/H15zdv3AEw

— Dennis Onsarigo (@Donsarigo) October 27, 2021
Oscar Sudi stole the credentials of a poor young Luo man to fake KCSE credentials.

Index 401006/081 which he claimed to be his belongs to Obaje Bob Onyango who was registered and sat for the 2006 KCSE examinations at Parklands Secondary School

Tanga Tanga militia yawa!

— Robert Alai (Fisherman), HSC (@RobertAlai) October 27, 2021