Sometimes in 2014 I met a neighbor and we became friends, his business premises was near my house and am a regular jogger. Those who know me know I'm very social and love to make new friends
The guy Eric was a very calm, quiet guy and we would talk a bit mostly about politics. He had a worker called Wambugu who over time would ask me direct political questions, just the usual.. unaona hii kiti ikienda na nani, gova ni kwa nini wamefungia CDF, Baba ako na chance kweli
I love answering such with utmost honesty and passion. One time Eric had opened a car wash bay at his premises and he did a thorough wash on my silver Prado. It included opening the dashboard and blowing the dust of the dials hapo ndani. I was impressed.
What was more impressive though, was he charged me 7,000 but said just pay when you're ready you're my neighbor don't worry. After a few weeks I paid and our friendship got deeper. When I told my then gf Makesh about this nice dude from uko Meru her cousin Murugi.
Cautioned me saying, chungana na huyo jamaa sana.. he's not straight and his dad was murdered uko Isiolo over sour deals.. please don't give him your money. For his part, Eric then casually proposed..that I come on board as a 'partner' because I have a golden network
I have been in Kenya almost 15 years and in that time av interacted with presidents, PMs, Ministers, ambassadors, top cremé lawyers, embassies, CJs, AGs, CEOs and wananchi alike. I often work 7 days a week in many many spheres and av never even been interviewed for a job.
I am headed to Nigeria for the first time next week and the chairman of an energy conglomerate who only met me yesterday remarked: I am impressed before parting with this for 'dry cleaning' he called it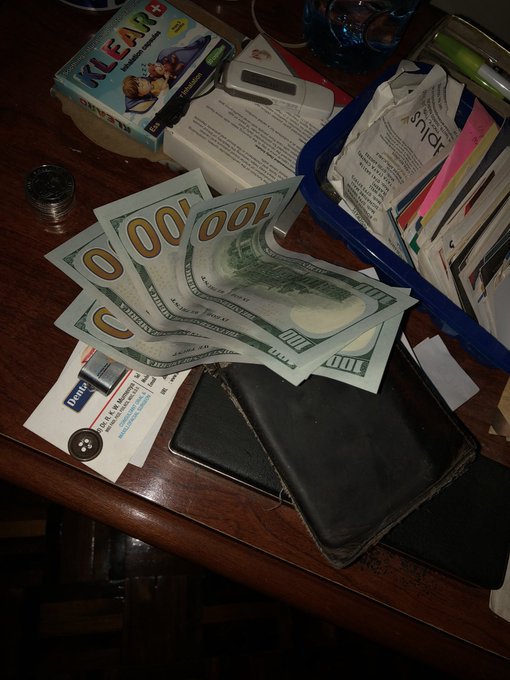 Back to the issue at hand. Eric printed these cards for me, so that we work together and support each other. When we started fighting about the Audi the auctioneer he sent to me remarked ala na ata mnafanana kiasi si muongee tu mandugu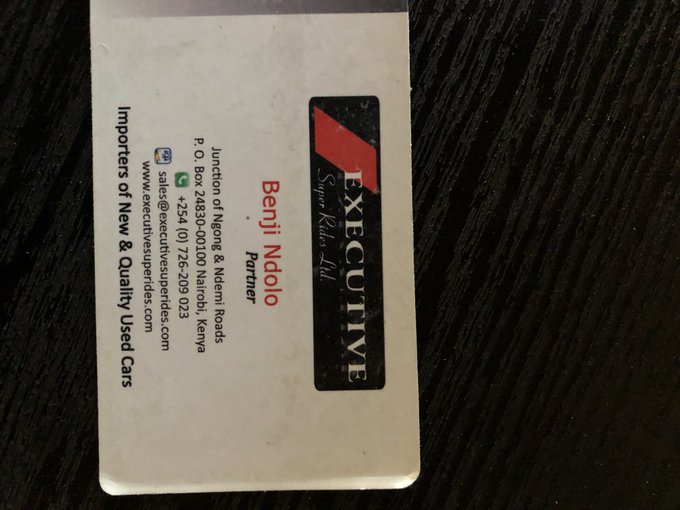 He said it's good when you're in Siasa to have a friend where if you come across a big deal it can be handled via him and as a dependable friend I can always trust hatanirusha. So when I saw an Audi I liked one morning.. in the same usual manner.
Eric said, this is the car am driving, it's for my wife's sister and no big deal bro.. weh niletee 1 Million saa hii hakuna pesa si uta leta hiyo ingine. But bring me good customers Benji. That's how I brought him the deposit in July 2017 I remember because it was days to dad's
Memorial. I also put up my Prado for sale which in a few days was sold by
Kevin Omwenga
the young guy who was recently killed by you-know-who. Kevin always asked me to support the youth and he was a spender who loved mammaz, he remained with my 200k but always promised he'd pay
First forward to 2019 and I noticed Wambugu was the one calling to follow up on "payments" which was weird because our deal with Eric was between brothers with no bank involved, no agreed rate and no monthly payments to speak of. Eric only asked I sign an indemnity in order that
Insurance is covered, and his UK suppliers who he owed 50M every month can see that he has activity. Wambugu then had devised some software where he inputted numbers and it generated compound interest. Of course this was such a joke but when I asked him he said …
It is CBK
that have allowed we can do that! Anyways, we continued.. I paid 400k here, 400k there, 600k etc and remember Eric had initially shared with me valuation report at 2.5M upon which he asked what's your offer as a friend you support my biashara? We agreed 3.3M
And shook hands. As we got into elections and maandamano and all that, with my also being in school full time schedule on top of full time work schedule..we'd meet and he'd ask me when the stalemate between Uhuru and Raila will end because it's killing business
And in fact they had to empty their whole yard in anticipation for riots, and I really felt for him as a friend. I was at the time coordinating a huge project for an international financial institution in conjunction with GoK so I reiterated my commitment in writing but upon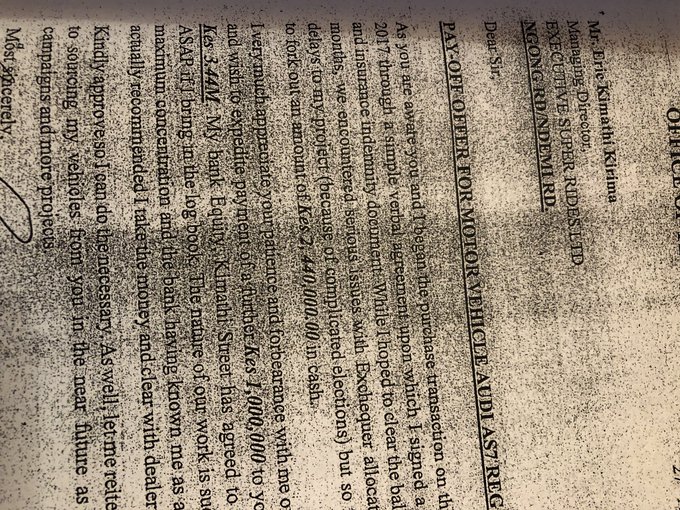 Delivery of this letter was informed Eric was traveling for business in London. He never replied to my letter but we sat and met upon his return and we agreed to conclude this business and move on to bigger things upon which he released this logbook to me since risk was
Minimal as cost was mostly covered at that point and the rest was his ya kukula. I however ran into a small problem, we had anticipated my bank Equity Bank

would clear this amount but upon underwriting, they assesed the paperwork and declared I'd already paid value so I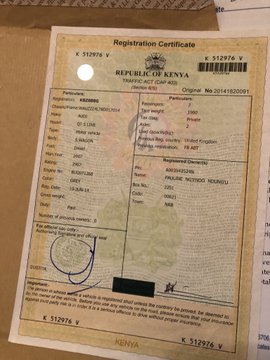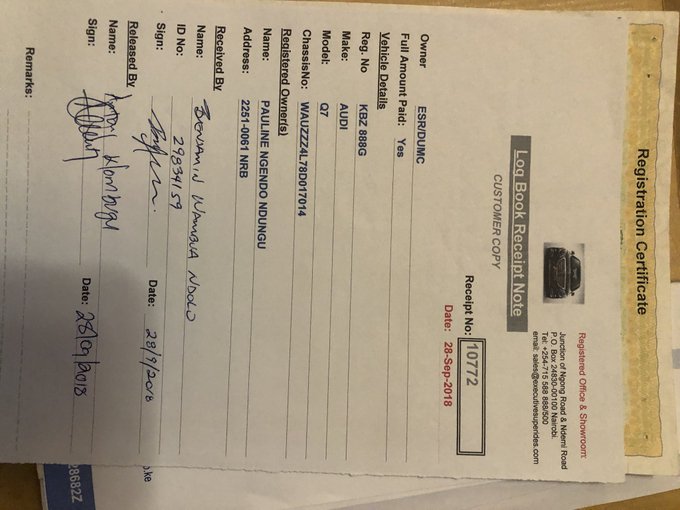 Had to find another way since they couldn't loan against logbook. We were having delays here and there due to the usual exchequer stuff but I continued to assure Eric I'd pay and indeed I did..to the letter Kes 3.3 Million with some delays. We live and work in a 3rd world reality
Delays, dysfunction, is very typical but what's important is best intention and virtue when it comes to truth and fairness. On advise of my lawyers I ensured payment not a penny more and when Victor (pronounced Ficta) an auctioneer came we sought orders of the court and obtained
A stay. But this is where things started to go downhill.. Eric called me so angry saying he is only a businessman .. why would I go to court to expose him and he banged the phone. His wife Justine had always been so warm and charming, they work together. I asked him what was I
To do?
 it got crazier. On one of the hearing days, an advocate Karanja who had been referred to me by lawyer Wandati, skipped court and magistrate Ocharo vacated orders exposing me to attack and loss knowing full well I'd paid in full and the auction goons pounced the next day
I sought Ocharo and he served me tea while apologizing profusely saying if I don't go slow people will lose jobs. I reported the matter to court registrar and ultimately when my file DISAPPEARED it is Anne Amadi who found it by force.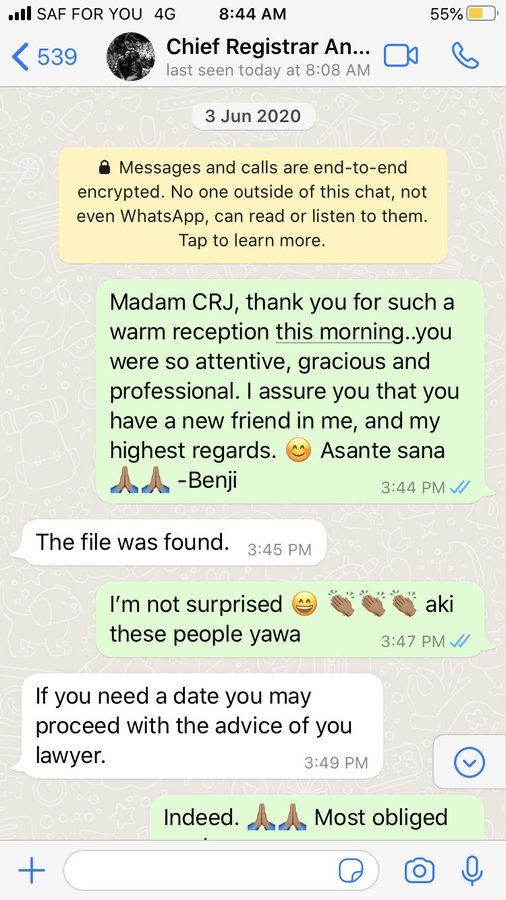 In court corridors I'd encounter plaintiffs, staff, security and court orderlies who would always remark: Bw Benji if you can go through wizi ya aina hii, je mutu wa kawaida mwenye hajui mtu hapa Kenya! An order was issued to release my car in the High Court but wasn't complied
It is Ocharo who respectfully advised I go High Court. Ultimately, we never got justice as Msagha Mbogholi issued a perfunctory order without a semblance of justice and I was informed overworked judges rely on interns for surface research and writing upon which thy then just sign
https://twitter.com/BenjiNdolo/status/1463493785988608003?s=20