Has a prominent Kenyan Dr. Ahmed Kalebi been infected by the lethal Corona Virus?  Safety of the healthcare workers who're the first in line and most at risk being the ones handling the patients and having the close contacts. Just the other day, KNUN Secretary General called all nurses handling the deadly Chinese Virus to flee because the State was less concerned about their safety.
I've gone into self-isolation after developing body-aches, fever & chills, headache & cough since last night. Got samples taken for #COVID19 testing cause of recent air travels to?? & within??. I'll remain in #selfquarantine until my symptoms resolve &/ lab result all clear…1/3 pic.twitter.com/RJFlxcPPNL

— Dr Ahmed Kalebi (@DrAhmedKalebi) March 17, 2020
Everywhere in the world, The governments first priority is to protect the people and not to run their lives. Even though the State has taken quick measures, little is being done to protect the people. Why is the government not nor has bothered to quarantine the whole Nation? Italy did that and that is what saved them. Is there any country in EAC that has dispersed self-quarantine to her citizen?
Safety Of Health Workers
If we take adequate precaution and break the chain then we can tide the Corona virus Outbreak or else we have a big problem in hand especially for the elderly population. So far so good. But, Do you think our government has done well so far in its fight to contain Corona Virus?
COVID-19 is proving tough given it's high contagious element, healthcare workers must take extra precautions. We've seen in many other countries where doctors handling the patients have fell victims and some even succumbed.
Just the other day, health workers at Mbagathi hospital where the government has set up the special Corona-virus isolation center staged a go slow accusing the government of not only training them in how to handle the cases but also saying they lacked proper protection gears.
Cabinet Secretary for Health Mutahi Kagwe however, announced that the confusion had been handled pointing out that all demands had been met.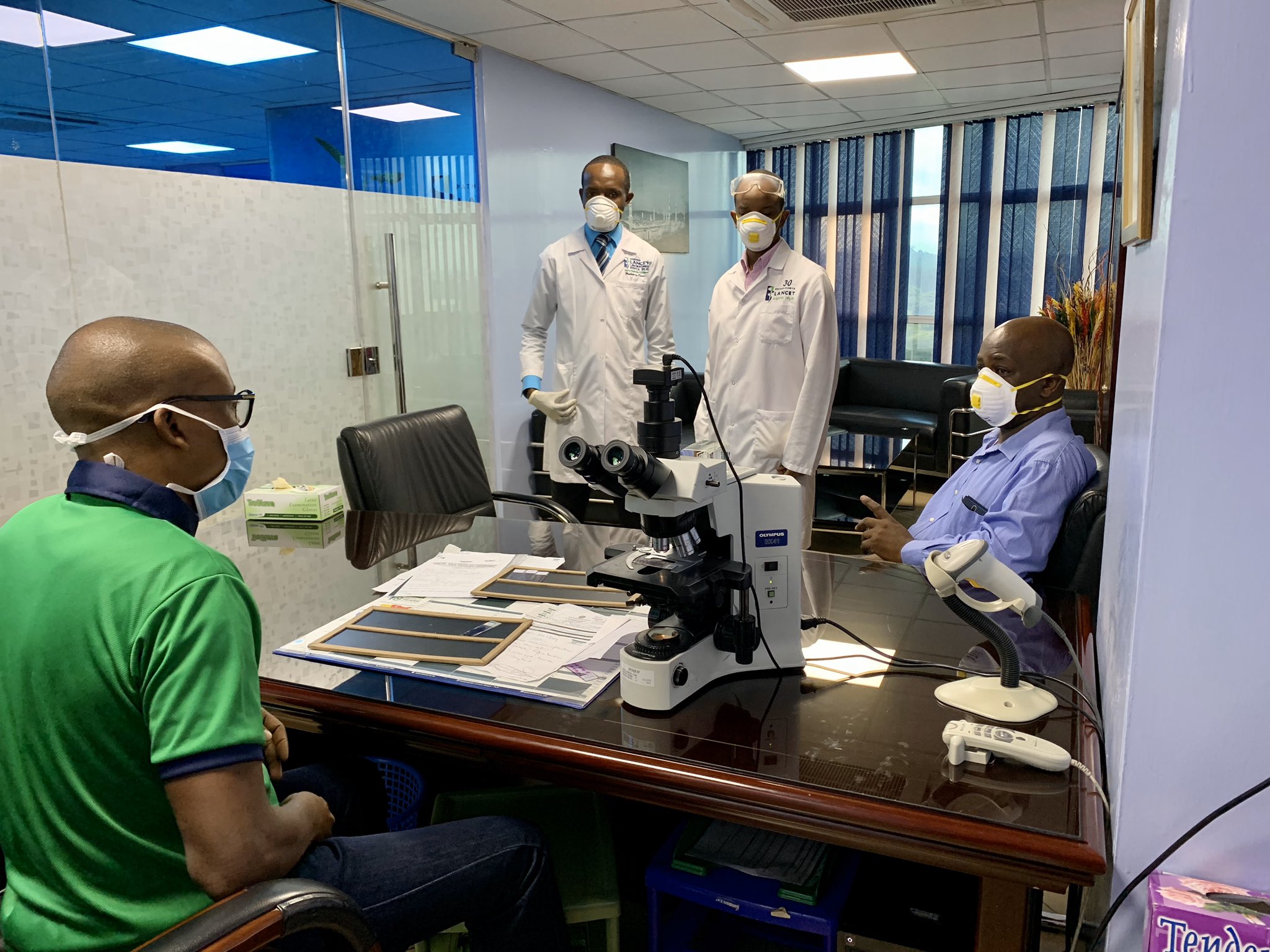 Elsewhere, Dr. Ahmed Kalebi, a leading pathologist and the Kenyan CEO of Lancet group of Labs has been forced to self quarantine after developing Corona-virus symptoms. He announced this through his twitter account.
PLK provides vital diagnostic, monitoring and screening testing from routine to specialized and esoteric tests. With our footprint throughout Anglophone Africa, Lancet Laboratories was founded in South Africa and now present in East Africa [Kenya, Tanzania, Rwanda & Uganda], Botswana, Ghana, Malawi, Mozambique, Nigeria, Swaziland, Zambia and Zimbabwe.
According to their site, Lancet laboratories operate primarily in the private healthcare environment and offer specialist pathology services to doctors and their patients directly or through clinics and hospitals, industrial sectors, corporate and insurances.
Exposed to Corona Virus in Lab?
Was the Doctor working on a possible covid-19 specimen in his lab? Well according to this tweet, the top Kenyan pathologist has/is planning for work going on in their lab.
I'm setting up for the test in my lab @LancetKenya_PLK to scale up but facing shortage of reagents supplies. Was slowed down by apparent restriction to run the test in private lab. Hopefully within the next fortnight we'll be up & running. Presently using our group reference lab

— Dr Ahmed Kalebi (@DrAhmedKalebi) March 18, 2020
Fears
"I hope it's just a common cold and not COVID19, but if it turns out to be SARS-COV-2 at least I wouldn't be spreading it out there and will try stay healthy to see it burn itself out. So fingers crossed till I get the results," the doctor wrote on his twitter account adding that he is waiting for his test results but otherwise clinically OK as the flu-like symptoms are mostly mild save for the malaise and body-aches. 
Dr. Lukoye Atwoli has also gone into self quarantine as he revealed in a response to Dr.Ahmed's post, "Pole sana my classmate Dr Ahmed Kalebi. Do get well soon. I'm also in self-quarantine for similar reasons." He wrote.
How comes no one is talking about treatment? Everywhere people only talk of self quarantine? How is this
#COVID19
treated?
With no known vaccine and treatment yet, those who exhibit Corona-virus symptoms are encouraged to self quarantine in a measure to curb the further spread of the virus.
No treatment as yet for this very new virus that whole existence was only known to man in Dec 2019. It will be a while before an effective treatment is confirmed if discovered. So for now the best bet is to stop or slow its spread as it is a contagious virus moving worldwide
Kenyan Bulletin news desk is following the case closely and we will be publishing updates of the case. So far, Kenya has tested 111 people, four have turned out positive, 22 are isolated and under watch, 23 who tested negative have been released and to self quarantine at home.
The government has promised total lock-down if the situation worsens. 
Comments
comments