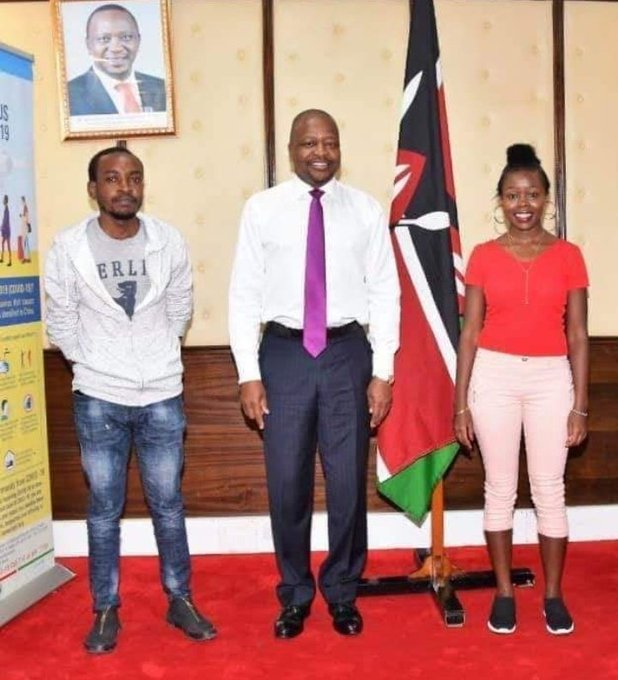 Kenyans have dug into the private life of Ivy Brenda Cherotich and managed through as her leaked Whats App conversations have found their way on the interwebs. How Kenyans got hold of the nudes hours after her being paraded as the survivor is still a conundrum.
Already mshapata nudes za Brenda ghai!! I give up

— BRAVIN YURI (@BravinYuri) April 2, 2020
On Wednesday, Health Cabinet Secretary, Mutahi Kagwe, paraded Brenda and her lover Brian as two Kenyan patients who had recovered from COVID19. The two even had a video chat with President Uhuru Kenyatta who even promised to meet them at State House in the coming days.
In a video conference call with President Uhuru Kenyatta at State House, Nairobi, an elated Brenda, and Brian (another recovered patient) told of the 23-day quarantine period at Mbagathi Hospital and how they managed to pull through.
Retracing her journey, Brenda said she first arrived in Texas, USA on December 19, 2019, then proceeded to Cleveland, Ohio, finally making a stop in London, United Kingdom.
"I suspect I may have contracted Coronavirus in London after coughing for three days. I decided to give myself one day to see how my body would respond."
However, as things were not improving, Ivy a former beauty queen who competed under Miss Tourism, did the rightful thing and presented herself at Mbagathi hospital in Nairobi.
"I had seen from the news while in the US that there was an isolation ward at Mbagathi so I took myself there."
Brenda was praised by Uhuru for being brave in coming out and taking herself to the hospital once she became aware of the symptoms. He said the two (Brenda and Brian) showed that Kenyans can not only contain this disease but can also treat the virus and get out of it.
"You are special because upon your arrival and you feeling that you were not well… without being pushed, you took it upon yourself realizing that you had the risk to harm others and take yourself to Kenyatta National Hospital.  This is a moment of pride… we are proud of you Brenda… you were able to inform us all the people you were in contact with. We are celebrating your bravery..you were able to limit your contacts and identify them and trace them…and there is no single death..you are a very wonderful and brave girl.." said the President.
Hours after Brenda personally delivered the news that warmed the hearts of millions of Kenyans and left millions of others in a catch twenty-two situation. Soon after, her never-seen-before photos of the reigning Miss Tourism Kenya Hospitality have emerged online.
Here are the full leaked photos and conversations as shared by a Kenyan on Twitter.
Here is the leaked confirmation text of her responding to her lover, who is alleged to be the one who leaked these nudes- The same Brian who was also paraded as a COVID-19 survivor.
Since being paraded as COVID-19 survivor, curious netizens have poked and still are poking holes in her story, which had so many inconsistencies making it more of a fairy tale during these terrific times thanks to the Chinese virus. Netizens have exposed, on their public opinion court, Brenda and Brian as liars.
Brendah's story doesn't add up at all. The government said she arrived on 5th March 2020 from USA via London yet on 9th March she was in Chicago, Illinois ???…. Photos ? Courtesy @KinyanBoy pic.twitter.com/oVbTXbIba2

— MUHAMMAD ONYANGO ® (@Moha001_Onyango) April 2, 2020
How many of you have picked contacts from random people you sit with on a plane??

Anyway what caught my attention here is there's a cough off jet lag? I have been having the wrong jet lag experiences all along. pic.twitter.com/43hA0rI7x6

— Kenya West© (@KinyanBoy) April 2, 2020
On Thursday, Brenda who was preaching how the disease was treatable deleted her Facebook posts and a curious Kenyan on twitter said Brenda was deleting the posts because she has been unmasked as a conwoman.
"Why is Brenda now deleting her posts on Facebook? Stand by your story mama if it's the truth there's nothing to hide, deleting then is raising even more questions now like what are you hiding?," wrote Bel Akinyi.
Here are some of the few trending opinions on the now number one trending topic on Twitter,'Brenda'
Brenda , you think this is some Tv show? Our government do you really care about your citizens?

— KING KAKA (@RabbitTheKing) April 1, 2020
When the government is fond of lying, nobody believes them even when they might have done the right thing. From the social media posts I see, nobody believes Brenda was sick. How can they win Kenyans trust?

— Cyprian, Is Nyakundi (@CisNyakundi) April 2, 2020
Brenda was admitted at Mbagathi but thanks nurses and cleaners from Kenyatta hospital. There are so many questions from her story.
Some things are not adding up pic.twitter.com/lN4umq5Yxb

— PETERKIN. (@PeterkinNzomo) April 2, 2020
When Brenda started hopping from one media house to the next instead of going home to recuperate, I remembered the rumour that Kenya declared her Patient 1 after World Bank promised funding for affected countries?

The pieces of the jigsaw are finally falling in place. pic.twitter.com/Rp4M5D5O78

— Joshua K. Njenga (@JKNjenga) April 2, 2020
Jeff: ..and who's Brian to you.." Brenda: "..I only came to know him at the isolation facility, I had seen him entering and leaving my house.."
Archives jan 30th 2016. Brenda tagged along Brian as the best friend.
Am now lacking words.
Good morning Kenyans.
Tunawe regularly. ✊✊ pic.twitter.com/IK6L8GY79S

— GEORGE ONSASE??. (@GeorgeOnsase) April 2, 2020
In his Wednesday afternoon briefing, Health CS Mutahi Kagwe brought back a somber mood after he announced that Kenya's Coronavirus cases had increased by 22 and totaled to 81.
The patients include 18 Kenyans, two Pakistani and two Cameroonian citizens, CS Kagwe said Wednesday afternoon during the daily coronavirus briefing. Kagwe further said that 21 of the new cases were in quarantine.
Kenya's confirmed coronavirus cases surpass the 100 mark after recording 29 more in 24 hours, the number rises to 110, Health CS Kagwe says.
Kenyan bulletin urges you all to
Wash your hands regularly for 20 seconds, with soap and water or alcohol-based hand rub
Cover your nose and mouth with a disposable tissue or flexed elbow when you cough or sneeze
Avoid close contact (1 meter or 3 feet) with people who are unwell
Stay home and self-isolate from others in the household if you feel unwell
Touch your eyes, nose, or mouth if your hands are not clean
Comments
comments