Donald Kipkorir cannot afford to pay his rent anymore, David Ndii has Exposed him. The tweef between Lawyer Donald Kipkorir and Economist David Ndii's Twitter is not going anywhere soon.
Flamboyant Nairobi-based lawyer Donald Kipkorir thought it wise that the government authorizes printing of more currency to help mitigate the ever dynamic COVID-19 situation.
"To mitigate economic recession/ depression by COVID-19, following countries are injecting to their economies:

US: us$2Trillion (9% of GDP)

UK: us$434B (16% of GDP)

Peru: us$26.4B (12.5% of GDP)," Kipkorir tweeted.
But Kipkorir's school of thought was rubbished off by David Ndii, formerly a NASA Chief Strategist who said the Dons argument was based on a "wash wash economics" thus worth being ignored.
Responding, our lawyer thought Ndii was under the influence of ignorance, therefore, recommending him a book to help enlighten him.
It has been two weeks of exchanging jabs in what ended to the lawyer being baptized as Sonko Malong, a name that that bow stuck in many heads.
Ndii wrestled down DBK into taking a sabbatical from the Internet things turned against Ndii. Miguna jumped into the field knocking him down by baptizing him as Auma. This followed a comment that Ndii had made about Luos bring cheap. The name has since stuck.
An exchange of brickbats between firebrand politician Miguna Miguna and controversial economist Dr David Ndii has generated a Twitter storm. The two started tweefing and arguing over the authenticity of Opposition Raila Odinga's academic qualifications.
It began when Miguna, a frequent Raila Odinga critic suggested that the former premier received his Bachelor of Science in Mechanical Engineering from an unaccredited German university.
"That was not an ACCREDITED university or technical institute in East Germany in the 1960s when Raila purportedly graduated from there. In addition, that school did not have an engineering faculty in the 1960s. Raila must come up with better lies," Miguna wrote on Twitter.
DBK or as he's known, Sonko Malong has been a subject of twitter trolls, on Thursday, there was a whole trending hashtag which was obviously sponsored to troll him.
It didn't take long before Ndii swung into action with his custom vendetta, shutting down fallacial life that DBK always brags about while responding to what he terms as 'Irrelevant critics'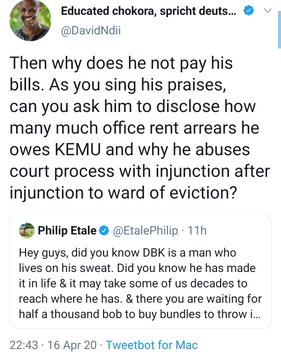 "Then why does he not pay his bills. As you sing his praises, can you ask him to disclose how many much office rent arrears he owes KEMU and why he abuses court process with injunction after injunction to ward of eviction?"
Reactions of Kenyans on Twitter.
I cannot waste time attacking @DonaldBKipkorir. He is a brilliant, hardworking lawyer and a number of times I've seen him coming for the rescue of the less fortunate in society. Do not despise Don in your miserable lives. You'll one day need him, very soon. #SonkoMalong

— Fredrick Mirikau™️ (@MirikauFredrick) April 16, 2020
Ndii is a part of the larger Gatabaki family which has had long ties with the Kenyattas, his niece Natasha is married to Solicitor-General & former PA to Uhuru – Njee Muturi! Whilst he is undoubtedly a pain-in-the-arse to Jubilee, he is endured as a mild irritant. #SonkoMalong

— Cyprian, Is Nyakundi (@CisNyakundi) April 16, 2020
I'm seeing bots attacking @DonaldBKipkorir. Don is an elder. He has made his money legitimately and has a right to live his life the way he wishes, so does all the minions shouting #SonkoMalong. It's not Don's lifestyle that you angry at, it's your own misery that is spooking you

— Lord Abraham Mutai (@ItsMutai) April 16, 2020
Donald Kipkorir aka #SonkoMalong having Kes. 22,500 lunch at Italian restaurant. The dude have no shame!! Yet his village people are starving ? indeed, "NYANI HAONI KUNDULE YAKE'???? A THICK HEAD IS A THICK HEAD. pic.twitter.com/NNe2TJl1rD

— Kelly Ken Rodgers Odinga™ (@rodgersodinga_) April 16, 2020
Comments
comments