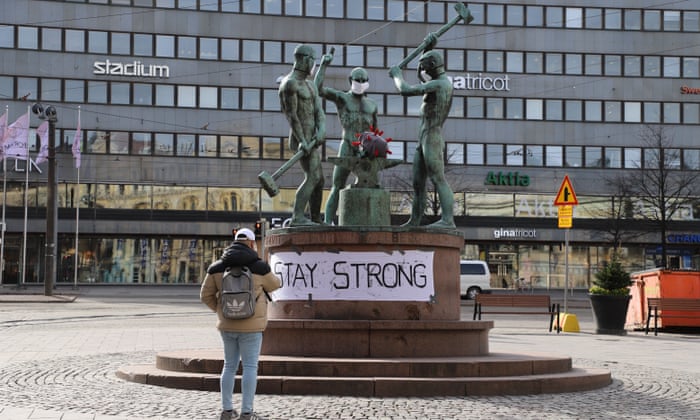 Coronavirus has, for sure, send everything, plan and economies to factory settings. While some shithole countries fidget between options available, which seems not to be working because most of the people in leadership have zero clues of what actually happens to their people on the ground, other Nations are bringing everyone on board.
COVID-19 can not be defeated by fools or foolery that African leaders try to impose on the Citizens. Treating people like slaves is the worst-case scenario in the whole fights against this Chinese virus.
One advise to Uhuru Kenyatta and CS Mutahi Kagwe, Never do something foolish because you are temporarily upset.
Take, for instance, in South Africa's Gauteng province – which includes Johannesburg and Pretoria – the government is distributing food to 54,000 people deemed vulnerable due to a nationwide lockdown.
But even before the restrictions, at least 16 per cent of Gauteng's 12 million people needed food aid, according to government estimates.
"The reality is that we underestimated the number of poor… (and), homeless people," said Panyaza Lesufi of the Department for Social Development.
Kenya has imposed a night curfew and forbidden most movement—apart from food—in and out of the capital, Nairobi and other country's coronavirus epicentres.
Hundreds of desperate residents in the city's biggest slum, Kibera, stampeded during an aid distribution by opposition leader Raila Odinga. Left three women dead and scores severely injured.
The next day, the government banned direct donations, insisting they go through the government to prevent "unnecessary disorder".
FINLAND
While Kenyan government has issued directives to arrest jobless and already broke people without expensive face masks, arrest bloggers who choose to inform their audiences with the real facts from their own independent sources, other Nations that are serious in fighting this pandemic are bringing everyone on board.
Finland has enlisted social media influencers in the government's efforts to contain the coronavirus pandemic, arguing that they are just as useful as mainstream media in a crisis when it needs to inform the population fast, clearly and accurately.
"We can reach a large part of the public in Finland through official communications and traditional media, but it's clear the authorities' messaging doesn't always reach all population groups," the government communications director, Päivi Anttikoski, said.
"The aim of this cooperation is to provide better access to information for those who are difficult to reach through traditional channels. As far as we know, Finland is the only country in the world to have defined social media as 'critical operators'," – along with doctors, bus drivers and supermarket workers.
The project is a joint initiative by the office of Finland's 34-year-old prime minister, Sanna Marin, a Helsinki social media consultancy, and Mediapool, a network of media companies tasked with helping ensure citizens' access to reliable information at all times.
See, Kenyans should be taking notes. We are suffering because we have installed tipplers who trip in every move they make. Nelson Mandela said there is no fool like an OLD fool. Be the Judge on who is running African Governments.
A consultancy, PING Helsinki, edits government announcements so they fit easily into a social media format and sends them to a network of 1,500 influencers on its books, who are free to use words and images as they like, according to Politico.
"It's about supporting social media influencers in sharing reliable information related to the coronavirus, and helping ensure that the right information is available on all channels at the right time," the company said. "By working together, we can prevent the spread of false information."
PING said the goals of the project were set in 2018, when they sounded far-reaching, even distant: developing tools to enhance the credibility of social media influencers and securing reliable information in crisis situations. "We wondered if it was bit of an overreaction," it said. "What crisis situation might we face?"
The company has also published a list of social media does and don'ts during the coronavirus crisis, including recommendations such as stop and think before sharing; review content critically; distinguish fact from opinion; check facts and never share false information.
Emmi Nuorgam, a writer, journalist, blogger and columnist with a large social media following, told the Finnish public broadcaster YLE that the pandemic "highlights how panic can spread on social media, and how difficult it is to curb if the authorities' message does not get to where people actually are".
Nuorgam said many social influencers "now reach the same number of people as, say, newspapers or commercial radio channels. Some audiences are insanely big. Many may have tens or hundreds of thousands of followers."
Take for instance in Kenya, Blogger Cyprian Nyakundi has an audience equal to most of the Mainstream githeri Media houses. Instead of the government arresting him and fining him ksh200,000 for sharing COVID-19 updates, they should have paid him to help them spread their message. Co-ordinate and corroborate information that he receives from his vast sources and run a mature, factual and open campaign to not only inform Kenyans but also prepare them for a uniformed fight against COVID-19.
According to the blogger, his blog cnyakundi.com has over 2 million monthly readers all of them that are from his organic traffic. His Facebook post reaches more than 50K people in a day. Calling such an individual a controversial blogger is an insult to hundreds of thousands of people he informs.
A factual video about the coronavirus produced by a Finnish YouTuber, Roni Back, interviewing a government minister and a number of health experts, had over 100,000 views within two days of launch, she said.
Another example is Robert Alai, he equally informs a large audience through his socials. The same government arrests him and fine him Sh 50,000 for posting COVID-19 updates. These people have already build a massive audience that not only believes but also trusts everything they post. These are the people the government should be using not abusing. Then you see our President confused to the toe asking what he should do since his hands are tied by learned fools he has around his decision-making table.
People get their information differently nowadays. Independent news tabloids and informed bloggers have peoples trust and believe because they stand for the TRUTH when there is nothing else.
Comments
comments