The 'Oracle of God', Rev Lucy Natasha has become the talk of the town, not only because of her prepossessing looks and appealing figure but also because of her seemingly extravagant lifestyle.
She, from her recent donations, seems to have taken over the Nairobi streets from the flamboyont governor who did, not only give out most of his powers but also is a constant Hennessy giver.
Mike Sonko surprised residents of Mukuru Kayaba slums with gifts. The Nairobi governor who came under heavy criticism for donating Hennessy (a type of brandy made in Cognac, France) as part of his free foodstuff hamper, resorted to donating money, hand sanitizers and masks to the residents.
In a video posted on the governor's social media pages, some members of his team are seen holding bundles of cash, which they distribute to the residents.
"Today we're we are working with people from Mukuru Kayaba slums. Instead of distributing foodstuff, we are giving our people something they can use to cater to their needs," he stated.
She has also received critics from netizens after sharing most of her racy photos. Recently, she was in the limelight for parading her numerous cars and bodyguards (sorry, she calls them 'stewards').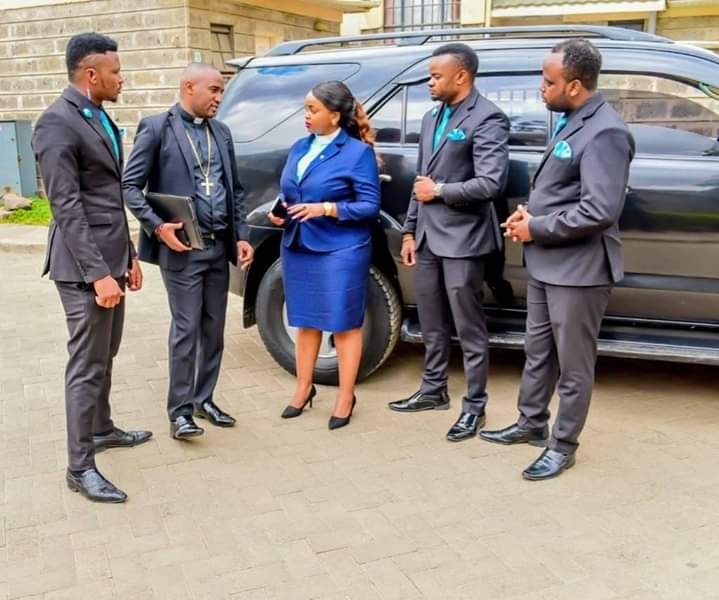 Despite rumours that Rev Lucy Natasha is Rwandese, the Reverend confirmed that indeed she is Kenyan. She grew up in Huruma in Eastlands and went to school in Nairobi's Umoja Estate before going to South Africa for further studies.
While Mike Sonko is busy complaining how Nairobi cops seniors destroyed his sanitazation boths in Kibra, Rev Natasha through Hand of Compassion Team are distributing thousands of food packs to families.
Going by the photos seen by this writer, there were bales of flour, cabbages, raw bananas among other things.
Earlier this week, Rev Natasha has also been at the forefront in giving out sanitizers, reusable masks and soaps to boda boda riders and matatu operators who are serving in the public transport sector.
Her critics have been trolling Rev Lucy Natasha for the better part of the month after she was alleged to have issued out fake products branded with her pictures.
Kenyan Bulletin has just received images of the Oracle church leader who driving in the Nairobi CBD- Bus Station and issued out sanitizers and face masks.
Things are tough for Mike Sonko who has been pushed out of the City after signing a document that he had not read and understand at the State House. Sonko is now a governor without Portfolio. Or as Makau Mutua calls him, a weaponized idler.
Nairobi Governor @MikeSonko has been WEAPONIZED by Deputy President @WilliamsRuto. But to what end?

— Prof Makau Mutua (@makaumutua) April 24, 2020
Here are the photos courtesy.
On Wednesday, Nairobi Governor Mike Sonko threatened to withdraw from the agreement between City Hall and the national government citing frustrations in the implementation of the deal.
The Governor said he is now considering instituting the process to terminate the Deed of Transfer of functions between the two levels of government that saw four key functions transferred from his administration to the newly established Nairobi Metropolitan Services (NMS).
"In fact, I am starting the process of terminating the Deed of Transfer of functions just like any other ordinary contract. I will personally go to court to have it terminated," said Mr Sonko.
Mr Sonko's personal assistant Ben Mulwa confirmed that the Governor is contemplating terminating the agreement as officers from the national government have been displaying dishonesty in its implementation.
"There is a lot of disrespect that is coming from the individuals just within weeks after the maturity of the deal. We have another two years to go and we cannot go on like this," Mr Mulwa said.
Comments
comments