So much noise has come out since President Uhuru Kenyatta appointed Lt.Gen. Robert Kibochi the Chief of Defence Forces taking over from Gen Samson Mwathethe who now retires after more than 42 years in the military.
President Kenyatta announced the appointments yesterday, saying the officers are expected to assume office under their new positions, on May 11, 2020.
Before these changes, there were speculations President Kenyatta, the Commander-in-Chief of the armed forces,  would extend Gen. Mwathethe's term by another year. Gen. Mwathethe got an extension last year in May. His predecessor Gen. Julius Karangi also got two extensions.
Also, Navy Commander Major General Levi Mghalu who was named Vice Chief of Defence Forces to take over from Gen Kibochi having been promoted toa Lieutenant-General. Maj-Gen. Jimson Mutai was named the new Kenya Navy commander (Designate) after being promoted from a Brigadier.
Who Is Lieutenant General Robert Kariuki?
Lieutenant General Robert Kariuki is the new Chief of Defence Forces following his elevation and appointment on July 13, 2018. Lt. Gen R K Kibochi was enlisted into the Kenya Defence Forces on May 18, 1979 and underwent Officer Cadets Training until March 30, 1980 and commissioned in the rank of Second Lieutenant and posted to Signals Battalion.
He has held various command and staff appointments including his immediate former appointment as Commander of the Kenya Army, Assistant Chief of Defence Forces in charge of Operations, Plans, Doctrine and Training at Defence Headquarters (DHQ), Chief of Strategic Plans and Policy, Director International Peace Support Training Centre, Col. Operations Requirements (CIS) and Commander Corps of Signals.
Military Changes
Has President Uhuru appointed another retiree? Why? If Lt-Gen Kibochi was not appointed CDF, he would have retired as he is just a few months away from the retirement age of 61 for lieutenant-generals.
The same fate would befall Lt-Gen Kibochi's age-mate, Lt-Gen Leonard Ngondi, who is currently serving as Force Commander for the African Union‑United Nations Hybrid Operation in Darfur (UNAMID).
The other high-ranking officer who had chances of being promoted to full General was National Defence College (NDC) Commandant Lt-Gen Adan Mulata, who was disadvantaged as he is from the Kenya Air Force. This left three soldiers lined against each other's hopes.
Lieutenant-Generals Kibochi and Ngondi were up against Lt-Gen Ole Raria for the KDF helm as the next CDF will most likely come from the Kenya Army since Gen Mwathethe is a Navy officer and before him, Gen Julius Karangi's unit was the Air Force.
Lieutenant General Walter Koipaton Raria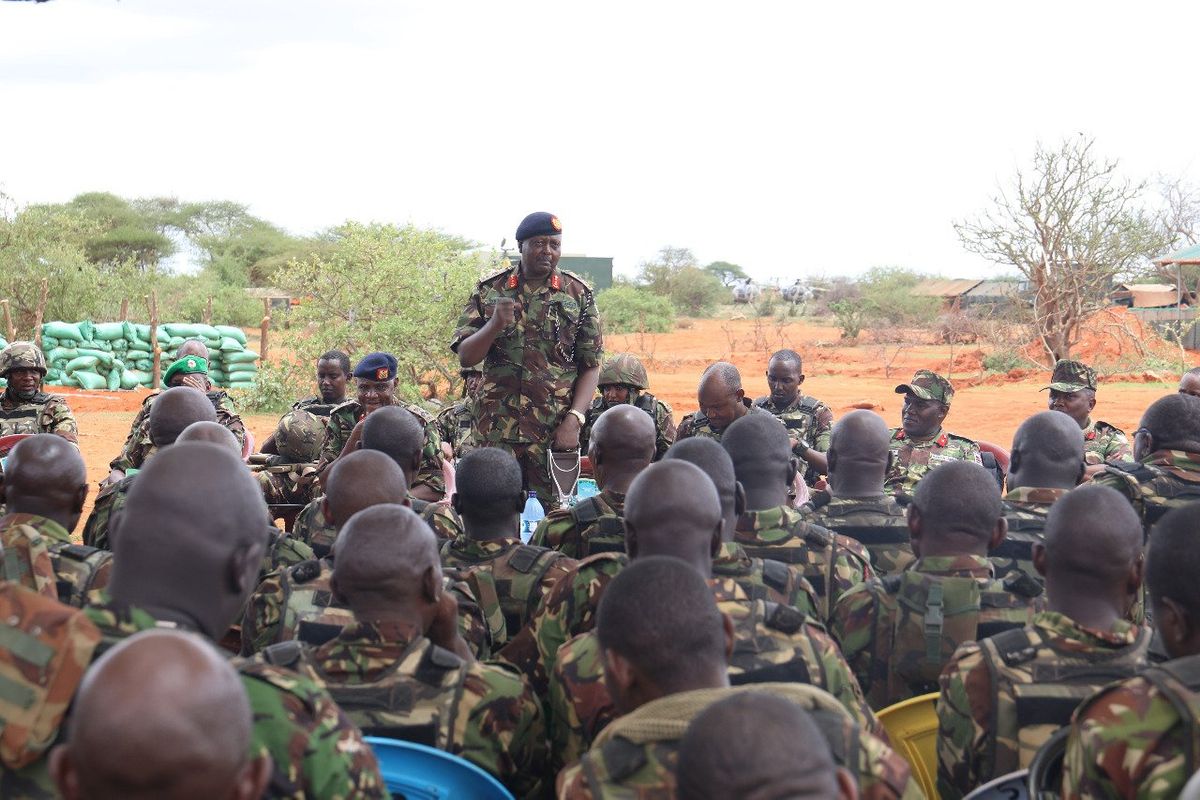 Kenya Army Commander Lieutenant General Walter Raria last year visited the war-torn country to encourage KDF troops after a deadly attack waged against AMISOM soldiers.
"The Commander assured the troops on continuity on the provision of training and logistics as they continue to execute KDF's primary role. The visit also served as a morale booster to the troops it being an indicator the KDF command appreciates their selfless efforts as they execute its mandate," read a statement story by KDF on Facebook.
General Raria's tour also came at the time KDF is involved in the delicate operation with an aim of rescuing two Cuban doctors who were abducted from Mandera.
The Al-Shabaab attack saw Major General Fatuma Ali, a soldier with much respect within AU forces, dying alongside her husband near the presidential palace. And the death of Major General Fatuma Ali Rageh alias Fay Ali was one of the worst losses for AMISOM in recent days.
"She was described as a selfless, brave soldier who sacrificed a lot for peace. Her husband, also a soldier died in the same attack when VBIED explosion destroyed their vehicle. She sacrificed as a mother of 9. Her 3rd husband, also a soldier was in the same vehicle, he died today. Her previous 2 husbands were also killed by Shabaab according to a person who knows the family," VOA journalist Harun Maruf said.
Senator Ledama Ole Kina
Before making the changes public, the Number One Board, the organ that decides changes in the appointment and promotion of senior military and possible retirement or extension of contracts of the Kenya Army, Kenya Navy and Kenya Air Force commanders, meet and make the changes then they brief President Kenyatta before he makes the announcement.
However, Narok Senator Ledama ole Kina says the President didn't follow the required protocol and appointed his Kin as Chief of Defense Forces.
"Even KDF is tribal? This is truly a messed-up country. The most qualified Military man to succeed Gen. Mwathathe was Lieutenant General Walter Koipaton Raria. But just because he is Maasai he is left out and a staff Deputy is appointed! Very unfortunate," he said.
"This is so annoying, the statehouse needs to be serious. How on earth do you appoint a staff to be the Major General? " he asked.
"You promoted Lieutenant Raria to Commander of the Kenya Army from Deputy Commander of the Kenya Army. And now you bypass him and appoint a junior to Major General?" he lamented. 
William Ruto
Who is this  Lt. Gen. Robert Kibochi and what is his feeling about Daktari Ruto becoming the Commander-in-Chief?
The rise of Kibochi Kariuki through the ranks of #KDF appear to me to be a Mt. Kenya reaction to @WilliamsRuto presidency. MARK this tweet.

— DD (@Disembe) August 2, 2016
As the DP puts up a fight to ensure he overcomes the political hurdles on his way to the top price, has he forgotten the role of the military in winning, or losing elections?
Does he have a favourite among those set to replace Mwathethe?
If William Ruto dreams of wearing the military uniform as the C-in-C, he must know what is happening in the military! It is the new military boss who will oversee the transition of government in 2022 as President Kenyatta retires or decides to stay.
Comments
comments