Kenya Copyright Board clarifies that Deejays streaming performances containing recorded music are required to pay Sh10,000 annually or Sh750 per event for a Collective Management Organization license.
KECOBO says they should also comply to T&Cs of social media platforms.
DJs affiliated to licensed business premises will not be required to pay to live-stream their music sets, this is according to a reviewed directive by the Kenya Copyright Board (KECOBO).
Setting the record straight following an uproar from the DJs over its May 27 notice, KECOBO clarified that disc-jockeys who perform at venues that have obtained a Collective Management Organization (CMO) license will not pay a cent.
Those who have, however, not paid will be required to fork out Sh10,000 annually or Sh750 per event, payable to CMOs as a tariff per gig or license.
"Recorded music in many jurisdictions is subject to rights management information monitoring technology that enables owners to account for its usage on digital platforms," read the statement from KECOBO Executive Director Edward Sigei.
All DJs who live-stream performances containing recorded music are, however, subject to terms and conditions of the platforms they use, an aspect KECOBO reiterated, is beyond its jurisdiction and the ambit of licensing CMOs.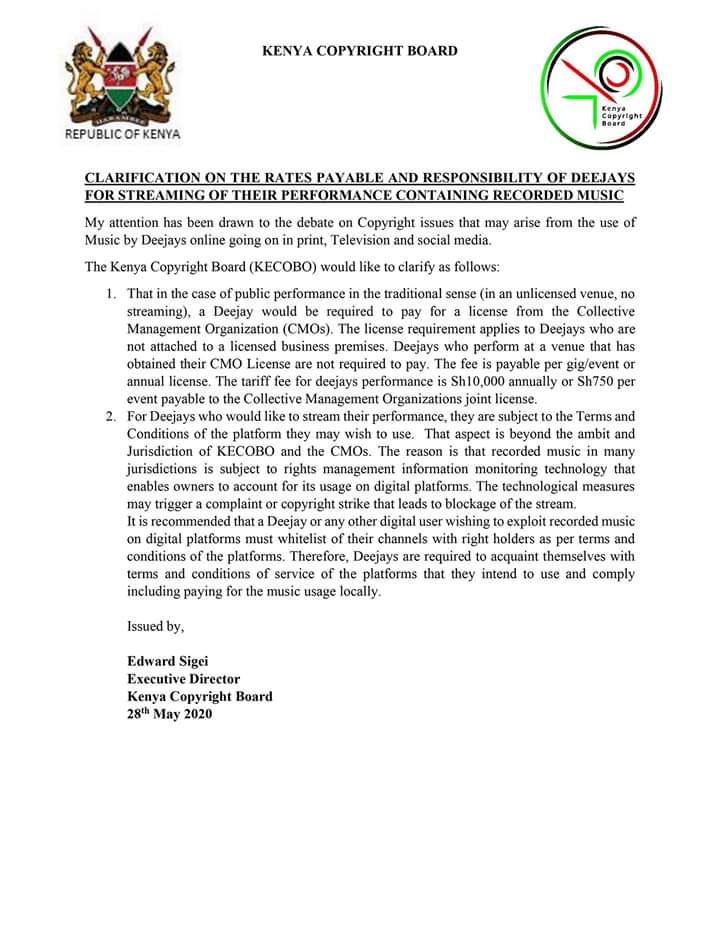 KECOBO on Wednesday demanded DJs who live-stream music sets to obtain special broadcast licences.
"When a DJ creates a live stream and starts broadcasting music to the Internet, he has become a radio station. He needs licences from copyright owners or Collective Management Organisations (CMOs)," read the statement in part.
A move protested by among many DJ Joe Mfalme who questioned the timing and lamented that stakeholders were not engaged.
"As DJs, we're still trying to consult and understand this, but what we don't get is why they're bringing it up now. They haven't engaged us directly…but we're also still processing and consulting about it as DJs," said Mfalme.
DJ Shock of the Association of Disc Jockeys (ADJ) noted that although they had not endorsed the boycott on Kenyan Music, she understood the frustration of many DJs.
DJ Shock observed that deejays were not making money as the closure of clubs, restaurants and entertainment joints had seen them lose their sources of income.
She maintained that the decision on licensing live-streams was made without consulting stakeholders, disclosing that many DJs had been forced to sell their equipment to survive during the pandemic.
Describing the demands as impractical, she explained that a large number of DJs were already licensed under their places of work such as bars, clubs and media houses.
"They should speak to stakeholders before posting such statements, that is why DJs are upset. It is an insult.
Speaking to this writer via phone on yesterday May 27, Music Copyright Society of Kenya (MCSK) Chairman Japheth Kasanga had urged deejays to comply with the regulations.
Kasanga further argued that the introduction of a joint licence as opposed to three different licences from MCSK, Performers Rights Society of Kenya (PRISK) and Kenya Association of Music Producers (KAMP) had made the process easier.
"What I know is the tariffs were recently revised downwards and they are much lower, so we should not bother complaining. Legally you are expected to pay if you are using the works in a place that is not licensed. It is the right thing to do and we have worked to ensure the cost is not prohibitive," he stated.
Comments
comments