Ford Kenya's Party leader Bungoma Senator Moses Wetangula is a man on the frying pan if not, at least by now, in the fire.
Do you all remember the fake gold Scam? Just to bring readers to speed, A leaked audio recording put Bungoma Senator Moses Wetang'ula at the heart of the fake gold scandal, making the Ford Kenya leader a person of interest in the illegal business in Kenya. Wetang'ula dismissed the recording a none issue.
"I am here for my party meetings. I am not aware of what you are talking about, it is a non-issue to me and I don't want to engage in it,"  said Wetang'ula at his Ford Kenya party headquarters.
In the audio, Wetang'ula dropped the names of President Uhuru Kenyatta and Opposition chief Raila Odinga to assure a Dubai gold investor, believed to be Zandi, that their detained consignment would be released.
That prompted the Director of Public Prosecutions (DPP) Noordin Haji to direct the police to expedite investigations on the fake gold scandal implicating dubious businessmen and influential government and political leaders.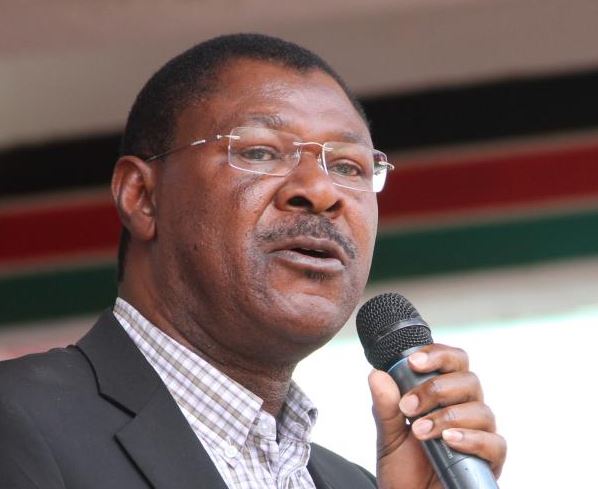 Then in May 2019, a controversy revolving around a Dubai-based trader said to have lost Sh400 million to a fake gold syndicate erupted mentioning amongst others the Bungoma Senator.
The Investigations into the Sh400 million gold scam involving the ruler of Dubai, Sheikh Mohammed bin Rashid Al Maktoum collapsed late last year.
Officers from the Directorate of Criminal Investigations were unable to proceed with the investigations because Sheikh Maktoum is yet to give consent for statements to be taken from those who dealt with the Kenyan scammers.
DCI officers were to record a statement from the representative of the United Arab Emirates' ruler Ali Zandi regarding the Sh400 million gold scam.
"Without a statement, it means that there is no complainant. That means there is no case," said a DCI officer aware of the developments in the case.
Leaked Video:
Early today, a Kenyan by the name Davido Lubi shared a video alleging that the Bungoma Senator had, in the video, been sweet-talking an Arab about the Fake Gold Scam.
Kenyan Bulletin can not independently verify the characters in the said video.
Moses Wetangula sweet-talking the Arab about fake Gold video has licked.its Noisy ???
Rhumba Japani
Orengo
Tanzania pic.twitter.com/4XDb0z5CWl

— MAJORITY LEADER (@Davido_Lubi) June 5, 2020
On May 22, the UAE envoy to Kenya, Khalid Al Mualla, denied that the country's ruler lost Sh400 million to Kenyan fake gold scammers.
"I can't tell you if he (Zandi) exists or not, but who is he? Can anyone show me proof that the gold was going to the ruler of Dubai? I have not seen such a thing and I think someone was working hard to damage relations between Kenya and Dubai, which are cordial," he added.
in 2015, Jared Otieno, a previously unknown businessman throws a lavish Ksh15 million wedding to his sweetheart Kendi Mwiti attended by Kisumu Senator Anyang' Nyong'o (now Governor), Meru's Kiraitu Murungi and former cabinet minister Chris Obure, the who is who of the Kenyan political scene.
However, his source of wealth would soon turn out to be shady. In actual fact, Jared Otieno, who describes himself as a businessman is said to be the mastermind and kingpin in the gold scam world alongside former AFC Leopards chairman Allan Kasavuli and Shabana Chairman Jared Nivaton, closely associated with television screen siren Lilian Muli.
In order to pull off the scams, one must have a battery of lawyers, one such bright guy is Tom Ngoe. Thomas Otieno Ngoe aka Tom Ngoe is a lawyer, who specialised in advising foreign companies on investment regulations, sectoral caps and regulatory issues relating to various sectors in Kenya. He is the brains behind the cartels that wreaked havoc in the city in the past two years.
All these Fake gold cases have been vanishing like nothing even happened in the first place. Since this was a criminal enterprise from the start, and publicity is anathema to the players and their activities, the owners must have decided to go pole pole.
Perhaps they received their gold after all the noise, or money was refunded, who knows? Who really expected this case to go anywhere?
From where I sit, the law around is for chicken thieves, bang smokers, idlers, petty thieves, e.t.c. Real thieves, who steal billions are covered by the justice system. Compare with the Chikengate scandal where convictions were done in the UK, while in Kenya, they have failed to investigate despite all the leads!!!
Does DCI need consent to interview those who were caught on tape discussing the Fake gold business?
Comments
comments