The statue of Kenyan trade unionist and former Cabinet Minister Tom Mboya has been removed from the Kenya National Archives, along Moi Avenue, in Nairobi.
Tom Mboya Statue gone

Mashemeji Derby will never be the same pic.twitter.com/qDSpst5aJX

— Ole Teya (@Kevin_teya) September 13, 2020
Soo many Kenyans have been complaining of the worn out statue that has been left to 'rot' after more than a year of falling into disrepair.
It was not only a sign of irresponsibility but also disrespectful for both Nairobi and National governments to leave the Statue of a cabinet minister assassinated while fighting to make Kenya Great in a sorry state of the statue.
The transporter who was seen taking away the statue revealed that he was called to deliver it to Nairobi National Museum.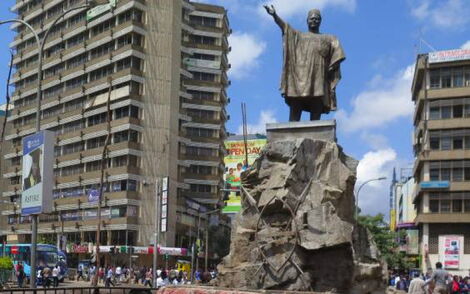 "I do not have a lot of details, only that I was instructed to take it to the National Museums of Kenya headquarters," he explained.
The bronze monument was done by artist Oshottoe Ondula, standing barely 50 metres from the spot where Tom Mboya was gunned down in broad daylight by an assassin in 1969.
Steve McAketch, responsible for the renovations revealed that the statue was taken away for a facelift.
"We removed the statue as the place is undergoing renovations temporarily but more details about the renovations will be revealed tomorrow," he explained.
Tom Mboya memorial statue at the heart of Nairobi's (Central Business District) was erected in October 2011 in honour of one of the nation's foremost heroes.
Back in June 2019, Machakos Governor Alfred Mutua offered to personally repair and maintain the statues of Mboya and Dedan Kimathi until those concerned would "wake up from their slumber."
Alfred Mutua promised to renovate Tom Mboya statue to spite Sonko. Sonko promised to renovate it to appease Gor Mahia fans. Gor Mahia fans promised to renovate it to bring back their winning mojo. COVID froze football, Sonko isn't in office, and now Tom Mboya has been abandoned.

— Gabriel Oguda (@gabrieloguda) September 13, 2020
Nairobi Governor Mike Sonko later criticized Alfred Mutua of sniffing beyond his nose and later on dispatched a team to the commence refurbishments but nothing much was achieved.
Here is how Kenyans reacted on Twitter.
They have finally removed the Tom Mboya statue probably to replace it with another Jomo Kenyatta statue because they don't feel like we idolize them enough. 🚮 pic.twitter.com/YjMOJk0UVA

— 𝐌𝐨𝐫𝐚𝐧𓅓 (@ItsMoran_) September 13, 2020
I think Tom Mboya Couldn't Stand the impunity anymore.
They had to do away with his statue

— OEBAISM (@WillieOeba) September 13, 2020
General Badi is overworking. Tom Mboya statue taken for burial at Lang'ata cemetery.
Let me hope they will also take away that one at KICC, the perpetrator of injustices, Jomo Kenyatta.

— Char-lee Oddie (@CharleeOddie1) September 13, 2020
Millions are always spent to restore this Tom Mboya statue. Unfortunately, it is those people who should protect it more who vandalize it. Gor Mahia fans must learn to respect and take care of it when restored. Thank you Thika United fans for keeping Kimathi's statue intact. https://t.co/IlA6j2mb3M

— Tash Mitambo (@tashmitambo) September 13, 2020
Comments
comments