A few days ago as I was scrolling through the news feeds of this recent Kenyan based site that I joined and I shockingly came across these guys called Kabi wa Jesus who had returned some car because of poor roads at his area.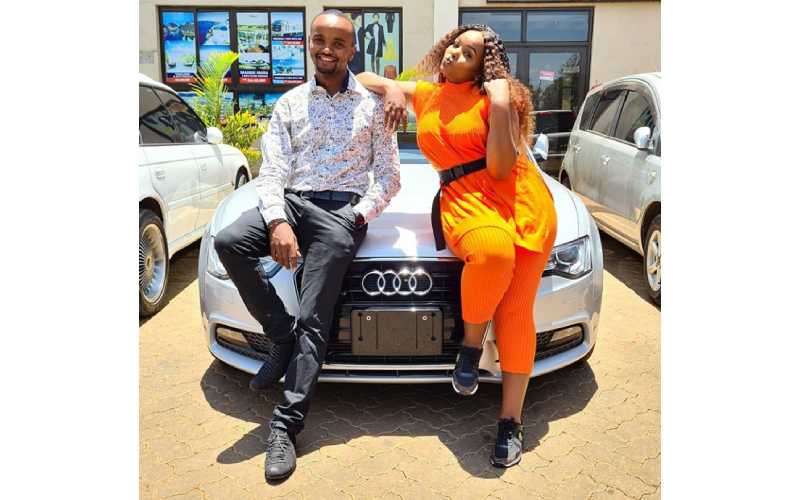 According to Milly Wa Jesus, her decision to 'purchase' the Audi Q5 was because of the roads but since her husband wanted a low car she sacrificed her preference and got him what he wanted.
"So my problem has been this for a long time, Kabi wanted a Mercedes-Benz E-Class then we settled on an Audi, but he wanted a car that was low. I kept telling him it's not about where we live because we can always move if we wanted to but it's about the roads we have in our country and It is unfortunate that you can't peacefully have the car you want to have especially if you move a lot," said Milly.
Under the post many Kenyans commented with only a few criticizing Standard media Group for focussing on such pettiness yet we have serious issues. Anyways what do you expect from media?
Kenyans are building 5-star mansions in places with no roads. Instead of asking Kenya Urban Roads Authority officials to stop accepting bribes from Hass Consult, Knight Frank, and Actis to manipulate Road Projects, they're OK changing the shocks and tires of their cars instead. Dumb middle-class Kenyans don't know the power in their hands.
Ever notice how comes Lavington roads are impeccable and just 50 meters away in Kawangware, the area is classified as a slum?
It's because companies like Knight Frank and Hass Consult bribe officials and engineers at KURA to concentrate road projects in select areas, and deny places like Kitengela, Rongai, Syokimau, Ruaka, Juja Farm, ByPass, Kirigiti and the liked.
Last year, due to lack of maintenance, 38% of Kenya's roads were in poor condition or worse, according to Kenya Roads Board. They said KSh1.03 trillion (US$10.3billion) was needed to get these roads back in usable condition.
Remember when Kenyans were killed when they organized demos in Kasarani after poor state of the roads tripled insecurity in the area?
Senator Sakaja said that Nairobi had received a commitment for an extra 1.7b from the National Government to sort out other roads in Nairobi that are in a poor state following the rains.
Has the Nairobi County Government under governor Mike Sonko and the Executive controlled NMS stepped in and address the roads within their mandate?
Even if they have tried, very few to be precise, none of the roads done seems to be rather have fixed the drainage and garbage disposal systems. These are major reasons why our roads cannot withstand even the tiniest droplets of rain. This is why we shall continue having the same talk after every 6 months.
Part of this article was first published by Cyprian Nyakundi on GScroll.com 
Comments
comments