Anything black in many if not all of the African cultures is related to a bad omen or even worse, dark forces that are often symbolized by Black cats, black hens, black dogs even the night time itself.
A lot of myths and superstitions have surrounded the animals with many people deeming them as a bad omen. A Twitter user going by the name @kgadiyabana made people nearly crawl out of their skins after posting a photo of purely black chicken.
Guys help, ways to cook black chicken. pic.twitter.com/EPKEMQmdmL

— ausi Patty (@kgadiyabana) November 6, 2020
The tweep innocently asked her followers for advice on how to prepare the meal as she waited for lists of recipes. No one paid attention to her plight
..god didn't create such chicken pic.twitter.com/heP73d5wwQ

— x o l i s e k a (@_xoliseka) November 7, 2020
Chicken probably died by poison pic.twitter.com/sIbrPxWBv4

— JackoHolic (@Jack_Mutsila) November 6, 2020
Where did u eat dinosaur meat ? pic.twitter.com/pRL8gf4EpH

— ausi Patty (@kgadiyabana) November 6, 2020
When you thought you seen it all then boom a black chicken pic.twitter.com/cvlRGoXkRy

— Vodloza (@EmihleThePhotog) November 6, 2020
Apparently, the black chicken is not poisonous neither is it associated with the darkworld. The Chicken is called Ayam Cemani, from Indonesia.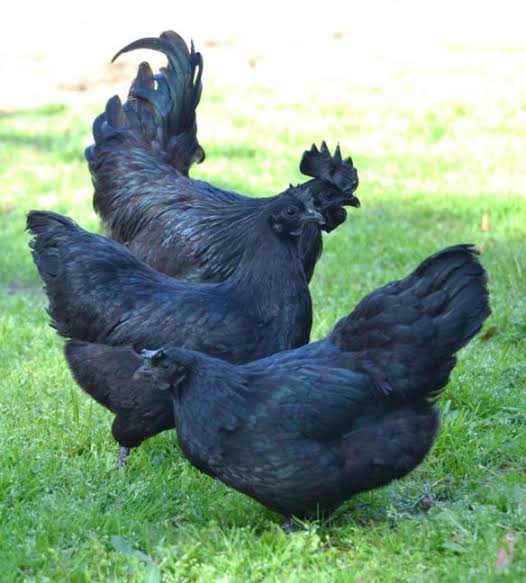 This was the worst of all responses
Pour bleach first pic.twitter.com/rVgjTZzuf5

— ØƦł ÐẸBłĠ BẸẠŦ$™ ❼ (@Ori_Debig_Beats) November 6, 2020
Here is how it is prepared
Black chicken soup
Ingredients
1 black chicken
8 red dates
1 tsp dried goji berries
1l water
Salt to taste
Method
Wash the black chicken and cut into smaller, soup-friendly pieces.
Boil the chicken in water for 5 minutes and trim away any excess or visible fats.
Place the black chicken, dried goji berries, and red dates into a slow cooker.
Boil the water and pour it into the slow cooker.
Using the low setting, gently simmer for 25 minutes.
Add a pinch of salt to the soup before serving, or more to taste.
Comments
comments