Somalia has now recalled its ambassador to Kenya and expelled Kenyan Ambassador to Mogadishu Lt. General (Rtd) Lucas Tumbo over alleged "continuous" interference in its internal affairs.
Ambassador Ahmed Nuur Tarzan was summoned 'for consultations'.
"The Federal Government of Somalia notes the Kenyan Government's attempt to infringe upon the sovereignty, territorial integrity. political independence and unity of Somalia and hereby express its deepest regret with the Kenyan Government's continuous interferences in the internal and political affairs of Somalia," the Ministry of Foreign Affairs and International Cooperation said in a statement.
Mogadishu has maintained that Nairobi is meddling in its upcoming elections by putting pressure on the regional president of Jubaland, Ahmed Mohamed Islaam Madobe in order to pursue its political and economic interests in Somalia.
Kenya is being accused of pushing the Jubaland leader to renege on the election agreement that was reached on September 17, 2020 in Mogadishu.
"Somalia expresses its regret in the government of Kenya's overt and blatant interferences in the internal and political affairs of the Federal Republic of Somalia which has the potential to be a hindrance to the stability, security and development of the entire region," Somalia Foreign Affairs Permanent Secretary Amb. Mohamed Ali-Nur Haji said on Sunday in an address on state TV.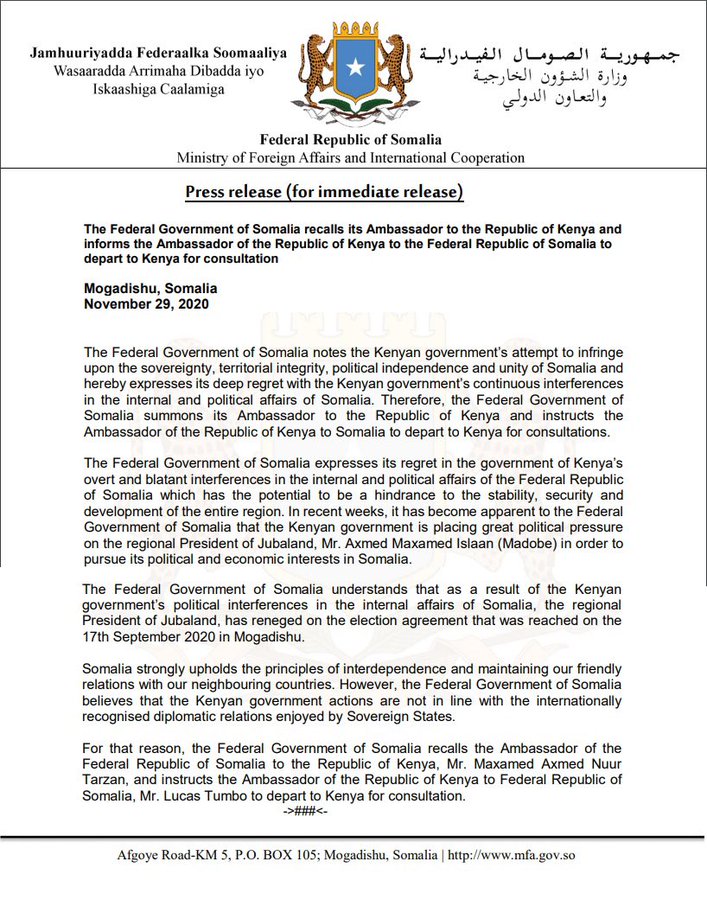 Comments
comments