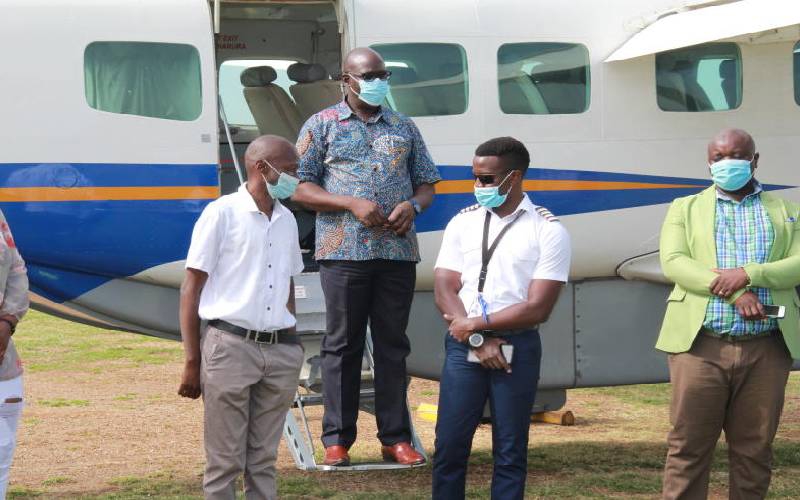 Passenger transport was on Friday, June 11 revived at Kabunde airstrip in Homa Bay following the introduction of a new aircraft.
The new aircraft, which is owned by Mombasa Air Safari in collaboration with Great Airways Limited, has a capacity of 13 passengers.
During its maiden flight on Friday, it airlifted passengers free of charge between Wilson Airport in Nairobi and the airstrip. It will offer four flights every week.
The ceremony was attended by Homa Bay CECM for Water and Environment Dickson Nyawinda, Tourism Chief Officer Moses Buriri and Mombasa Air Safari representative Fredrick Onyango among others.
Onyango announced that the airline will undertake four flights in a week between Homa Bay and Nairobi.
"We are going to have four flights to Nairobi on Monday, Wednesday, Friday and Sunday every week," Onyango said.
He called on locals to take advantage of the flights to grow economically.
Nyawinda said the new aircraft will revive many economic activities in the county.
"It is a great milestone today because we are receiving a new aircraft which is reviving our airstrip," said Nyawinda.
He said Homa Bay County Government in collaboration with the Kenya Airports Authority are putting modalities in place to expand the airstrip.
The modalities include compensating residents for their land to enable them to create space for the exercise.
The CECM said his department had started a project of connecting piped water from Got Asego to the airstrip.
"This airstrip should have a stable source of water that can also be used in case of emergency because we are dealing with planes. The project of distributing clean water to this airstrip is at 55 per cent," Nyawinda added.
Tourist attraction sites
Buriri on his part said the revival of the airstrip will open up the county for tourism.
He said Homa Bay has many tourist attraction sites which will be lively upon operationalisation of the airstrip.
"Homa Bay has seven islands, Lake Simbi Nyaima, Ruma National Park alongside other tourist attraction sites which need tourists. The flights to this airstrip will enhance tourism in this county," Buriri said.
He said the flights will also create job opportunities for the locals in the tourism sector.
The flight charges between Sh7,000 and Sh12,000 depending on how early a passenger will book a flight.
The move comes after four airlines that used to operate at the airstrip stopped flights more than a year ago.
Author Profile
I am a young Kenyan interested in new media and dissemination of news and information as it unfolds.