[ad_1]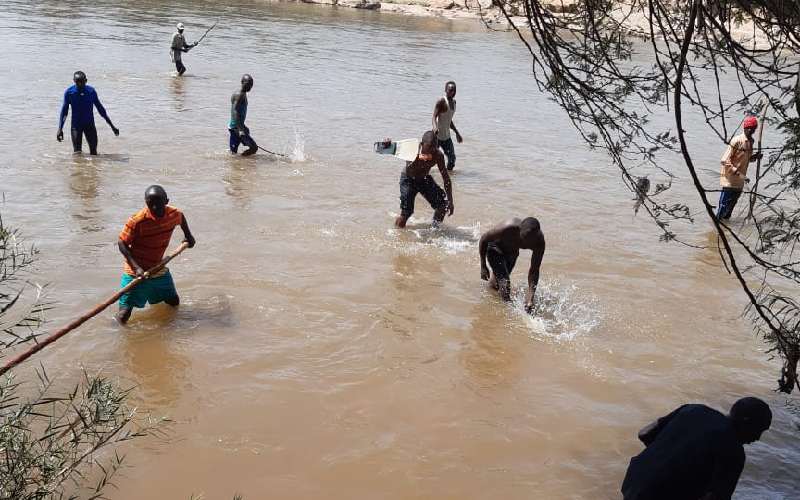 A 12-day search for the body of Stephen Sila who was attacked by crocodiles when he went to fetch water at Kwa Metho, Kitise, in Makueni County, has ended in vain.
The boy was a Class Six pupil at Athiani Primary School.
According to villagers, Sila, 14, had gone to the river with their two donkeys. It is suspected that he was attacked shortly after filling all the jerricans with water.
Fears that Sila may have been killed by crocodiles that have infested Athi River arose after his shoes were found where he was fetching water.
The donkeys returned home without the boy.
"He had gone to fetch water alone. His parents waited for his return in vain long after the donkeys returned home without him. His shoes were found at the point where he was filling his jerricans," said area assistant chief Musembi Mutuku.
The boy's father, Fredrick Sila, said although the exercise by trained divers had been called off, he was hopeful that he would one day get part of his son's body or a piece of cloth to bury. This, he said, would give him peace of mind.
Residents have decried constant attacks by hippos and crocodiles, which have killed many people and left others maimed.
[Stephen Nzioka]
Monitor water pumps remotely via your phone
Tracking and monitoring motor vehicles is not new to Kenyans. Competition to install affordable tracking devices is fierce but essential for fleet managers who receive reports online and track vehicles from the comfort of their desk.
[ad_2]

Source link
Comments
comments