On Monday, lawyers Cecil Miller and George Kithi obtained an injunction prohibiting Sonko from publishing anything related to them in his ongoing exposé.
The court also prohibited Justice Said Chitembwe's purported brother, Amana Said Jirani, from publishing anything about the two attorneys.
Sonko has been publishing a series of exposé titled "The rot in the Judiciary" and Miller has been adversely mentioned in the videos alongside judge Chitembwe. Miller and Kithi were Sonko's lawyers in his corruption cases before they fell out.
In other News, Nairobi County is looking into Sh6.97 billion in unpaid legal expenses from cases handled by attorneys since 2017. According to the county's Justice and Legal Affairs Committee, 130 legal firms are suing the county administration for Sh6,971,837,929 in damages.
According to documents given on the House floor, four corporations are requesting Sh3.23 billion of the total 6.97 billion.
The committee wants to look into Miller and Company Advocates' Sh2.298 billion claim, Kandie Mudeizi and Mutai Company Advocates' Sh530 million demand, KTK and Company Advocates' (business affiliated with Donald Kipkorir) Sh413 million invoice, and Nyamberi & Company Advocates' Sh5oo million demand.
On October 27, 2021, the Clerk of the Senate wrote to Governor Anne Kananu, asking a statement about the Nairobi City County Government's suspected improper payment of legal costs to outsourced law firms.
Among the questions raised by the Senate were why payments to legal firms accounted for 31% of total outstanding bills, equivalent to Sh795.9 million out of the Sh2.5 billion provided to clear pending bills for the 2018/19 fiscal year.
According to Nairobi County Attorney Lydia Kwamboka, an in-house council will save the assembly money on legal fees.
"I have been wanting to create an inner house team of lawyers in order to curb the number of cases we give to external lawyers,"said Kwamboka.
The Justice and Legal Affairs Sectorial Committee has proposed that all confirmed pending invoices owing to legal firms be settled between 2017 and 2020. The county has also had to deal with pending legislation left over from the dissolved City Council.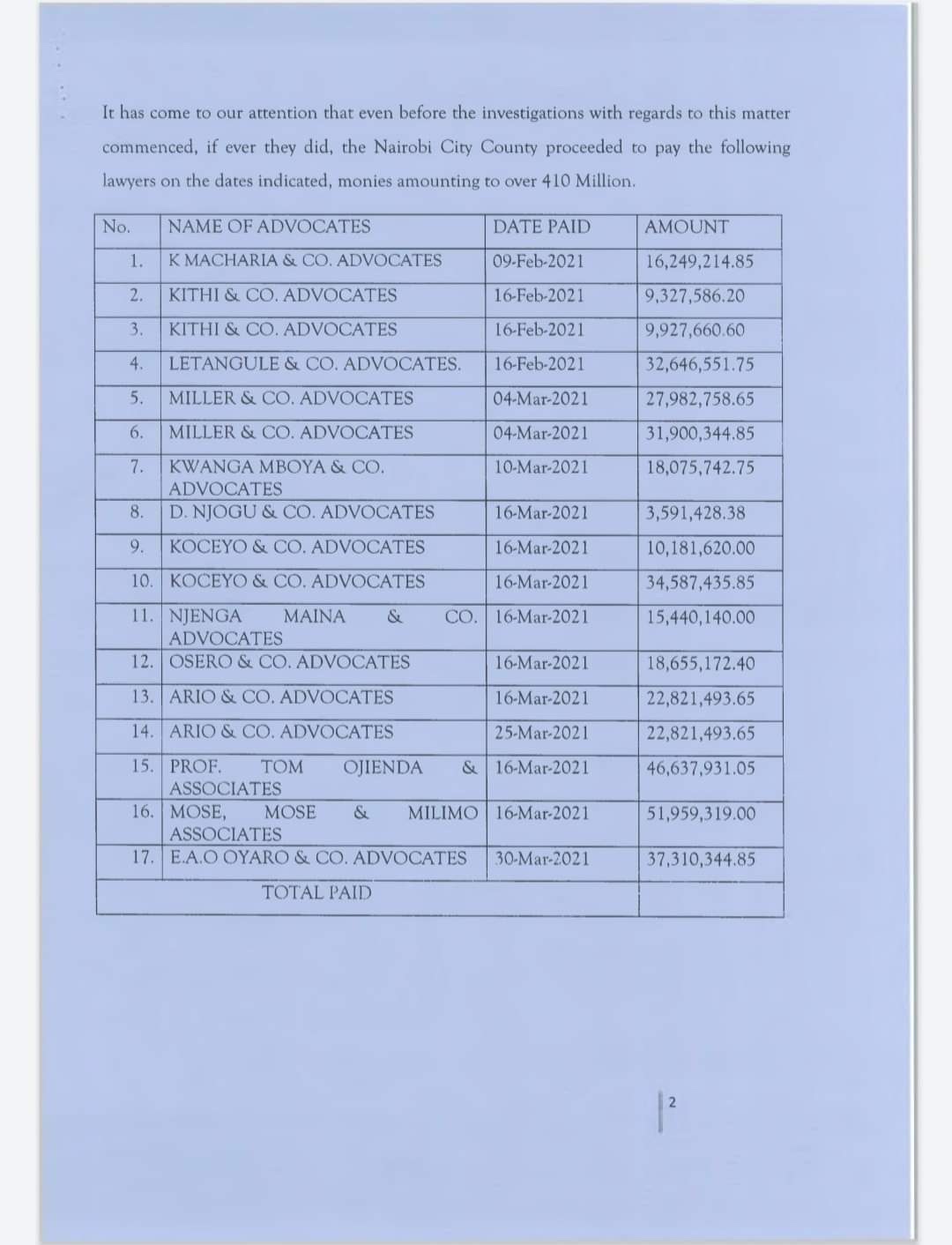 The other firms included Irungu Kang'ata and Co. Advocates, Osundwa and Co. Advocates, Kwanga Mboya and Co. Advocates, Kithi and Co. Advocates, Wanjiku Maina and Co. Advocates, E.Onyango and Co. Advocates, J.O Magolo and Co. Advocates, Ario Advocates, Maskam ( Asanyo), E.N Omoti and Co. Advocates and Ogeto Ottachi and Co. Advocates.
Others are Musyoka Mogaka and Co. Advocates, Masire Mogusu and Co. Advocates, Maanzo Co. Advocates, Miller Co. Advocates, Koceyo Co. Advocates, R.M Wafula Co. Advocates, Mbaluka Co. Advocates, Njenga Maina Co. Advocates, Kandie Murtai Co. Advocates, Sirma Co. Advocates, Arati Co. Advocates, C.M Mitema Co. Advocates, Munyasia Co. Advocates and Ongicho Ongicho Co. Advocates.
Cecil Miller and Donald Kipkorir
The Ethics and Anti-Corruption Commission (EACC) initiated investigations in January into multi-million shilling transactions between 25 law firms and the Nairobi County administration. The investigation focuses on City Hall's payment of legal costs to the companies between 2013 and 2020.
In a letter dated January 21, the EACC requests that the county secretary provide it with the specific case files handled by the 25 legal firms between 2013 and 2020, as well as letters of instructions and contract agreements.
"The commission is undertaking investigations at Nairobi City County in respect of payments of legal fees to the following firms. To facilitate our investigations, kindly but urgently furnish us with the original documents in respect to the mentioned firms," states the letter.
According to the Auditor-General's report for the fiscal year 2016/2017, the department spent Sh592.4 million on unauthorised payments. According to the study, the agency spent Sh645.3 million on legal expenses, despite having a budget of Sh105 million. Surprisingly, the majority of the money, Sh314.4 million, was distributed to 12 different companies. The transaction was not recorded in the Integrated Financial Management Information System (Ifmis).
The assembly's Public Accounts Committee discovered in February 2019 that the legal department spent Sh480 million, more than four times the Sh100 million authorised. The payments were made in the absence of formal proof, including a total of Sh318.4 million given to multiple attorneys.
In the 2018/2019 financial year, a total of Sh795.9 million was paid to 48 law firms yet only eight raised fee notes. During that financial year, 335 cases were handled by the legal department but only 12 of them were successful. The rest were either withdrawn or lost.