Kenyans on twitter has cussed the former first lady Mama Ngina Kenyatta after she was tapped saying that the Mt Kenya residents have to accept her son's direction.
In a video being shared on the interwebs, Mama Ngina is heard speaking in her vernacular language at at a burial rite.
Mama Ngina

Follow what my son is telling you.

He is the President…

Look at the direction he is pointing you to…

He had no issues,

But what do you do when your deputy brings up some issues?

Please follow my Son…

Mother defends son. pic.twitter.com/mNCDoImSu0

— Dennis Itumbi, HSC (@OleItumbi) March 22, 2022
Uhuru's mother also criticized politicians whom she said were only hurling insults as she expressed regret that azimio patron has no other choice than to work without Deputy President William Ruto.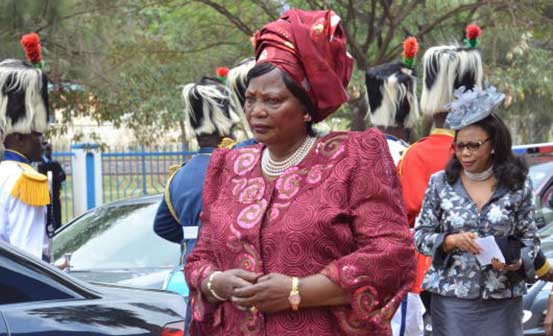 Without naming the politicians she accused of hurling insults, Mama Ngina said yesterday at a funeral service: "…depending on how someone was brought up, when he or she [is] out [in] public, he or she [should not] insult another person. [But listen] how those people are insulting others."
Mama Ngina vowed not to retaliate: "We'll leave them [alone] if insulting others is [what] they were taught when growing up. When your deputy rebels, do you concentrate on him or continue with your work? You move on with the work," she said in Gikuyu.
Mama Ngina spoke at the burial of Nelly Wanjiku at Muthiga in Gatundu South, Kiambu. Wanjiku, her cousin, died aged 100. Also present was Gatundu North MP Wanjiku wa Kibe.
While touring the President's backyard of Gatundu at the weekend, the DP recalled how Mama Ngina prayed for them to overcome the cases they were facing at the International Criminal Court at The Hague.
"Please tell [President Kenyatta] not to use the sword I helped him get to cut me down to size," the DP said, referring to the ceremonial sword given to the President while being sworn in.
Here is the reactions from Kenyans on Twitter on Mama Ngina.
Mama ngina never pleaded with her son to stop corruption as the economy was falling neither did she act when her own Kikuyu houses were destroyed in midst of lockdown.But only elections she believes Kenyans lacks sense to elect their own leaders 😂😂😂sonko ndindi nyoro ledama pic.twitter.com/hPHiTobteN

— etiang Bodoh (@SENATORBODOH) March 23, 2022
Mama Ngina: Those who insult others, were not brought up well… pic.twitter.com/sqvC35KsDH

— Dennis Itumbi, HSC (@OleItumbi) March 23, 2022
Mama Ngina has realised Mt Kenya isn't listening to her son Uhuru Kenyatta so she decides to come out from her cave and tell us to listen to him and reject William Ruto. Hapa kwa Mlima it's Ruto or Ruto hata yeye atajiongelesha.

— ___Wanyinaa✨💜😘 (@NjeriWanyina) March 22, 2022
Even during Uhuru's campaign mama Ngina hakuongea but this time imebidi,looks like Man from Sugoi is giving them sleepless nights.

— Tilingi 🐘🐘🐘 (@ArapTilingi) March 22, 2022
Mama Ngina Should not tell us to follow Uhuru. We are done with you guys, we have suffered enough! Tutigûshokia kara haria tûrarûmiirwo. Thengiû maitû but never again!

— Wambo (@WamboiKuria) March 22, 2022
Dear Mama Ngina,

Your kababa is now over 60.

Stay out of his fights with other boys, or you'll be forced to quit Twitter like he did when things got too hot.

— Mwalimu Joshua Njenga (@JKNjenga) March 23, 2022
Dear Mama Ngina,

Your kababa is now over 60.

Stay out of his fights with other boys, or you'll be forced to quit Twitter like he did when things got too hot.

— Mwalimu Joshua Njenga (@JKNjenga) March 23, 2022
Mama Ngina condemning our parents, does she know her son told us Raila is muguruki? Have you ever heard me call Raila muguruki or Kihii? I was raised well in kinangop. You want to teach our parents how to raise children? Maitû tûtigithie!

— Wambo (@WamboiKuria) March 23, 2022
Mama Ngina forgets that we have clips of Uhuru insulting Raila in 2013 n 2017! Where was she then to talk about poor upbringing pic.twitter.com/q6TUEiSCAJ

— Independent (@tmulevu) March 22, 2022
Mama Ngina started participating in politics before Kenya's independence. The latest was in 2013 when she brokered a deal between Uhuru and Ruto. Then she was good. Now she's is bad when she supports Raila. Double standards?

— Duncan Makori (@EngnrDan) March 23, 2022
Sijui kama ni mimi pekee yangu, but I never heard Mama Ngina Kenyatta's voice until yesterday. Remember, we've been through 07 PEV, maandamano in 2013 & 2017, Covid-19, etc but she never spoke. Only when her son is seeking a 3rd time to protect family wealth does she speak. Sad.

— Nahashon Kimemia (@NahashonKimemia) March 23, 2022
I sympathized with Mama Ngina Kenyatta when l show her in panic trembling urging us to listen to his son. The truth of the matter is that the mountain decided long time ago, it's William Ruto 2022. His son can still continue pushing his MGANGA without the mountain.

— Dan Nyagah (@dan_nyagah) March 23, 2022
They started insulting Raila Odinga, they went to Winnie Odinga now they are insulting our First Lady Mama Ngina Kenyatta but we in Azimio La Umoja we will remain focused. I know Ruto is pained because Raila Odinga is winning, he has nothing new to offer only insults.

— Captain Dominic Omondi (@DominicOmondiO) March 23, 2022
Author Profile
Latest entries